The big problem is that Lisbon's current airport, Humberto Delgado, sits in the middle of residential and commercial districts. That was fine with the traffic levels recorded through the 2000s. But, the arrival of LCCs, which now account for around a quarter of its capacity, and the city's rising attraction as a destination, has seen demand grow through the 2010s, at double-digit annual rates for part of the decade.
Flag carrier TAP Air Portugal remains the dominant carrier and maintaining its hub structure has been a key part of the infrastructure discussions in Lisbon, but Ryanair, easyJet and Vueling are now the second, third and fourth largest operators, based on CAPA – Centre for Aviation analysis of OAG schedules for the current week (week commencing 20-Jan-2020).
It is clear that Montijo, around 20km (12.5 miles) by road across the Vasco de Gama Bridge and over the River Tagus from Lisbon's current gateway, would be a popular choice for LCCs. Ryanair has always been vociferous about moving its Lisbon operations to Montijo, though easyJet and Vueling, which continue to seek to target a more premium clientele are understandably less enthusiastic about such a move.
CHART – LCCs currently account for around a quarter of the seat capacity at Lisbon's Humberto Delgado airport, with Ryanair the largest example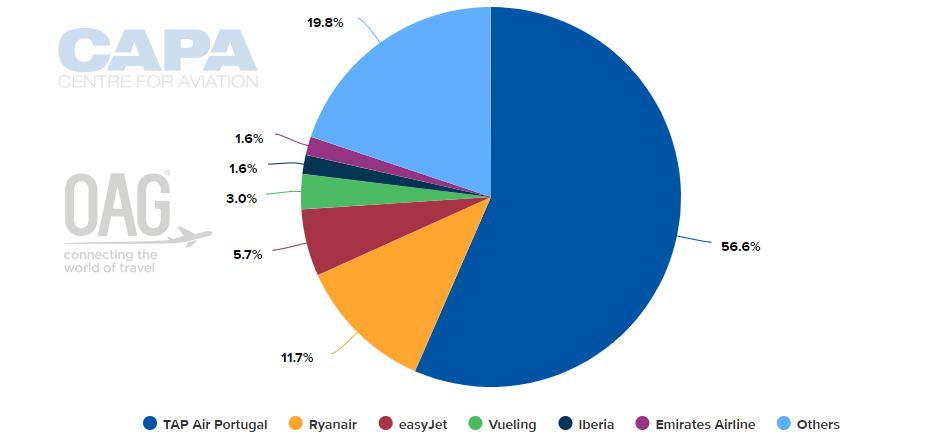 Source: CAPA – Centre for Aviation and OAG (data: w/c 20-Jan-2020).
Now Portugal's Minister of Infrastructures, Pedro Santos, has weighed in on the debate. He commented on the importance of the conversion of Montijo Airbase to handle commercial aviation, qualifying the project as "critical" for Portugal as it is directly linked to the development of the country.
Mr Santos stated: "For a peripheral country such as Portugal, airport investment [such as the new airport in Lisbon] is decisive; it is critical for our people to live better". He added: "We do not have the time… to continue studying alternatives."
That may have been a pointed reference to two previous and separate attempts to locate a site for a new airport to serve Lisbon. The search for a new airport began as long ago as 1969; the two sites that were put forward in the late 1990s and early 2000s were at Ota, 28 miles north of Lisbon (another air force base, to be converted for commercial aviation), and at Rio Frio, inconveniently situated next to a nature reserve 26 miles to the east. There have also been others, more recently at Alcochete, across the Tagus river estuary from Lisbon and home to a military training facility.
CHART – Passenger traffic at Lisbon's Humberto Delgado airport has more than doubled during the past decade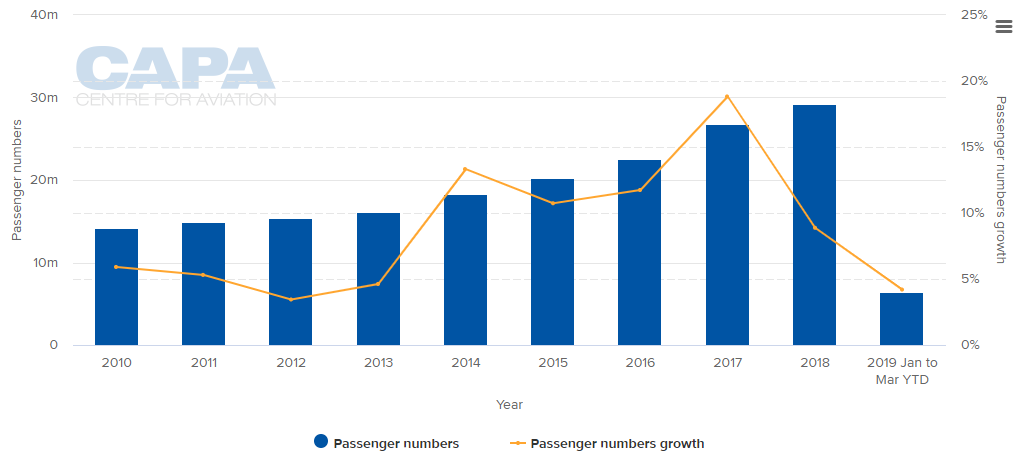 Source: CAPA – Centre for Aviation and ACI and Instituto Nacional de Estatística (INE)
At this time, while traffic levels were growing into the Portuguese capital, they remained at a relatively low level for a major European capital city - just over 14 million in 2010. That had more than doubled to 30 million at the end of the decade with growth levels peaking in 2018, sparking the need to reconsider the capacity constraints – operator ANA Airports of Portugal, part of VINCI Airports, tried to cater for this through construction activities but was never really able to deliver capacity to meet the passenger growth levels.
Portugal's tourism industry has had eight consecutive years of growth, which has helped the country recover from a severe debt crisis and the economic recession of 2010-13. The government needs to act very quickly now to support growth into the new decade and before the national mood turns against the Montijo project and adds further delays to the project.