After 24 years of operating under franchise agreements with other airlines, Glasgow-based regional carrier Loganair will once again market its services and fly under its own name – introducing a new, definitively Scottish identity to the skies. The airline has also announced an expansion to its route network that includes an upgauge of capacity in existing markets and new international connections that will support essential connectivity to, from and within Scotland.
But a new franchise agreement between Flybe and Eastern Airways which will see the UK's leading regional airline compete across multiple markets could threaten Loganair. Its chief executive officer Jonathan Hinkles describes Flybe's stance like "walking into a room with a hand grenade" according to quotes in The Shetland Times, a move that will ultimately damage both airlines and ferry company NorthLink. "Flybe are frankly going to try and kill us," he adds.
Loganair began life in 1962 as the air taxi service of the Logan Construction Company Ltd, operating a single Piper Aztec from Edinburgh. Almost immediately, it was apparent that there was a demand for scheduled services in addition to the primary role as an air taxi, and as such Loganair's fleet and network grew to take in more remote islands and communities, including the inter-island scheduled network in Orkney from 1967 and in Shetland from 1970.
These niche operations helped support British Airways (BA) domestic connectivity over a 15 year franchise arrangement between 1993 and 2007, and for almost ten years a similar arrangement with Flybe has been in place since 2007. This current franchise arrangement will conclude on August 31, 2017 due to a "failure to agree future operational standards and commercial arrangements".
A CAPA report illustrates that Loganair's weekly scheduled seat capacity will leap more or less overnight, from just under 1,000 seats to almost 25,000 seats at the beginning of September 2017 after its independence from the Flybe franchise. This will include a small degree of real capacity growth, but is almost entirely an illusion delivered from the transition from flying under the Flybe 'BE' code to its own 'LM' code. Its weekly frequencies will also increase from a steady level of 120 to 873 in the week of September 4, 2017, while its network will grow from 11 to 39 routes.
Loganair Weekly Network Capacity (2014 - 2017)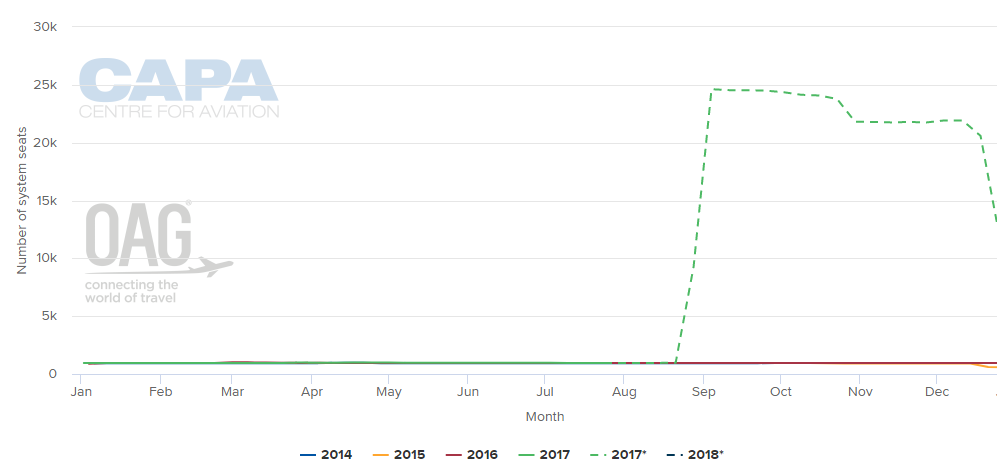 Source: CAPA - Centre for Aviation and OAG
Loganair's ambitions to create a national airline for Scotland, headquartered in Scotland, is chivalrous, but Flybe will be aware of the rewards of serving this market from their joint operation over the past ten years and its selection of the seven core routes that will now compete on. Flybe's deal with Eastern remains in the development phase towards finalising a five year franchise partnership under which Eastern will operate its scheduled route network under the Flybe brand. It will include a joint revenue and risk sharing agreement, covering four Eastern aircraft, to fly existing Flybe branded routes from Aberdeen, Edinburgh, Glasgow and Manchester.
Although Loganair has flown as a franchise carrier for larger airlines over the last 24 years, there is a huge level of recognition of and affinity with the Loganair name in Scotland. "We believe the time is right for Scotland's airline to now spread its wings once again," says Mr Hinkles. He will hope that brand recognition will be enough to help the airline compete with its bigger rival.
READ MORE… Loganair: from #9 to #1 UK regional/commuter airline overnight. Flybe becomes competitor