In spite of UK Transport Secretary Chris Grayling's continued assertion that he will seek "the best possible access to European markets" for UK airlines, this access is increasingly likely to be less liberal than now. Ryanair has warned that the UK government is underestimating the likelihood of flight disruptions to/from the UK and has followed Wizz Air in applying for a UK Air Operators Certificate (AOC) as a contingency. easyJet is setting up a new UK subsidiary alongside the European one established in 2017 in an effort to be both a UK and an EU operator.
A recent CAPA – Centre for Aviation report highlighted that with little more than a year before the UK's departure, "clarity is needed urgently". That is a clear observation when you consider the important role the UK and in particularly its capital, London, plays in the European market.
The Blue Swan Daily analysis of OAG schedule data shows that London has more than a 7% share of the total departure seats from Europe with more than 50% more capacity than its nearest rival, Paris. This coming summer, preliminary schedules display more than 67 million departure seats from the capital's airports.
CHART – London is by far the largest city market in Europe by departure capacity this summer with over 67 million scheduled seats, a 2.6% rise over summer 2017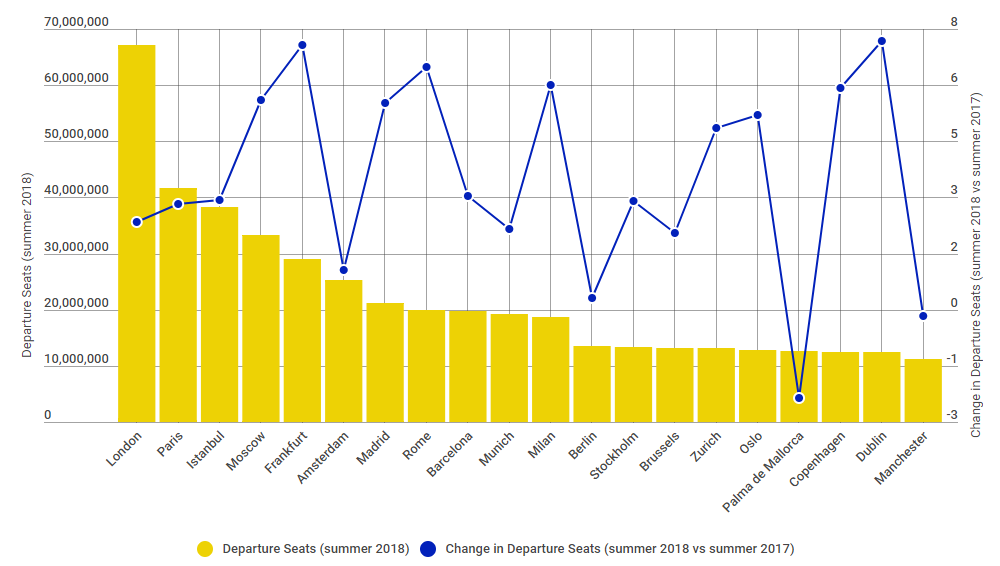 Source: The Blue Swan Daily and OAG
In a notable change since last summer, the trans-Atlantic market to the United States of America (USA) will be the largest outbound destination country from London, overtaking Spain, as its share of departure seats grows from 10.6% to 11.2%. Spain will be the second largest market (10.8% share), ahead of internal domestic capacity (7.2% share), Italy (7.0% share) and Germany (5.8% share).
The growth of the London - USA market, which is mainly being driven by the emerging low-cost long-haul market, will see an estimated 600,000 additional seats introduced since last summer. There is also a significant summer 2018 rise in non-stop capacity between London and Italy, Turkey, Poland and Singapore, while London will regain summer connectivity to Seychelles and Taipei, and there will be the first ever non-stop link to Australia.
The London airport system comprises six scheduled commercial airports - City, Gatwick, Heathrow, Luton, Southend and Stansted - all of which serve there own passenger catchment and demographic as well as supporting the London system.
The London market is expected to grow +2.6% in summer 2018 with Southend seeing the largest capacity rise (+43.6%), albeit from a much lower base. But, all the city's airports with the exception of Gatwick (-0.4%) will see growth this summer - Stansted (+10.2%), City (+5.9%), Luton (+3.8%) and Heathrow (+0.8%) - with the Gatwick decline the legacy of the Monarch Airlines collapse.
CHART - Despite its long running capacity constraints, Heathrow remains the largest London airport and new air traffic efficiencies and the deployment of larger aircraft means its capacity levels continue to rise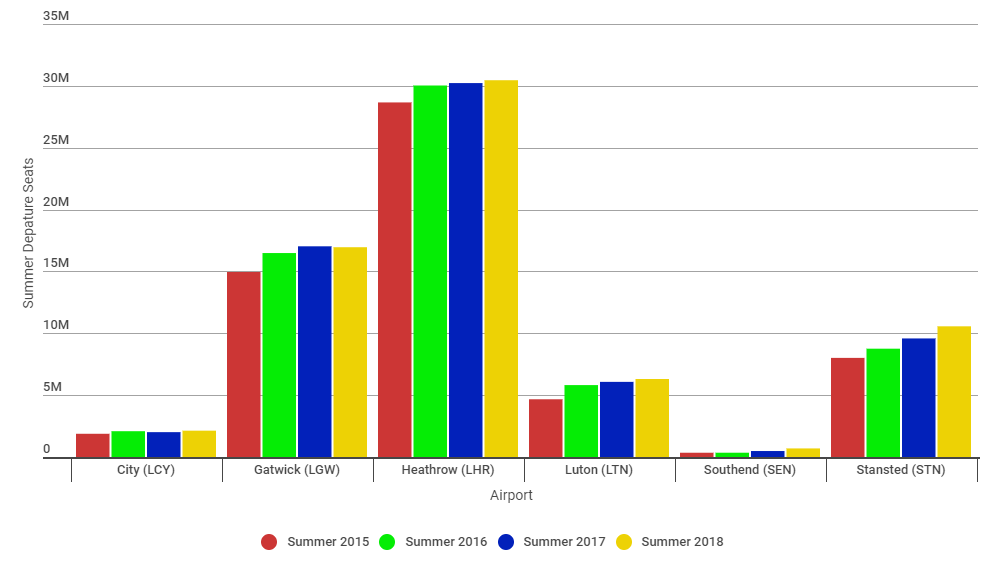 Source: The Blue Swan Daily and OAG
Over the past five years every London airport has seen at least one year with annual summer capacity declines with the exception of Stansted (which saw its own declines in the early years of the decade). The Essex airport has seen regular year-over-year growth rates since summer 2014, recording annual capacity rises of +8.5% (2014), +8.2% (2015), +9.3% (2016), +9.5% (2017) and an expected +10.2% this year. This year's growth will notably include the return of trans-Atlantic flight with Primera Air and the launch of a Dubai link from Emirates Airline.
With ongoing debate over the construction of a new runway at Heathrow and perhaps even still at Gatwick, Stansted is adjusting its own positioning to support demand and has made a planning application to raise the current cap on the number of passengers it is permitted to serve from 35 million passengers per annum (mppa) to 43mppa, while committing to remain within current approved limits on aircraft noise and flight numbers.
With constraints on runway capacity in the South-East increasing, Stansted's operator Manchester Airports group (MAG) expects it to reach its current limit on passenger numbers in the early 2020s. "We are now at the point where it is right to consider the framework for the airport's growth beyond the current limit," says Ken O'Toole, CEO of London Stansted Airport.
CHART - The financial crisis of 2008 is highlighted in air capacity data from London, but the market quickly recovered. The question is will Brexit deliver a similar blow in 2019?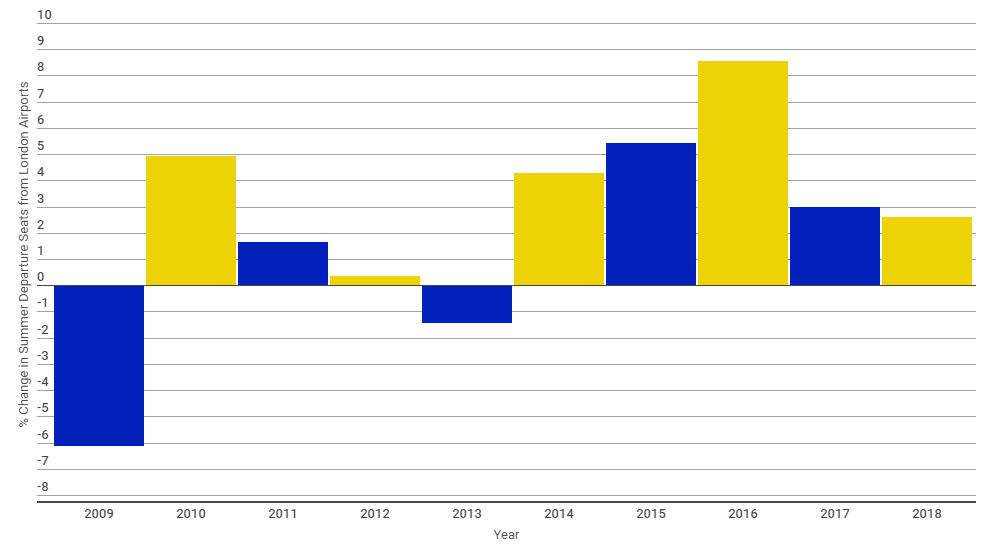 Source: The Blue Swan Daily and OAG
The expected +2.6% London air capacity rise in summer 2018 is actually the slowest rate of growth since 2013. Is Brexit uncertainty to blame? It is unclear, but while economists suggest that Brexit could trigger another financial crisis, weaker Sterling is helping to bring more foreign visitors into London, delivering additional spend. But news like this week's announcement by Unilver, Britain's third largest company, that it is to move its headquarters to Rotterdam after almost a century in London does little for confidence.
Brexit was always going to deliver uncertainty, and that still remains. Under the future relationship and after any transition period, the UK's degree of access to the EU single aviation market will be limited by its own red lines. As CAPA notes: "specifically, market access will be conditional on the extent to which the UK is prepared to accept regulatory convergence or alignment."
Ryanair CEO Michael O'Leary continues to warn of a possible doomsday scenario and has recently repeated his concern at the "continuing uncertainty surrounding the terms" of the UK's exit from the EU, highlighting "a worrying risk of serious disruption to UK-EU flights" unless a UK-EU bilateral (or transitional arrangement) is agreed. The airline has said it may even be forced to include a warning on future tickets and boarding passes that air services from the UK may not be able to operate post-Brexit!
READ MORE - sign-up for a CAPA - Centre for Aviation membership to read a detailed insight into Brexit and its likely impact on UK and EU air transport: 'Brexit and aviation: UK airline access to EU markets to diminish, as airlines prepare for the worst'