The 'standby runway' is something of a misnomer. For all the talk during the Airport Commission's deliberations over an additional runway in southeast England (a third at Heathrow or a second at Gatwick, which was Plan B) there always was a 'second' one at Gatwick, even though it operated as a single-runway facility.
The second one, the northern runway (08L/26R) can only be used when the main runway (08R/26L) is out of use for any reason. Compared to the main runway, which has a Take-off Run Available (TORA) of 3,255 m when aircraft take off in a westerly direction and 3,159 m when takeoffs occur in an easterly direction, the TORA for the northern runway is 2,565 m in both directions.
Both runways are 45 m wide and they are 200 m apart, which is inadequate for them both to be used simultaneously. Hence the northern runway has been used as a taxiway during normal operations, which is in line with its original purpose although it has been widened since it was built.

In Oct-2018, Gatwick said that it was "exploring how to make best use of its existing runways, including the possibility of bringing the standby runway into routine use". One option would be for 08L/26R to be used for departing narrow-body aircraft only, while the longer 08R/26L would be used for wide-body take-offs and all landings. That would at least increase operational capacity.
Widening 08L/26R would also increase the centreline separation slightly. New technology might also be used to increase capacity on the main runway. The northern runway does not have ILS which it surely would if it were to be used in the anticipated manner. Moreover, adjustments would need to be made to existing taxiing procedures.
In the long term the airport remains interested in constructing a new runway to the south, despite losing out to Heathrow as the official government 'pick' for a new one. The factors influencing that are many. Most notably, Gatwick can do it, and needs to.
It needs to because it is the busiest single-runway airport in the world although it does vie for that title with Mumbai's Chhatrapati Shivaji Maharaj International, which handled more passengers in 2018 but which has more frequent operational use of a second runway. Gatwick handles more aircraft and passengers per runway than does Heathrow, which, we are always being told, is "full to capacity".
CHART - London Gatwick airport passenger numbers have been growing this decade – never spectacular but at the same time never 'negative'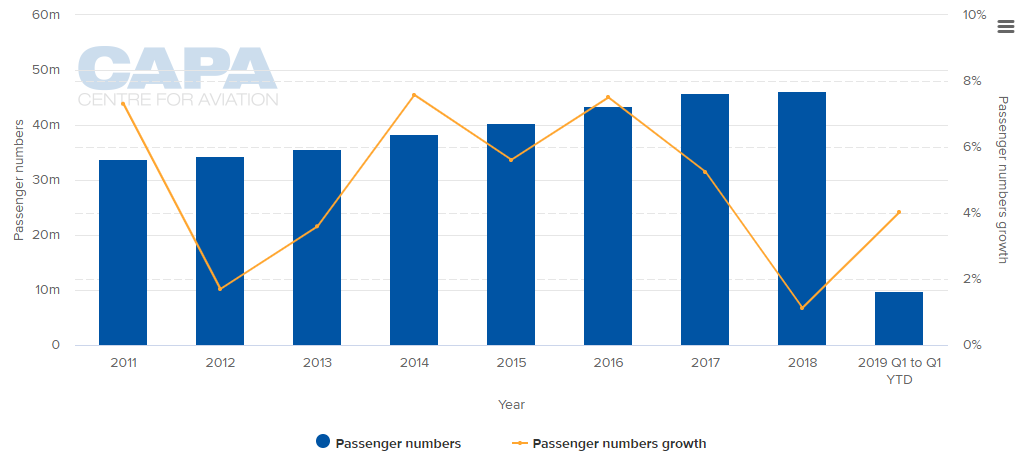 Source: CAPA - Centre for Aviation and London Gatwick Airport reports
It can do it because a moratorium on building a second runway, which goes back decades, expired this year and Gatwick remains convinced it could build one by 2025, much more cheaply than Heathrow and with less environmental impact. That was the thrust of its Airports Commission submission.
On the other hand, some of the support for it may have gone as earlier investors - sovereign and pension funds - shipped out, following the 'defeat' by Heathrow. They were replaced by VINCI, the French company which is arguably the world's leading investor/operator in airports now and which holds 50.01% of the equity in the operating company since May-2019. Original investor GIP, though one of its funds, remains in a diminished role.
There is good cause to believe that VINCI will want to progress not only the standby runway concept but also to revisit the southern runway that was proposed to the Airports Commission. It will probably wait until all the outcomes of 'Brexit' become apparent in the latter case but as it can steal a march on Heathrow by getting the standby one into full operation quickly (and who knows what the next twist in the Heathrow third runway saga will be?) that eventuality is likely to realised sooner rather than later.
Gatwick has just published (18-Jul-2019) its final master plan outlining the strategies to accommodate demand sustainably over the next 15 years, following a 12 week public consultation in which it received over 5000 responses. Two thirds of respondents supported making use of existing runways in line with government policy, including its plan to bring the existing standby runway into routine use alongside the main runway. 59% of respondents supported the continued safeguarding of land for an additional runway should one be required in future.