Elsewhere, five of the routes involve cities in Spain, including two to/from Barcelona (the only other city outside London to feature more than once in the list). All ten are very competitive, with between four and eight airlines operating on every city pair and low cost airlines have a higher share of seats on these routes than they do across Europe as a whole.
CHART – Europe's Top 10 International City Pairs by Seats (week commencing July 3, 2017)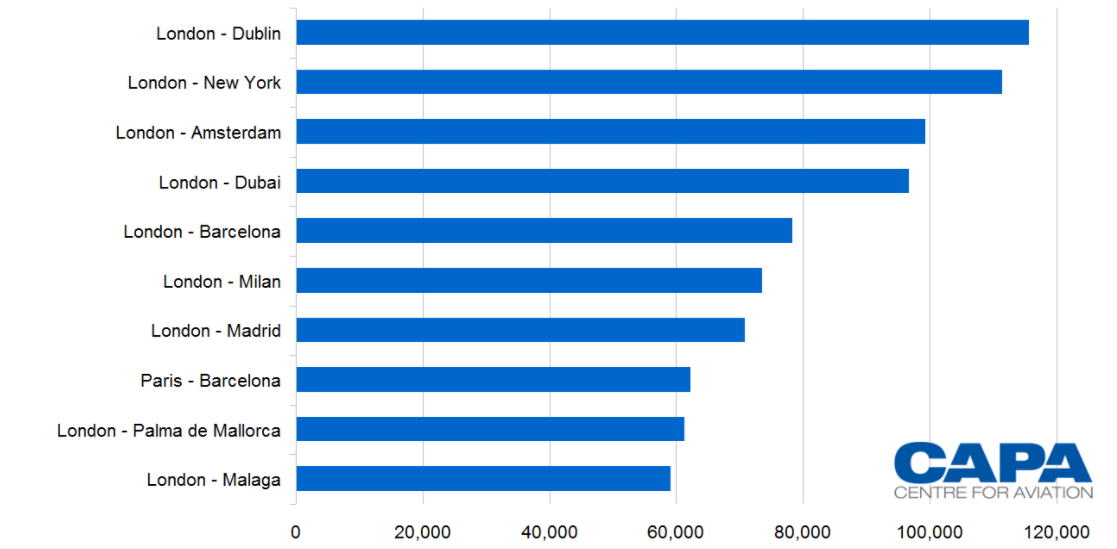 Source: CAPA – Centre for Aviation and OAG
London's importance is driven by several factors, including the city's strengths as a centre for culture, tourism, sport, business and finance. Demand for air travel to/from London is also boosted by the UK's status as an island, while the London – Dublin market that leads the way (with flights from five different London airports) has the ideal traffic combination comprising leisure, VFR and business demand.
While this analysis is just a snapshot in time, and by definition does not encompass the whole European aviation market, it does illustrate a number of themes and trends that currently characterise this market.
FIND OUT MORE… Europe's top 10 airline routes: analysis reveals market characteristics and developments