The trial forms part of London Luton airport's efforts to encourage the use of sustainable methods of transport. It was launched on 01-Aug-2019 and will continue until 30-Sep-2019, when the reduced rate will be brought in on a permanent basis if it proves successful.
Rather than use the traditional Drop-off Zone, drivers of EVs will be able to use a dedicated section of LLA's multi-storey car park for a reduced charge of GBP2 for a maximum of 30 minutes – this represents a 75% reduction compared with the rate for other vehicles. EV drivers will also be able to use charging points for free during this period.
However, the airport clearly highlights that the discount is offered on drop-off and pick-up journeys only. It says stays of over 30 minutes are not discounted, and the discount will not be applied to the first 30 minutes of a stay longer than 30 minutes.
"We've always encouraged people to travel to the airport in more sustainable ways such as taking the train and to leave their cars at home. That's why we're introducing this discount for electric vehicles. If there's enough demand, we plan to make the incentive permanent and address any requirement to increase the number of electric charging points," explains Jonathan Pollard, chief commercial officer at London Luton.
The airport does currently offer a complimentary drop-off and pick-up if cars use its medium- or long-term parking facilities, albeit these are located further away from the terminal and are still subject to time constraints. The long-term facility is linked to the terminal by a ten minute bus journey and offers free parking for an hour, with a GBP4 charge for two. The medium-term parking is free for 15 minutes, before a GBP3 charge is incurred but involves a 600m walk or five minute bus transfer.
To access the dedicated Drop-off and Pick-Up area vehicles are charges GBP4 for a 13 minute stay and subsequently GBP1 extra per minute thereafter. This is just a 350m walk to terminal entrance.
The Blue Swan Daily reported earlier this year that with growing demand, restrictions on space and a push for travellers to make increasing use of public transportation, airports have had to find alternative ways to secure additional income from users. One of these has been the unpopular charge for short-term drop-offs and pick-ups, also popularly known as 'kiss and fly'.
https://corporatetravelcommunity.com/kiss-and-fly-the-high-cost-you-can-pay-to-say-goodbye-to-friends-family-or-colleagues-at-the-uks-airports/
London Luton is the UK's fifth largest airport (but three of those are also in London – Heathrow, Gatwick and Stansted) and carried 16.6 million passengers in 2018, an increase of 5% on 2017. It is operated and developed by a consortium of which the majority shareholder is AENA, the world's largest airport operator, and AMP Capital, a specialist global investment manager. An investment of over GBP160million is currently being spent to develop the airport and increase capacity to 18 million passengers per year by 2020.
CHART – London Luton's annual passenger traffic has almost doubled this decade and across the first five months of 2019 was up +11.1% year-on-year, a faster rate of growth than recorded in each of the previous two years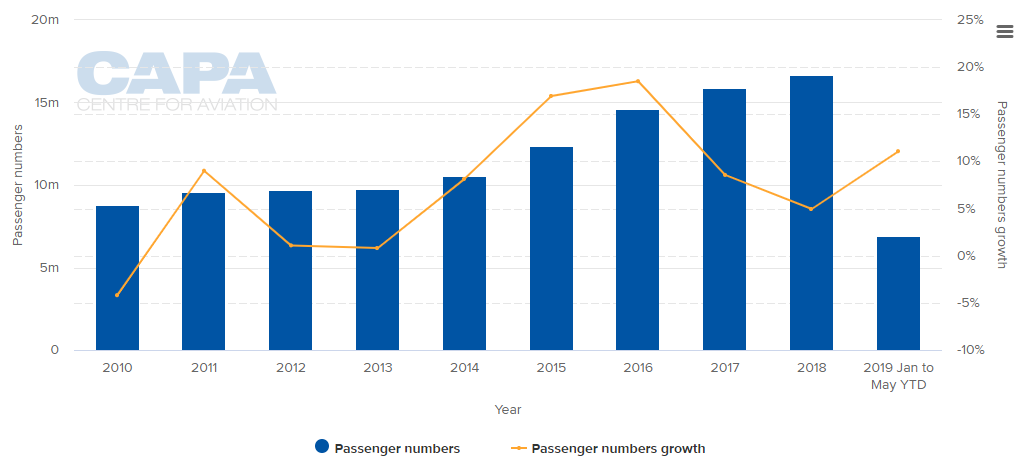 Source: CAPA – Centre for Aviation and OAG
According to CAPA – Centre for Aviation analysis of OAG schedules data, LCCs dominate with a 95.9% share of this week's weekly system capacity. easyJet, which first launched form Luton and still has its headquarters at the airport, has been overtaken by Wizz Air as the largest user at the airport, but together account for four in every five seats.
London Luton's redevelopment includes a complete redesign of the terminal, bringing in new and exciting shops and restaurants and major upgrades to transport links, including better road access to the M1, new car parking facilities, a remodelled bus and coach interchange and improved rail links.
But, it remains the only London airport without a direct express-style rail service and it is calling on the government to introduce four trains per hour as part of the refranchising of the East Midlands rail line. Work is currently well underway on a £225 million light rail system linking the airport with Luton Airport Parkway station and is anticipated to be completed by 2021.