While the arrival of vaccines over the next six months will boost recovery the long-term diagnosis remains fragile. That is certainly the case for the world's airlines where representative body International Air Transport Association revealed that deep industry losses will continue into 2021, even though performance is expected to improve in the year ahead.
At its virtual AGM IATA outlined a revision of its outlook for airline industry performance in 2020 and 2021 moving a bad situation into one that is even worse. Back in Jun-2020 it had projected airline losses to hit USD84.3 billion in 2020, but has now revised that to USD118.5 billion. Next year will see marked improvement with losses shrinking to around a third of 2020 levels, but still reaching an estimated USD38.7 billion. That is more than double what now was obviously a conservative estimate of USD15.8 billion from Jun-2020.
IATA foresees "a difficult 2021 first half" but the second half of the year "is expected to see improvements". Aggressive cost-cutting is expected to combine with increased demand during 2021 (due to the re-opening of borders with testing and/or the widespread availability of a vaccine) to see the industry turn cash-positive in the fourth quarter of 2021, according to IATA, which is actually earlier than previously forecast.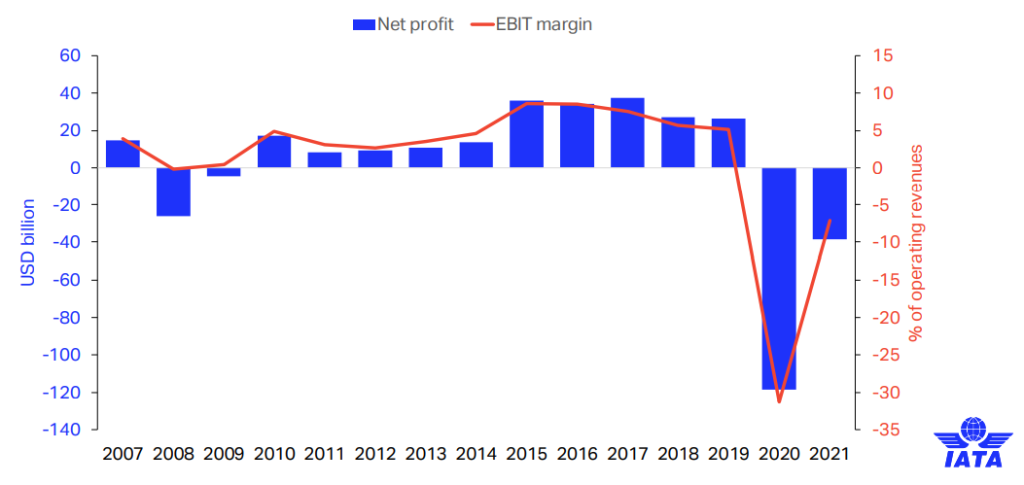 These revisions suggest that the COVID-19 crisis has morphed into a higher and steeper mountain than IATA had first thought, but similarly that means the recovery may see an acceleration versus previous pessimistic outlooks. The confirmation of successful trials of a number of vaccines and the imminent rollout of vaccination programmes certainly means the future can be viewed with a little more optimism.
But as IATA's director general and CEO Alexandre de Juniac acknowledges, this crisis has been "devastating and unrelenting". Although the light is now visible it still remains a long way ahead and a tough winter season for many of the world's airlines with continued supressed demand and reduced cash resources means a number still face an uncertain future.
Airlines have cut costs by 45.8%, but revenues are down 60.9%. The result is that airlines will lose USD66 for every passenger carried this year for a total net loss of USD118.5 billion. This loss will be reduced sharply by $80 billion in 2021. But the prospect of losing $38.7 billion next year is nothing to celebrate," says Mr de Juniac.
It is not incorrect to say that the COVID-19 crisis challenged the airline industry for its very survival in 2020. In the face of a half trillion-dollar revenue drop (from USD838 billion in 2019 to USD328 billion) airlines cut costs by USD365 billion (from USD795 billion in 2019 to USD430 billion in 2020).
"The history books will record 2020 as the industry's worst financial year, bar none. Airlines cut expenses by an average of a billion dollars a day over 2020 and will still rack-up unprecedented losses. Were it not for the USD173 billion in financial support by governments we would have seen bankruptcies on a massive scale," explains Mr de Juniac.
IATA's data and projections shows passenger numbers are expected to plummet to 1.8 billion (-60.5% down on the 4.5 billion passengers in 2019). This is roughly the same number that the industry carried back in 2003, a year remembered in aviation terms for the end of the supersonic era of air travel and the retirement of Concorde.
Passenger revenues this year are expected to fall to USD191 billion, predicts IATA, less than a third of the USD612 billion earned in 2019. This largely driven by a -66% fall in passenger demand, with international markets being hit disproportionately hard with a -75% fall in demand. Domestic markets, largely propelled by a recovery in China and Russia, are expected to perform better and end 2020 at around half the levels seen in 2019, with limited markets actually recording growth.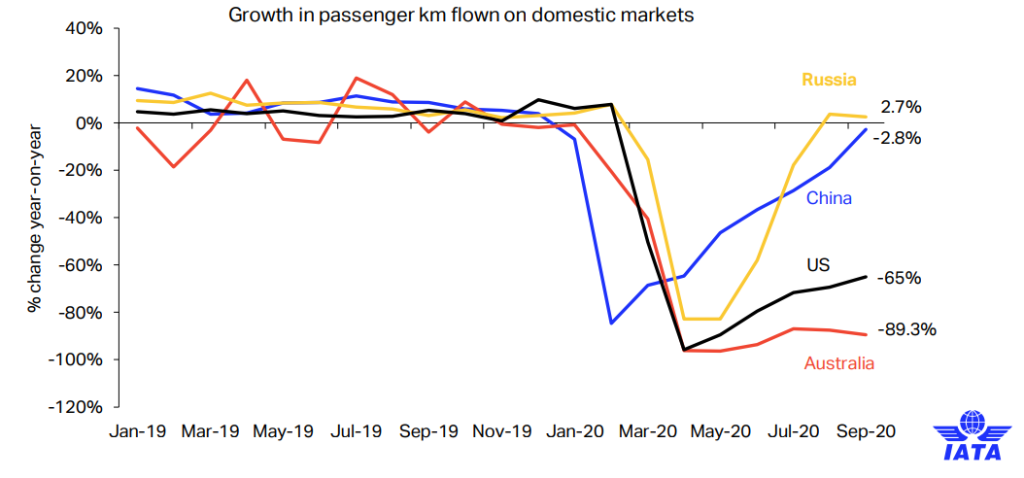 Further weakness is demonstrated by passenger yields which are expected to be down -8% compared to 2019 and a weak passenger load factor which is expected to be 65.5%, down from the 82.5% recorded in 2019, a level that was last seen in 1993. Operational parameters for cargo though "are performing significantly better" but are still depressed compared to 2019, shows IATA's analysis.
Looking into 2021, IATA sees passenger numbers growing to around 2.8 billion. That would be a billion more travellers than in 2020, but still 1.7 billion travellers short of 2019 performance. Passenger yields are expected to be flat and the load factor is expected to improve to 72.7% (an improvement on the 65.5% expected for 2020, but still well below the 82.5% achieved in 2019).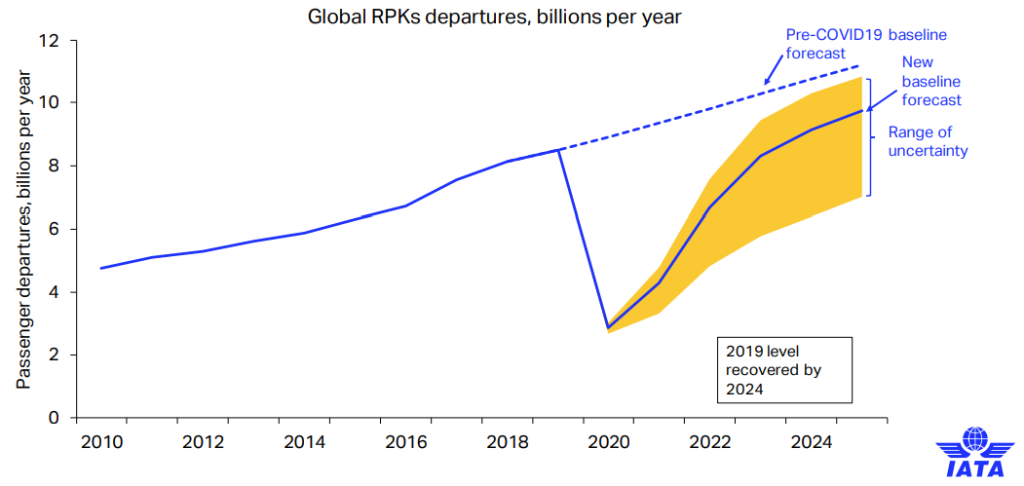 The cargo side of the business is expected to continue with strong performance. Improved business confidence and the important role that air cargo should play in vaccine distribution is expected to see cargo volumes grow to 61.2 million tonnes (up from 54.2 million tonnes in 2020 and essentially matching the 61.3 million tonnes carried in 2019), according to IATA.
While the industry will see improved performance in 2021 compared to 2020, the road to recovery is still expected to be long and difficult. The biggest factors impeding the industry's recovery will remain even if a vaccine starts to reduce their impact and enable borders to remain open without testing or restriction, but the timeline for vaccine availability is still uncertain.
There is also the biggest uncertainty and the confidence for people to return to travel. Surveys suggest people have not lost their desire to travel and this has been backed by initial airline sales when flights have been resumed. There is every reason for optimism, but we won't know the strength of this sentiment or how much technology will substitute travel until that time comes.