It is clear that the Kentucky gateway is not punching above its weight, especially when you think that Louisville is among the top 30 most populous cities in the US. But, a rebranding may boost the facility's standing in domestic and international eyes thanks to Louisville native, the late boxing champion Muhammad Ali .
One of the world's greatest sportsmen, Ali, or Cassius Marcellus Clay Jr by birth, is known worldwide, but as Louisville mayor Greg Fischer notes "he only had one hometown, and fortunately, that is our great city of Louisville".
This month's formal brand unveiling and airport renaming as Louisville Mahammad Ali International follows action taken by the Airport Authority Board, who voted in Jan-2019 to change the airport's name to honour the Louisville native. The new name is supported by a new logo that feature's Ali's silhouette, arms up and victorious, against the background of a butterfly.
The shape of the butterfly pays homage to Ali's famous phrase, "float like a butterfly, sting like a bee" and the context of flight for the airport. The airport's three-letter International Air Transport Association Location Identified – SDF –remains and retains some legacy to the airport's former name, Standiford Field.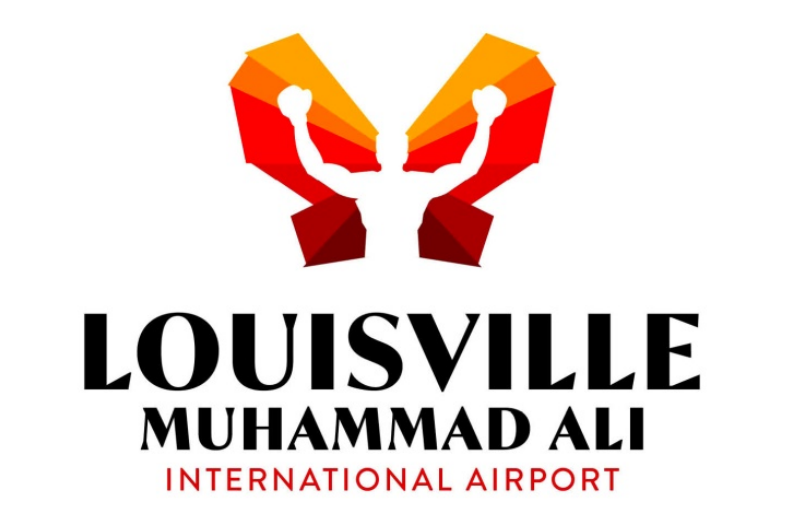 "Even three years after our city's most famous son's passing, Louisville continues to see people coming from across the globe to discover and trace Ali's legacy. The airport rebranding supports current marketing efforts to engage in Ali's 'Footsteps of Greatness' as a reason to inspire visitation to Louisville," says Karen Williams, president and CEO of Louisville Tourism.
The rebranding occurs as the airport is enjoying solid passenger growth, with an 11% rise in 2018 to 3.9 million, which was the highest growth rate in 25 years. Four new destinations were added to its route map during 2018, while flights to Los Angeles commenced in Apr-2019. The now airport features service to 30 domestic destinations and American Airlines is its largest user measured by weekly departing frequencies with a 36% share; Delta Air Lines holds second place with a 22% share.
CHART - All four the USA's largest carriers - American Airlines, Southwest Airlines, Delta Air Lines and United Airlines - operate from Louisville, and ULCCs Allegiant Air and Frontier Airlines also serve the airport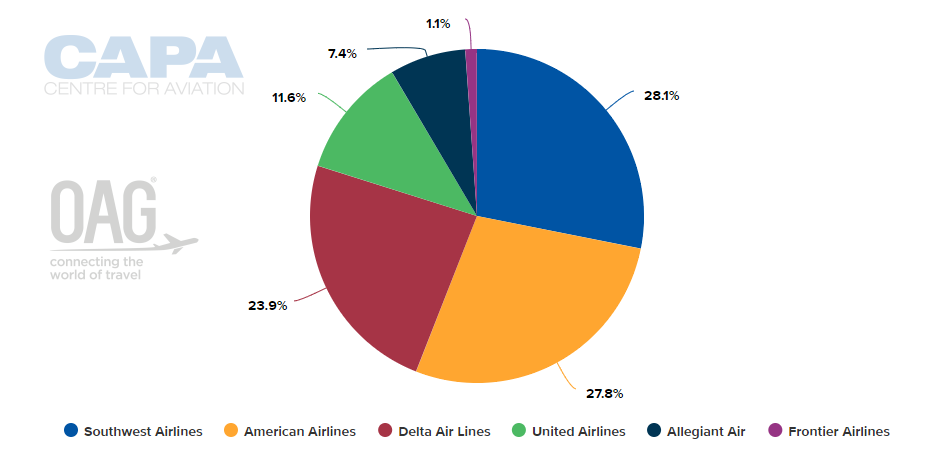 Source: CAPA - Centre for Aviation and OAG (data: w/c 10-Jun-2019)
Frontier Airlines returned to Louisville in 2018 and launched service from its largest base and headquarters, Denver as well as seasonal flights to Austin and Orlando. Allegiant Air's model sees a leisure focused operation with less than daily frequencies from markets such as Destin, Fort Lauderdale, Las Vegas, Myrtle Beach, Punta Gorda, Orlando Sanford, Tampa and Savannah. The airport is reportedly attempting to secure more ultra low fare service with interest in adding Spirit Airlines to its roster of low cost airlines.