The Faroe Islands, an autonomous country within the Kingdom of Denmark, are located between Norway and Iceland and around 200 miles (320 km) northwest of Scotland. They have many of the rugged geographical characteristics of Iceland while being a little greener but lacking in that country's glaciers, volcanoes and geysers, its main physical attraction. The nightlife isn't as wild in the capital Tórshavn either, but then again, very few places are.
The island's tourist board likes to use the expression 'Europe's Best Kept Secret' and passenger figures of 300,000 at the only airport, Vágar, indicate that is true. But after a slight dip in growth in 2016 to +5.8%, in the first half of 2017 that rate has increased to +13.3%, the highest level for at least eight years. And a good proportion will be visitors. There were almost 160,000 visitor overnight stays in 2016 (source: Statbank) although there are ferry services as well as the air links.
CHART - Passenger demand at Vágar Airport, the Faroe Islands' only international air gateway, was up 13.3% in H1 2017, the fastest rate of growth since 2008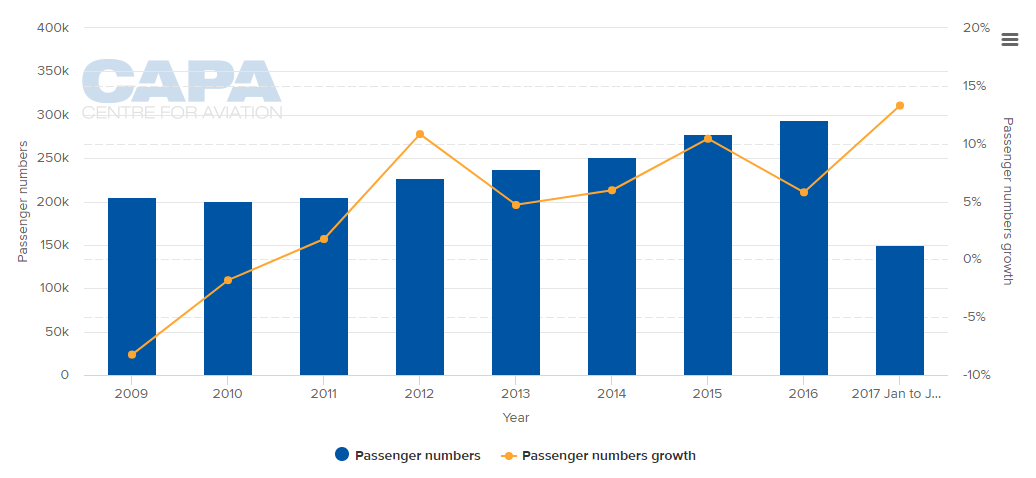 Source: CAPA - Centre for Aviation and Faroe Islands Vagar Airport reports
If that rate of increase continues it will mean around 331,000 passengers at Vágar in full year 2017 compared to 361,000 at Aarhus, based on -5.7% growth there in the first eight months of 2017. However, Aarhus has its own growth plans on the table for 2018 after announcing a significant network growth deal with SAS (see 'SAS signs up for "massive network of routes" to deliver 150,000 additional annual passengers to Aarhus').
Of course that is nowhere near the heights achieved by Iceland's Keflavik Airport alone, which has average growth of 40% in 2016 and 1H2017, with an estimated 9.5 million passengers in full year 2017, putting it on par with airports such as Glasgow in the UK and Cologne-Bonn in Germany. But Iceland is struggling to keep pace with its tourist visitor growth, many of whom are passing through for a day or two en route the ever-growing and increasingly competitive web of Europe-North America connections offered by Icelandair and WOW air. (Tourism growth in 1H2017 is seven percentage points lower than airport passenger traffic growth, indicating that more people are passing through than staying put).
Progress in expanding Keflavik Airport is not as quick as it might be and only a few days ago WOW air's CEO forecast it could reach capacity in two years. If construction was to be expanded dramatically one wonders where the manual labour is going to come from in a country of 340,000 where almost everyone seems to work in tourism (#1 occupation), fishing, software development or entertainment, without politically unacceptable levels of immigration. Reykjavik is not Dubai or Doha.
And Iceland might have run out of visitor accommodation by now had it not been for airbnb and other private property rentals. But there is a huge downside to that as well. There is so much buy-to- let-to-vacationers now that it is becoming an imposition on the resident population as supply dries up and prices spiral.
Then there is the simple fact that Iceland's 'nature' has been pummelled by hordes of visitors attracted by a cheaper exchange rate, the thrill of a possible volcanic eruption, Björk and Game of Thrones to the point of unsustainability.
So the Faroes are well positioned to benefit from any displacement of Iceland tourist visits in their direction in the sense that many new visitors are likely to be in the nature of the original ones to Iceland – outdoor lovers who are prepared to live in fairly basic accommodation or on campsites, rather than all-night clubbers. Moreover, as the airport, unlike Keflavik, is in absolutely no way a transit hub, those visitors will stay for a longer period of time.
CHART - The inclement weather during much of the year explains why the Faroes Islands has such a strong arrivals spike in July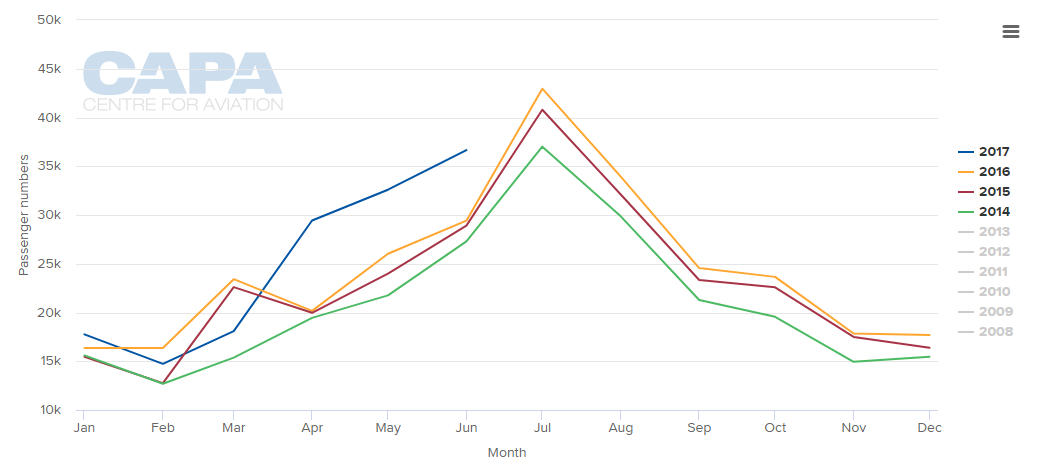 Source: CAPA - Centre for Aviation and Faroe Islands Vagar Airport reports
But in the long run the islands will need considerable surface transport, tour and accommodation enhancements for tourists and that job might fall to national airline Atlantic Airways as it did with Loftleidir and then Icelandair in Iceland.
Currently, Atlantic Airways has just three Airbus aircraft in service and only four year-round routes of which two are to capital cities (Copenhagen and Reykjavik). It has only one destination in the UK (Edinburgh, previously it was Aberdeen). There is currently no service even to London, despite the fact that the UK is Iceland's second-largest market, only slightly behind the US.
MAP - Atlantic Airways has boosted its network capacity by 5.0% in 2017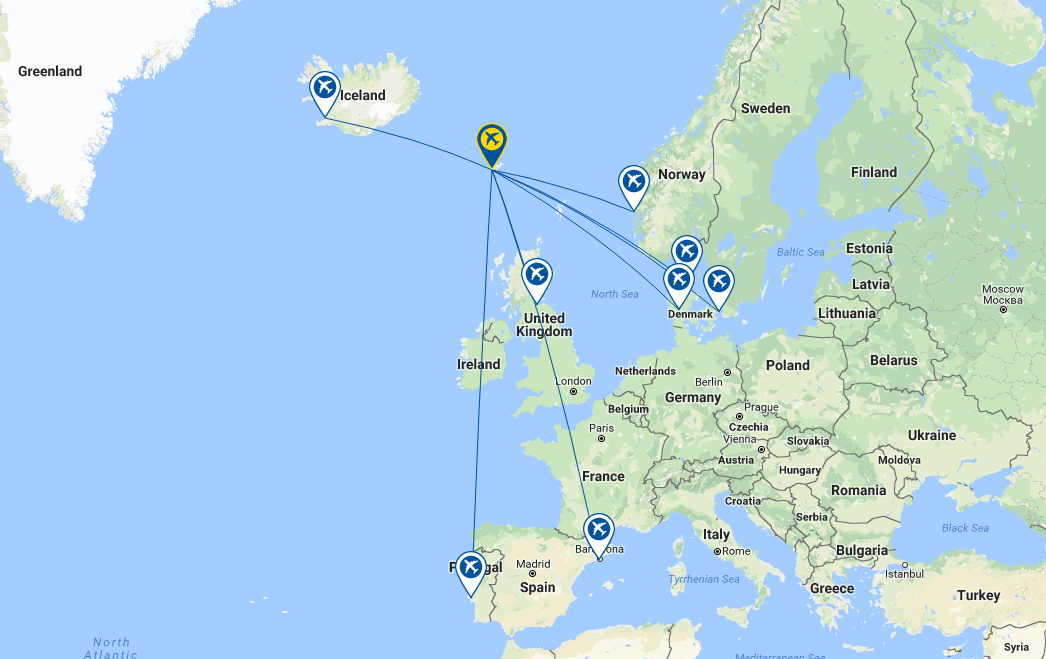 Source: CAPA - Centre for Aviation and OAG
Atlantic Airways did previously serve the UK capital with seasonal flights into London Gatwick and Stansted airports and it is not inconceivable that the airline could cut a deal with MAG to operate London Stansted – Manchester – Vágar at least seasonally in the future.
Indeed many of its routes actually seem to be geared towards the limited outbound market rather than potentially lucrative inbound ones and only one other scheduled airline – SAS – operates there, though there are also ad hoc charters.
Vágar Airport clearly has its best years ahead of it but the nation as a whole is where Iceland was in the 1980s where the visitor infrastructure is concerned. If they filmed the next series of Game of Thrones in the Faroes as things stand they would need an armada of boats and a tent city to handle the tourist invasion.