Cape Town is seeing increased air services due to a boost in popularity from a weaker currency, and then airlines being more assertive with network growth.
The South African rand had been depreciating since 2011 but reached extreme lows in 2016. Although the rand rebounded in 2016 and again in Jan-2018, the rand is still below 2015 levels. Cape Town's appeal increased to visitors as the destination became more affordable.
Airlines may appear to have been slow to grow in Cape Town, but such expansion requires a year or more of work. European airlines were quicker to market in part due to less conservative mindset than Asian peers, and because there is larger proven demand to Cape Town from Europe than Asia.
CHART - While the South African Rand has recovered versus the US Dollar since it hit a low in late 2015, conversion rates are still down considerably on those seen at the start of the decade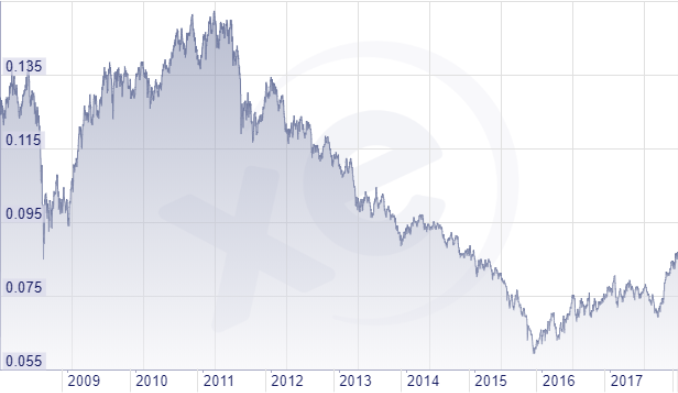 Source: XE.com
At the airline level, both Cathay Pacific and Singapore Airlines are having to be less conservative as they grow in a more competitive environment. It was only last year Cathay Pacific commenced summer-only service to Barcelona, the first time in recent history Cathay served a long-haul destination seasonally. Christchurch was added seasonally while Barcelona's seasonal experiment proved a success and will be offered year-round.
Cape Town adds to Cathay's roster of new intercontinental destinations – 15 since 2009, more than any other non-Chinese East Asian airline. A recent CAPA - Centre for Aviation report highlighted how northeast and southeast Asian airlines are opening new intercontinental points to increase city pair permutations. It noted that airlines in northeast Asia (excluding mainland China) have opened 52 cities over the past decade - two thirds of which have been opened since 2014.
CHART - Two thirds of the 52 new intercontinental destinations launched by northeast Asian airlines this past ten years were inaugurated since 2014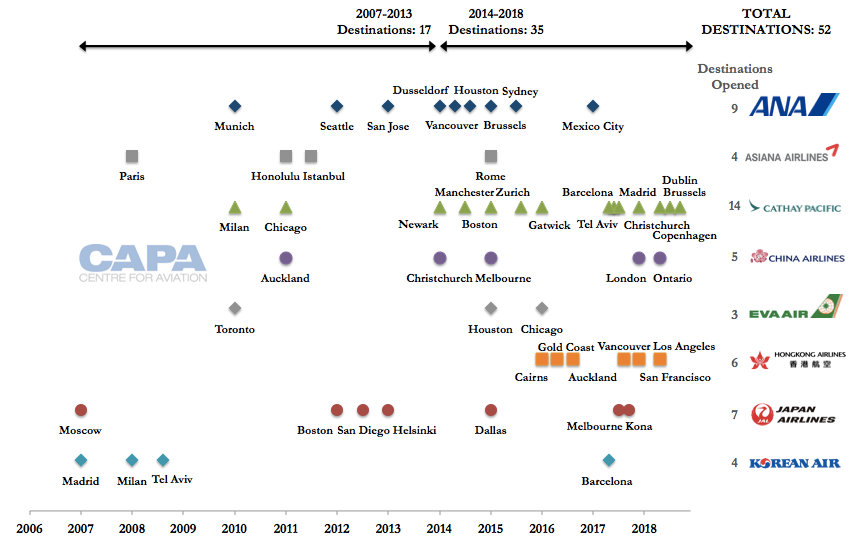 Source: CAPA - Centre for Aviation and OAG
Cathay Pacific has seen Asia-Cape Town traffic flow via Singapore or Middle East hubs and often with multiple stops - it reckons it and its Hong Kong hub can provide a better service. Since Singapore Airlines serves Cape Town as a tag from Johannesburg, any non-Singapore originating passenger travelling on Singapore Airlines has to make two stops, in Singapore and Johannesburg.
A connection in the Middle East is circuitous from East Asia. Although Gulf airlines are large in South Africa, they have a limited presence in Northeast Asia, Cathay Pacific's hinterland. In comparison, Gulf airlines are larger in SIA's Southeast Asia and Australia source markets.
Asia's outbound travel is growing in general, and to South Africa. Both Cathay Pacific and SIA note how their Cape Town growth benefits their local respective homes. But the business case to grow in Cape Town is also strongly about the airlines using their homes as hubs to link Cape Town with elsewhere in Asia.
China is always the go-to market to demonstrate growth, and it does not disappoint: Chinese visitors to South Africa have grown from 85,000 in 2011 to 117,000 in 2016, according to South African statistics. Some caution is to be exercised as much of this traffic is for business reasons.
China's large growth often obscures activity in the rest of Asia. Japan reported 34,000 outbound visitors to all of Africa (no country breakdown provided) in 2016, a 6% increase from the prior year. Preliminary statistics for 2017 show a high single-digit percentage growth. Much of this traffic is leisure. Although it is small in volume, it is also – as is typical of outbound Japan – very strong in yield. With additional capacity to Cape Town, and airlines making it faster and easier to access the market, traffic can be stimulated.
Travelling from Australia to South Africa via Asia or the Middle East is also circuitous but is a decent business for Asian and Gulf connecting airlines since there are limited non-stop Australia-South Africa services from Qantas and South African Airways.
Although it is a growth story for Cape Town, the larger Asia-Africa market is more complicated. Ethiopian Airlines is growing significantly in Asia and its Addis Ababa hub offers connections to the rest of the continent (and its growth offsets reductions from Kenya Airways). But Malaysia Airlines and Thai Airways have exited Johannesburg while South African Airways had a short-lived Johannesburg-Beijing flight.