---
Summary:
Macquarie Group may surrender its stake in Hobart Airport;
An infrastructure manager which contemplated a takeover previously could revive its interest, but there are also plenty of Australian funds which could move in;
Apart from a lack of international flights the airport has appropriate infrastructure for any investor.
---
Macquarie is, these days, mainly active in Europe (three UK airports and Brussels International) and is not as active generally in the airport sector as it once was. Strangely, two of its interests – Hobart Airport and Westchester County Airport in New York State, U.S.A. (which is not yet formally a done deal, the procedure is on hold) - could hardly be further apart geographically.
Palisade Investment Partners (PIP), an Australian independent, specialist infrastructure manager which provides institutional investors with access to Australian infrastructure projects through tailored portfolios and co-mingled funds, had mooted a "friendly" takeover of Hobart Airport in Nov-2017.
PIP may therefore still be in the running and it is already a lease investor in an Australian airport through a 'commercial partner' agreement. In Feb-2017 the Sunshine Coast Council signed such an agreement with PIP to become commercial partners for the operation of Sunshine Coast (Maroochydore) Airport, which is located at the northern end of the Sunshine Coast and approximately 90 km (56 miles) north of Brisbane. While the council still retains ownership of the airport there, Palisade operates, invests in and develops the airport under a 99-year lease.
Hobart International Airport is located 17km east of central Hobart, the capital and most populous city of Tasmania (225,000 population). Hobart is served by all major Australian airlines including Qantas, Jetstar, Virgin Australia and Tigerair Australia, and was a hub for the regional airline, Tasair until it was put into liquidation in 2012. No scheduled international service is offered and consequently there are no foreign airlines, although the airport does maintain customs and immigration facilities put in place for earlier international services to New Zealand.
CHART – Traffic levels have been rising at around 5-6% per annum since Hobart International witnessed dips in demand at the start of the decade and in 2014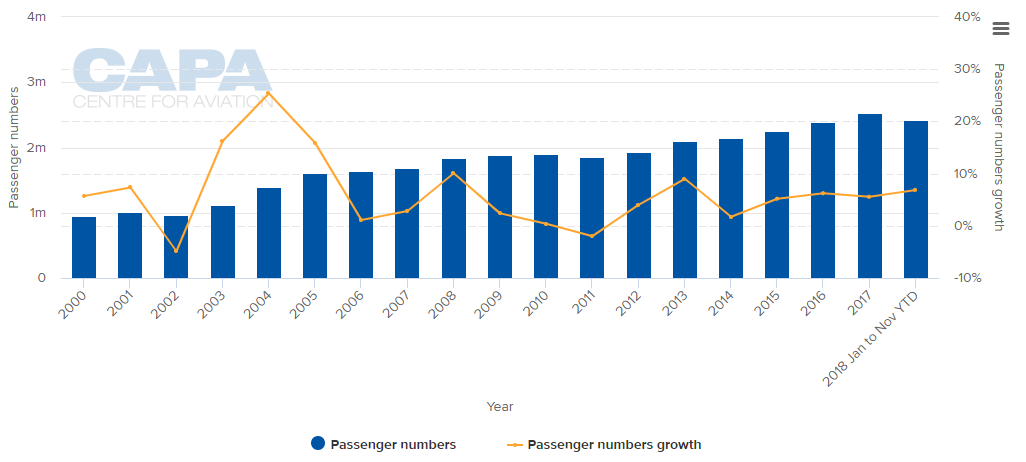 Source: CAPA – Centre for Aviation and Australian Bureau of Infrastructure, Transport and Regional Economics
Since 2014, when there was a big dip, passenger traffic has been climbing steadily at 5-6% per annum. In the same period cargo capacity has grown, and quite dramatically in 2018 (+18.4%). Seat capacity is split almost 50:50 between full-service and low-cost carriers. The best-represented airline alliance is oneworld, with 18.6% of capacity but three-quarters of seats are on unaligned carriers. A curfew is in place between 23:00 and 06:00, in common with most major Australian airports. Otherwise, utilisation is well spread out during the day.
CHART – Operations at Hobart International airport, exclusively domestic, are well spread through the average day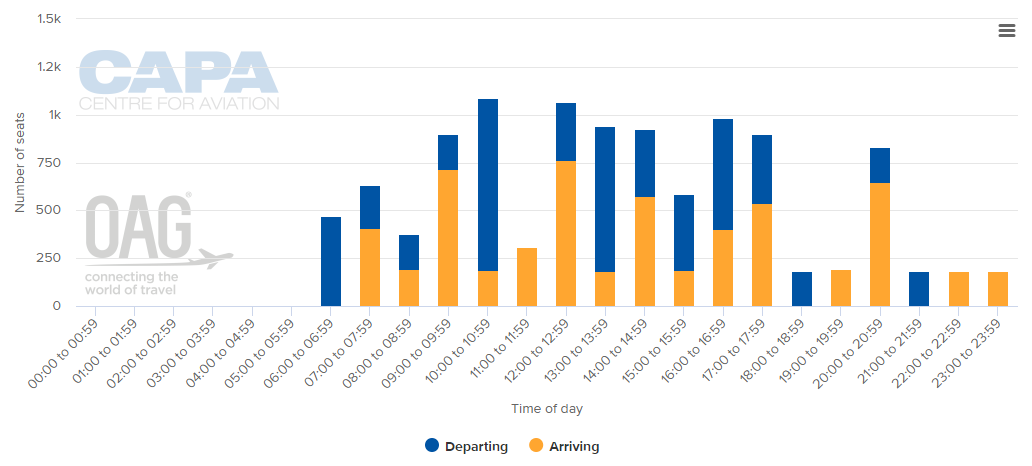 Source: CAPA - Centre for Aviation and OAG (data: 01-Mar-2019)
Apart from PIP, there are many other potential investors who could take on this stake which, based on this data, appears to be reasonably attractive apart from the lack of international services. 2018 saw the culmination of an AUD76 million investment into a 500 m runway extension and a terminal improvement programme, according to the CAPA Airport Construction Database.
Since a series of airport leases began in the late 1990s (which included Hobart Airport, where the lease was purchased by Hobart Airports Corporation, a government-owned company operated by the Hobart Ports Commission) airport ownership in Australia has been characterised by the number of investment firms and funds which took and retained an interest in the sector. Sydney Airport, which was privatised later than the others, has Australian and international pension and superannuation funds amongst its investors.
A variety of names crop up at other airports, for example Melbourne (lessee APAC, which is majority owned by five Australian fund managers: AMP Capital Investors; Industry Funds Management (IFM); Deutsche Australia Ltd (Deutsche Asset Management [DAM]); Future Fund; and Hastings Funds Management.
And Brisbane (QIC Infrastructure Management Pty Ltd; Schiphol Australia Pty Ltd; National Asset Management Limited; Gateway Investments Corporation Pty Ltd; Citicorp Nominees Pty Ltd; JP Morgan Nominees Australia Ltd., while Future Fund crops up again at Perth and IFM at Adelaide.
All of the above are or have been investors in those airports. And the one advantage they all have over foreign ones is an informed appreciation of the Australian market, and especially of the light-handed regulation that permits many airports to report EBITDA margins in excess of 80%.
As for Macquarie, is this action being contemplated because it feels it will have bigger fish to fry in the future? Only time will tell.