---
Summary:
Manchester Airport Group (MAG) has bid for a 35-year concession on Sofia airport;
The main interest is in long-haul where a Chinese connection through Beijing Construction Engineering Group could be instrumental;
Should MAG stick with what it knows best?
---
MAG's motives in pursuing this concession are unclear. In the 1990s (as Manchester airport) it got involved with the privatisation of Australian airports (Adelaide and Parafield) but later disposed of those stakes. Since then, and after a big gap, MAG expressed interest in the proposed concession on Lithuanian Airports, a stalled procedure, and in the Belgrade airport concession – its first foreign venture since the aborted bid to lease Chicago Midway airport five years ago.
Those bids and EoIs were probably driven not so much by the MAG management and the city and town councils which still collectively hold 64.5% of MAG's equity, but by 35.5% shareholder IFM Investors, the Australian pensions investment manager, which came on board with MAG specifically to bid for London Stansted airport.
So East Europe really is new ground for MAG and one wonders what the attraction is. IFM has gained some experience of the regional market through its investment at Vienna International , which is bound up with that region as a hub gateway.
MAG's CEO has said the company wants to "deliver direct international connectivity to Bulgaria to stimulate tourism and economic growth". Well Bulgaria, including Sofia, need that connectivity in the mid- and long-haul arena, as the route map below makes clear.
CHART – Sofia is well linked within Europe, but there is an obvious opportunity to grow links from the Bulgarian capital to medium- and long-haul markets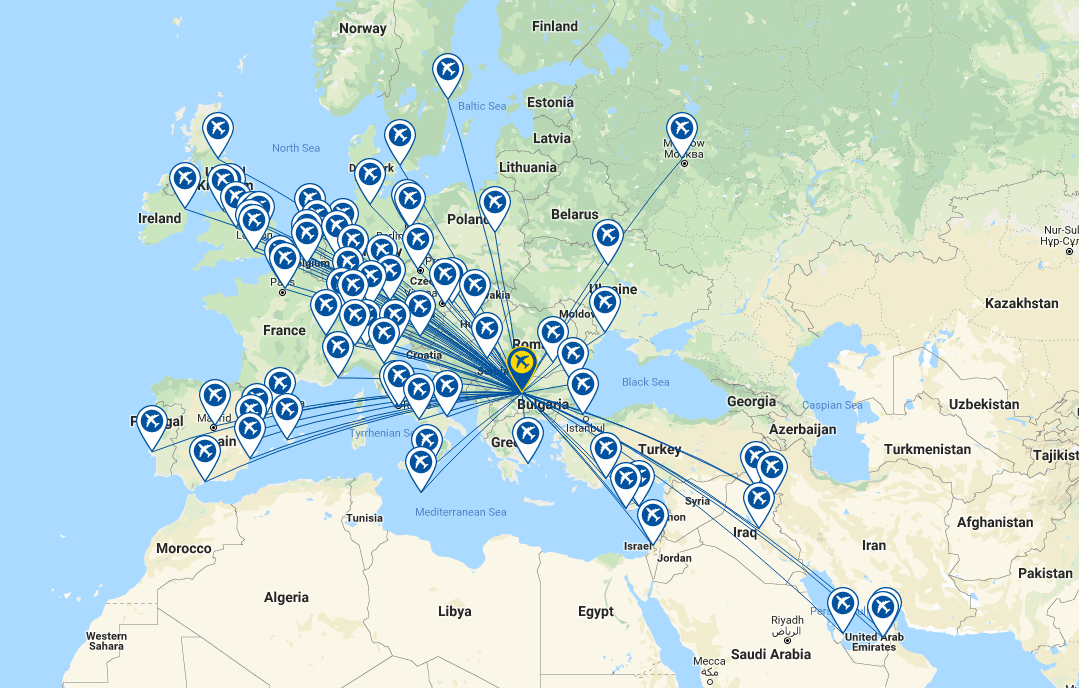 Source: CAPA – Centre for Aviation and OAG
European markets are reasonably well catered for now, with many capital and major regional cities already served, particularly where Bulgarians have chosen to settle since the country entered the EU in 2007, and indirect connections.
MAG's decision to place a concession bid was made in 2018, when it became known that passenger traffic at Sofia had increased by over 30% in 2017, subsequent to a gain of almost 22% in 2016 although it is believed it had been investigating that airport's credentials for two years previously and it regards it as a potential 'jewel in the crown'. However, growth declined to 7.3% in 2018 and is running at 4.5% in the first quarter of 2019.
CHART - Sofia airport witnessed strong passenger growth in 2016 and 2017 and although still rising, demand levels have reduced to single-digit year-on-year rates in 2018 and 2019YTD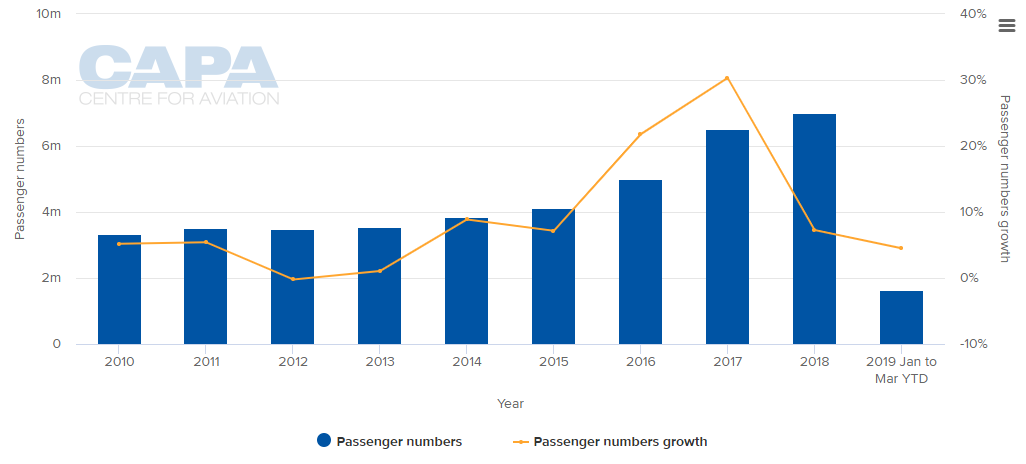 Source: CAPA - Centre for Aviation and Sofia Airport reports
The majority of seat capacity is held by low-cost carriers (53%) but mainly in the form of Ryanair and Wizz Air, which between them hold 48.7% of that capacity. MAG is well versed in handling Ryanair. Following a change of CEO in 2010 the Irish airline which had been regarded as a pariah suddenly became a cause célèbre and its own commercial director was recruited by MAG to manage that transition, subsequently becoming managing director of Manchester airport and then of Stansted airport. Ryanair is now the largest airline by capacity at both of them, as it is also at MAG's other airport, East Midlands.
Wizz Air is a different kettle of fish. It operates at none of the MAG airports, preferring the (rival) Liverpool, London Luton and Doncaster-Sheffield airports at each of which it has extensive operations. There are no grounds for co-operation between MAG and Wizz Air, which would commence from base point.
But MAG's concern would mainly be with long haul and that is perhaps where Beijing Construction Engineering Group comes in. Apart from building Manchester's airport city as part of a consortium, BCEG is also building Beijing Daxing International airport. It has said it sees its involvement in the bid for Sofia Airport as an extension of the memorandum of understanding between China and Bulgaria as part of the 'One Belt, One Road' initiative. Chinese firms are attracted to central European airports generally as cargo gateways and Sofia looks as if it could be one.
The problem for MAG is that the councils that own the majority of it want payback on that ownership. They know they can get it through 'normal' activities at Manchester, Stansted and East Midlands in the form of their handsome annual dividend. While no objections have been raised, ventures like this are taking them into unknown territory.
There is also the argument of course that MAG should simply stick to what it knows best. The Heathrow third runway debacle has still not been resolved and the decision in its favour could even now be overturned by judicial review. In that case the MAG airports would find themselves back in the frame to solve future capacity needs in the busy London market.