Malaysia Airlines filed in early May-2017 a new schedule for its daily Kuala Lumpur-Perth service which indicated the deployment of a 737-800 for May and June. However, Malaysia Airlines CEO Peter Bellew told CAPA on the sidelines of the 6-Jun-2017 IATA AGM the new 737-800 schedule for Perth will be year-round rather than seasonal.
Mr Bellew said there are no plans to transition the route back to the A330-300 as the Kuala Lumpur-Perth market is currently oversupplied.
Malaysia Airlines has been impacted over the last couple of years by expansion in the Perth market from other Malaysian carriers as well as other foreign carriers. Mr Bellew said Kuala Lumpur-Perth yields have plummeted and are now even lower than the average yield on the Kuala Lumpur-Kota Kinabalu domestic route.
The Kuala Lumpur-Perth route is currently served by Malaysia Airlines, AirAsia X and Malindo Air. AirAsia X operates two daily flights using 377-seat two class A330-300 aircraft while Malindo operates 10 weekly flights using 162-seat two class 737-800s.
Interestingly, Malaysia consistently ranks in the top three international visitor markets to Western Australia, with Mar-2017 results increasing 33.5% month on month to be in position two. According to Tourism Western Australia, the year ending Mar-2017 saw 111,700 international visitors from the country come to Perth.
Malaysia Airlines' decision to downgauge to 737-800s has resulted in its capacity share on the Perth-Kuala Lumpur route declining from 23% to 16%. AirAsia X now has a commanding 66% share of capacity while Malindo, which cut back from 12 to 10 weekly frequencies in late Apr-2016, has a 20% share.
Perth to Kuala Lumpur weekly capacity by airline: Sep-2011 to Jun-2017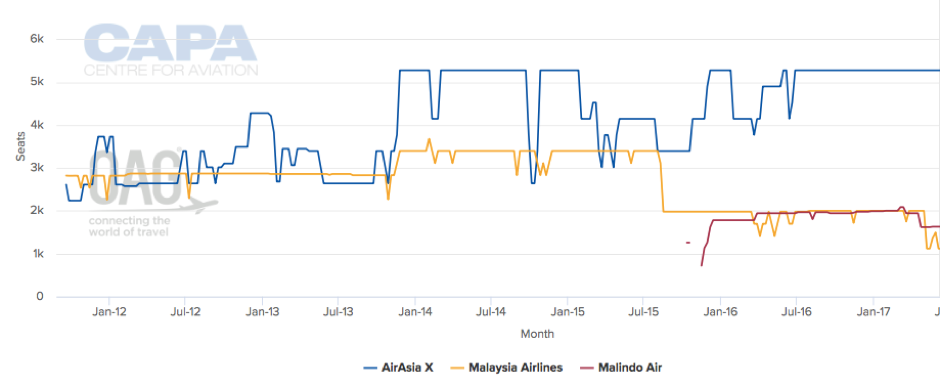 Source: CAPA – Centre for Aviation & OAG
Malaysia Airlines' share of business class capacity in the Perth-Kuala Lumpur market has been reduced from 38% at the beginning of May-2017 to 28% currently. Malaysia Airlines has 16 business class seats on the 737-800 compared to 27 seats on the A330-300. The 737-800 business class cabin has recliner style seats while the A330-300 fleet, which was retrofitted in 2016, has lie flat seats.
AirAsia X will be the only airline offering lie flat business class seats on the Kuala Lumpur-Perth route – although AirAsia X has a small premium cabin with only 12 seats. Malindo has 12 recliner style business class seats on its 737-800 fleet.
While Perth is a popular destination for Malaysians, local demand is relatively limited given the number of seats in the Perth-Kuala Lumpur market. Therefore, all the Malaysian carriers rely heavily on connections beyond Kuala Lumpur. Thailand and India are particularly popular one-stop destinations from Perth but these markets are highly competitive and served by several Southeast Asian carriers.
Switching to a smaller aircraft should enable Malaysia Airlines to improve its yield and load factor in the Perth market. It will continue to be able to carry local traffic and some higher yielding connecting traffic with the 737-800 while ceding to competitors some of the lower yielding price sensitive connecting traffic.
The downgauge of the Perth flight results in a further 8% cut in capacity to Malaysia Airlines' overall Australia operation. In Aug-2015, Malaysia Airlines cut its Australia capacity by more than 40% as part on of a broader network restructuring. For nearly two years it maintained capacity in Australia, offering nearly 12,000 weekly one-way seats to five Australia destinations (Adelaide, Darwin, Melbourne, Perth and Sydney). The reduction in Perth has resulted in a further decline to approximately 11,000 weekly one-way seats.
As Blue Swan has previously analysed, Malaysia Airlines' passenger traffic to and from Australia has dropped nearly 40% since 2014. The airline carried a record 1.4 million passengers to and from Australia in 2014 but less than 900,000 passengers in 2016, according to BITRE data. The drop in capacity in Perth means Malaysia Airlines will likely carry even fewer passengers to and from Australia in 2017.
See related report: Malaysia Airlines aims to improve Australia performance
(https://corporatetravelcommunity.com/analysis/malaysia-airlines-aims-to-improve-australia-performance)