---
Summary:
Malaysia Airports (MAHB) now has an extension to operate 39 airports including Kuala Lumpur International through to 2069;
It may be reducing some of its overseas commitments to focus on the local market where a major decision must soon be taken about yet another 'low-cost terminal' at Kuala Lumpur
Other important airports operated, managed and maintained under this contract are airports in Kota Kinabulu and Penang.
---
MAHB CEO Raja Azmi Raja Nazuddin said the framework of the new operating agreements will also "provide greater flexibility to MAHB in undertaking the necessary development projects or initiatives aimed at improving airport infrastructure and services while providing the government with better revenue". The new agreement runs until 11-Feb-2069 and includes MAHB's flagship holding, Kuala Lumpur International Airport (KUL).
While MAHB is active abroad, in India, Cambodia and Turkey, the majority by far of its interests are in its home market. It is a pioneer in the region having been the first airport company to be stock market listed in Asia.
MAP - While Malaysia Airports Holdings Berhad (MAHB) has interests abroad, its main focus is in its home market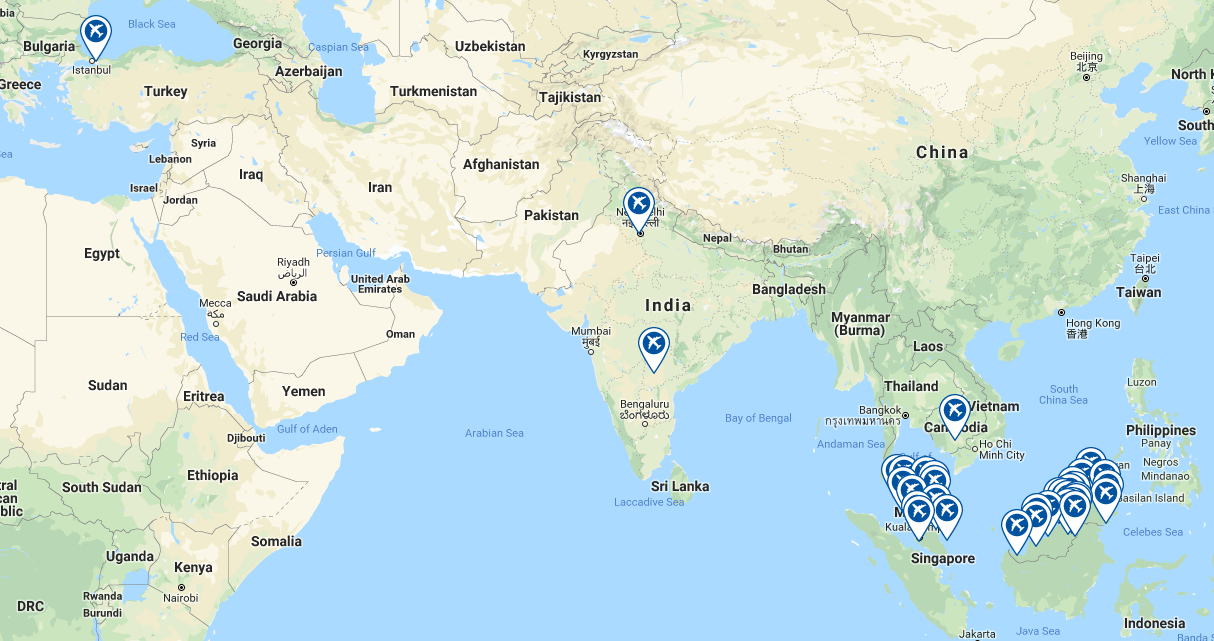 Source: CAPA - Centre for Aviation
This extension agreement comes at a time when MAHB may be looking to reduce some of its overseas commitments further. Earlier this year GMR was engaged in discussions with MAHB to sign an agreement for the purchase of MAHB's 11% stake in GMR Hyderabad International Airport Limited (GHIAL), the operator of the Indian airport. In late 2018 Turkish Airlines was reported to be considering purchasing a majority stake in Istanbul Sabiha Gökçen Airport from MAHB. On the other hand MAHB is believed to be evaluating other investment opportunities in India.
Kuala Lumpur International Airport is MAHB's primary concern of course and the government had already approved an extension of MAHB's operating agreement there from 25 to 60 years, in Feb-2017 (thorough to Feb-2069).
While Asia's busiest airports tend to be in the north of the region (China, Japan, Korea), in Southeast Asia Kuala Lumpur competes with Singapore, Bangkok, Manila and Jakarta airports for bragging rights as the leading sub-regional gateway/hub.
TABLE - Kuala Lumpur International is not the biggest among the major Southeast Asian hub, in fact it was fourth out of the five analysed airports, but the top four are closely spaced

Source: CAPA – Centre for Aviation Airport Profiles
What KUL probably does better than its rivals is provision for low-cost services, most of which are located in the KLIA2 terminal, which was built – theoretically at least - with them in mind (though at a high price and not without strong airline opposition). In Aug-2018 a more pragmatic 'low-cost terminal' was proposed but was not government-approved at the time.
KUL previously had a 'low-cost terminal' from 2006, to compete with Singapore's 'Budget Terminal' but it was sited too far from the main airport complex and ultimately closed down in favour of KLIA2. The main terminal building, which handles slightly less capacity than KLIA2, will be expanded but that exercise looks to have been delayed until 2023.
Almost 54% of seats at KUL are low-cost compared to 31% at Singapore, 36% at Jakarta, 13% at Bangkok (much more at that city's Don Mueang airport) and 50% at Manila. Much of that is down to AirAsia. Passenger traffic growth at KUL, having peaked at +11.2% in 2017, fell back to +2.4% in 2018 and in 1Q2019 was only +1%.
CHART - Traffic growth at Kuala Lumpur International airport has been varied but positive this decade, but slowed last year and is continuing at a lower rate into early 2019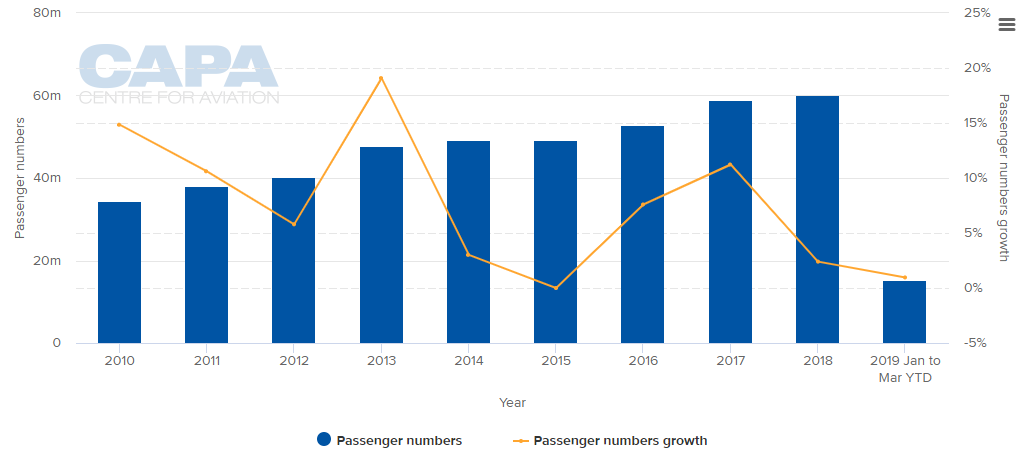 Source: CAPA - Centre for Aviation and Malaysia Airports Holdings Berhad (MAHB)
After KUL, the two most important domestic airports for MAHB, judged on their size, are Kota Kinabulu and Penang. The former, Kota Kinabulu, an industrial and commercial city, is the main gateway to the state of Sabah and the island of Borneo and Malaysia Airlines uses it as a secondary hub. Its airport has a very strong presence from AirAsia though, considerably more than Malaysia Airlines at over 57% of capacity. Annual passenger traffic growth has been steadier there in the last three years (2016-18), averaging +9.5% and reaching 8.62 million last year.
The latter, Penang, is a highly urbanised region of hi-tech industry known as the 'Silicon Valley of the East', while also one of the most popular tourist destinations in Malaysia. Malaysia Airlines has a much lesser role to play here and the two largest carriers, AirAsia and AirAsia Indonesia, have exactly 66% of capacity between them. Passenger traffic growth fell from +15.1% to +3.6% in the space of two years between 2013 and 2015 but rallied in the following three years, to 7.8 million in 2018.