---
Summary:
An established airport at capacity is 'threatened' by a green field new one, the design of which was intended to take pressure off the former;
That is the state of play in Malaysia in the neighbouring Penang and Kedah states;
A crunch meeting is to be held before Jul-2019 to thrash out arising issues related to the impact of the new airport on business sectors in the adjoining state.
---
The proposal seeks to allay the Penang state government's concern that the development of Kulim airport in neighbouring Kedah state will negatively impact growth at Penang International. But the original reason for the Kulim Airport was that it would ease both passenger and cargo traffic at Penang International, which is fast approaching maximum capacity. The two sides of the equation appear to be at odds with each other.
CHART - Penang International is Malaysia's third busiest airport with 7.8 million passengers in 2018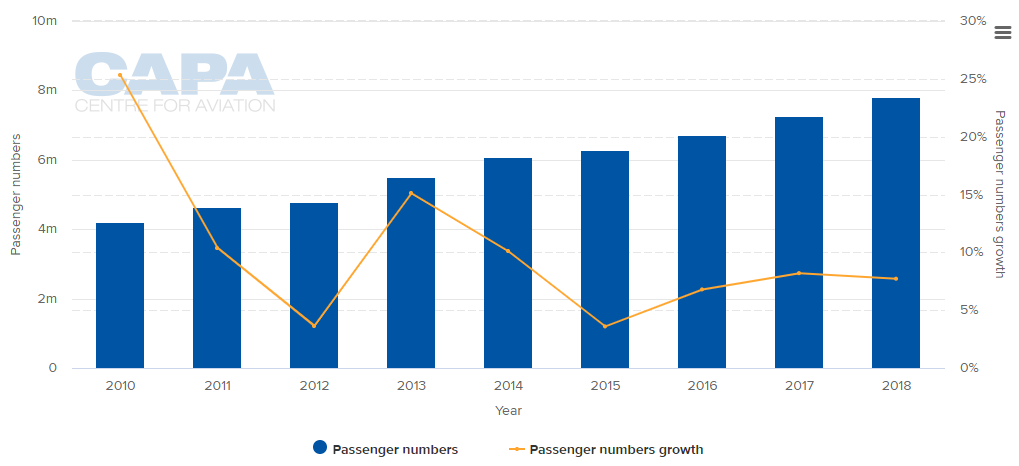 Source: CAPA - Centre for Aviation and Malaysia Airports Holdings Berhad (MAHB)
Penang International is Malaysia's third busiest airport after Kuala Lumpur and Kota Kinabulu, with 7.8 million passengers in 2018. In the last seven years passenger traffic growth has been steady if erratic. Meanwhile, Kulim is a greenfield airport currently under development. It was first proposed in 2014 owing to concern about growing capacity restraints at Kulim's nearest international airport, Penang!
Kedah State has two current airports, Alor Setar (0.8 mppa) and Langkawi International (2.7 mppa). The state government has allocated 600ha of land for the new project. The initial proposed cost was MYR1.6 billion (then USD500 million), covering land acquisition, infrastructural developments and the construction of two runways.
An 'aerocity' was also proposed to complement the airport, as part of that 600ha, and then an 'aerohub', an industrial and business area to "accommodate all industries related to air transportation". A number of MoUs have already been signed for such a development and in Feb-2019 the state had received Federal Government approval to establish a company called KXP AirportCity Holdings to coordinate and manage the development of the airport.
But, finding the funds has been an issue. The state government has insisted that it should not be "totally dependent" on Federal funding and that it was evaluating "other approaches to finance the project".
Malaysia's minister of tourism, Mohamaddin Ketapi, believes the Kulim airport project is one of the most significant projects nationally and will contribute to the growth of the tourism industry in Kedah.
In particular, it says "many tourists from Thailand will enter Kedah. This is one of the gateways for tourists to come in... We will use Kedah as a gateway from the north". It is not clear exactly what he meant by that. Malaysia has a land border with Thailand very close to where the airport is being built. He may have been referring to Thais using it as a local airport.
MAP – Penang and Kedah are neighbouring states in the north of Malaysia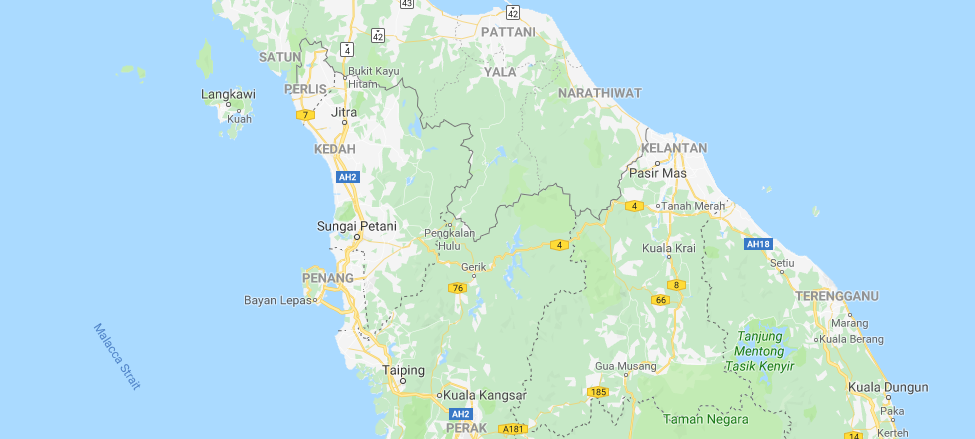 Source: Google Maps
And that statement represents a change of plans. Back in 2015 the Kedah state chief minister Mukhriz Mahathir said Kulim airport would initially operate only as a cargo facility to meet local demand for freight services.
It hasn't always been plain sailing from a regulatory viewpoint, either. In Aug-2018 Kedah's Government requested the central Malaysian Government to review the plans for the airport which were first proposed under the previous state government.
So a degree of confusion as to why the Kulim airport should be built appears to linger. The finance minister has assuaged concerns that Penang International might even close down when it opened, having already approved Penang's expansion plan.
Penang's chief minister Chow Kon Yeow has also requested a tripartite meeting with Kedah state and the Transport Ministry to discuss the Kulim proposal, before Jul-2019, this time to voice concern over the impact of Kulim airport on Penang's logistics and manufacturing sectors as well as the levels of direct foreign investment. In response, finance minister Eng said Penang's state government should view the development of Kulim airport as merely complementary to Penang International. But would private sector investors subscribe to that view?