---
Highlights:
Malindo Air is resuming expansion in 3Q2019 as it adds three Boeing 737-800s and three ATR 72-600s, restoring growth after shrinking its fleet over the last two years;
New international destinations include Sydney, Varanasi and Da Nang;
Two of new turboprops will be based in Brunei as part of a new partnership with Royal Brunei Airlines.
---
Malindo's operation peaked just over two years ago, in Jun-2017, when it operated 47 aircraft (32 737s and 15 ATR 72s) and generated around 216,000 weekly seats. The airline cut capacity in 3Q2017 as three 737 MAX 8s were transferred to sister airline Lion, resulting in a jet fleet of 29 aircraft (23 737-800s and six 737-900ERs).
The jet fleet has since been maintained at 29 aircraft although Malindo did cut it to 28 in Apr-2019 as it wet leased a 737-800 to Samoa Airways. Malindo now plans to add three 737-800s in 3Q2019, boosting its jet fleet back to the 32 aircraft level.
Meanwhile regional capacity declined in late 2017 and 1H2018 as Malindo transferred five ATR 72-600s to Indonesia-based sister Wings Air. Its turboprop fleet briefly peaked at 17 ATR 72-600s in 3Q2017 but over the last year it has operated only 12 of the type.
Malindo currently bases its turboprops at Kuala Lumpur's old airport Subang while all its jets are based at Kuala Lumpur International Airport (KLIA). It currently has around 32,000 weekly seats at Subang compared to over 60,000 seats in 3Q2017 (according to CAPA and OAG data). Meanwhile, it has around 118,000 one-way weekly seats from KLIA compared to a peak of 150,000 one-way weekly seats in Jun-2017. The remaining capacity (around 22,000 weekly seats) consists of point-to-point routes bypassing Kuala Lumpur, using both the turboprop and jet fleets.
CHART – Malindo's system-wide weekly capacity is currently around 172,000 weekly seats; its seat capacity increased significantly in 2017 but has since been on the decline (with normal seasonal variation)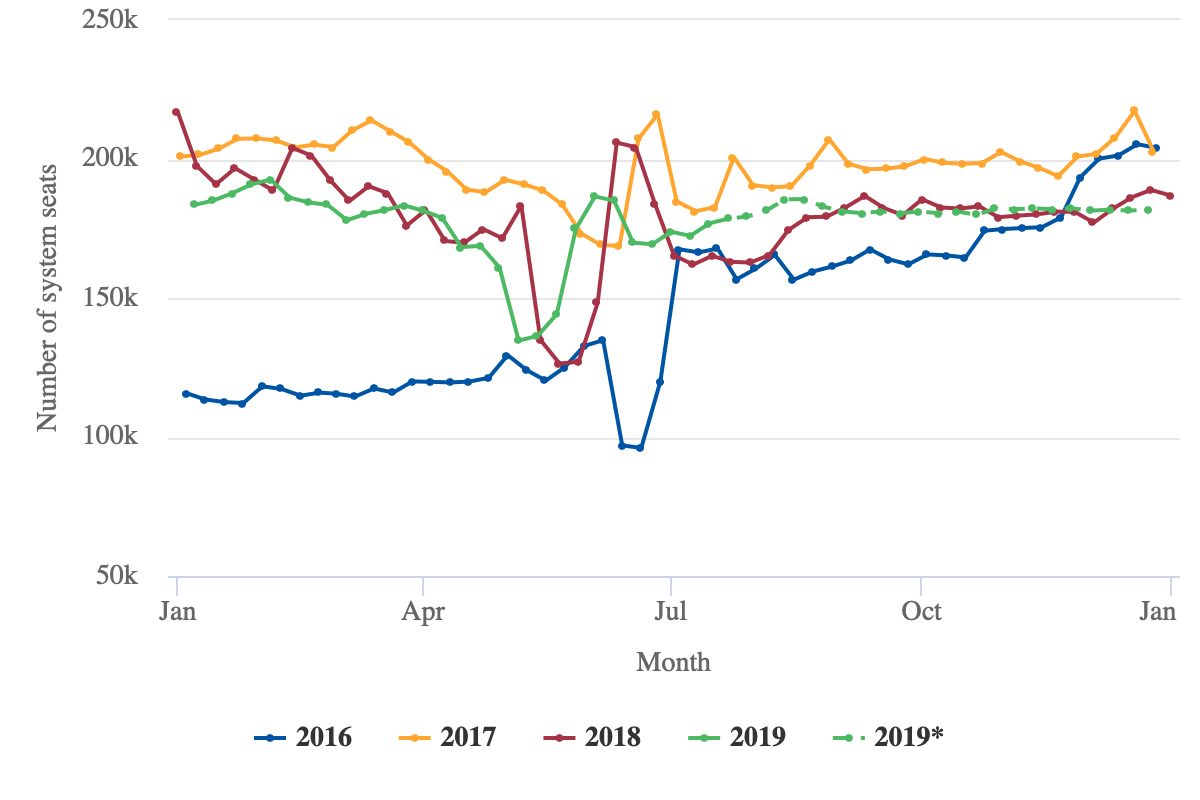 Source: CAPA – Centre for Aviation & OAG (NOTE: *data for the remainder of 2019 is predictive based on future OAG schedules)
Malilndo's capacity is again on the upswing in 3Q2019 as six additional aircraft are placed into service. In addition to three 737-800s, which are being transferred from Indonesian-based sister airline Batik Air, Malindo plans to take delivery of three ATR 72-600s. The first of these ATR 72-600s, registered 9M-LGC, arrived in Kuala Lumpur on 6-Jul-2019 but has not yet entered service.
The 737-800s will be used to expand Malindo's international operation including the launch of three weekly flights from Kuala Lumpur to Varanasi on 18-Jul-2019 and a daily flight from Kuala Lumpur to Sydney via Bali on 14-Aug-2019. It is also adding new routes to secondary cities in China (mainly charters) and intends to add Da Nang although a launch date has not yet been set. Sydney and Varanasi, its ninth destination in India, will expand Malindo's international network to 39 destinations. This is only three fewer destinations than Malaysia Airlines.
Two of three additional ATR 72-600s will be used to open a new base in Brunei while the third aircraft will be used to add back capacity in the Subang market. Malindo is aiming to launch flights from Subang to Singapore Seletar Airport, a route Malaysia Airlines subsidiary Firefly launched in Apr-2019. Malindo has the traffic rights and Malaysian approvals for Subang-Seletar and Ipoh-Seletar but is still waiting for approvals from Changi Airport Group, which operates Seletar's new passenger terminal.
SEE RELATED REPORT: Seletar reopens to airlines and offers new alternative for the busy Singapore-Kuala Lumpur market
The new Brunei base is being opened as part of a new partnership with Royal Brunei Airlines (RBA). Malindo plans to begin operating ATR 72-600s at the end of July for RBA, which will use Malindo to provide feed from regional destinations within Borneo – a rugged island known for its ecotourism that is shared by Malaysia, Indonesia and Brunei.
The partnership is part of a new extended home market strategy for RBA with the objective of improving connectivity within Borneo, enabling visitors to combine different parts of the island in a single itinerary.
RBA already serves two destinations in Malaysian Borneo – Kuching (added in late 2018) and Kota Kinabalu – using A320s. Malindo's ATR 72-600s will be used to open new secondary destinations in Borneo and may also be used to supplement A320s on the short hop from Brunei to Kota Kinabalu.
New destinations under consideration include Bintulu and Sandakan – both of which are in Malaysia but are not currently served by Malindo or RBA.