In fact, research completed in Nov-2021 by the Institute of Travel Management's (ITM) highlights the return to travel as the biggest priority for the industry in 2022, ahead of duty of care, traveller wellbeing and sustainable practice. In its annual survey of buyer members, ITM revealed that most buyers remain pessimistic on the recovery with almost half (48%) expecting their travel spend to be down by 50% in 2022 when compared to the pre-pandemic levels of 2019.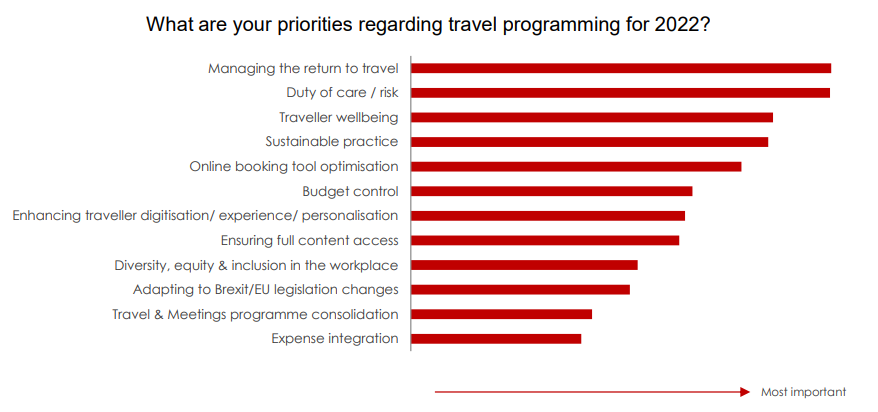 The research also shows that buyers will also only allocate around a quarter of budgets (25%) to internal meetings, down from 50% 2019. Internal meetings are considered by many to be an area where technology substitution will heavily impact business travel in the future and where no-essential travel will be defined as needless.
The ITM Top Priorities for 2022 survey of 100 corporate travel buyers, managers and heads of travel, with a mix of global, EMEA, UK and Ireland responsibilities – with a third responsible for annual spend of over GBP100 million – was designed to explore travel programme trends and challenges for the next 12 months and was completed during Nov-2021.
A growing prominence for travel managers within companies
Importantly, it highlighted the growing prominence of travel managers within companies. More than half (58%) said that the pandemic has impacted favourably on their profile and value within their business with only 5% saying it had been affected less favourably.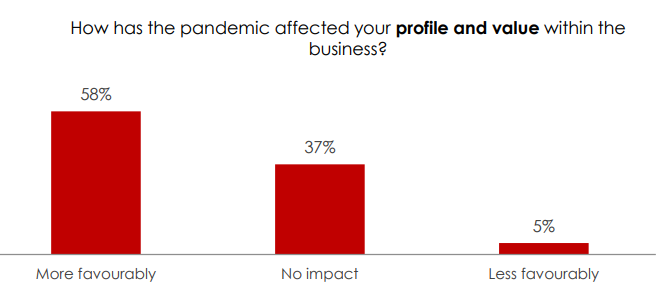 Almost all buyers have also taken on additional responsibilities during the pandemic including corporate cards, traveller guidance and safety, risk management, and engaging with senior executives regarding the return to travel, while more than one in three said that they are actively involved in their company's rationale about the value and ROI of an in-person meeting.
Border restrictions, quarantine and testing protocols to remain challenge
Besides COVID-19 infections, the top challenge buyers will face when it comes to managing travel in 2022 is the complexity of border restrictions, quarantine and testing protocols, according to the research. In fact almost nine in ten (88%) respondents also felt that this would be the top factor to negatively impact on their confidence in business travel levels next year.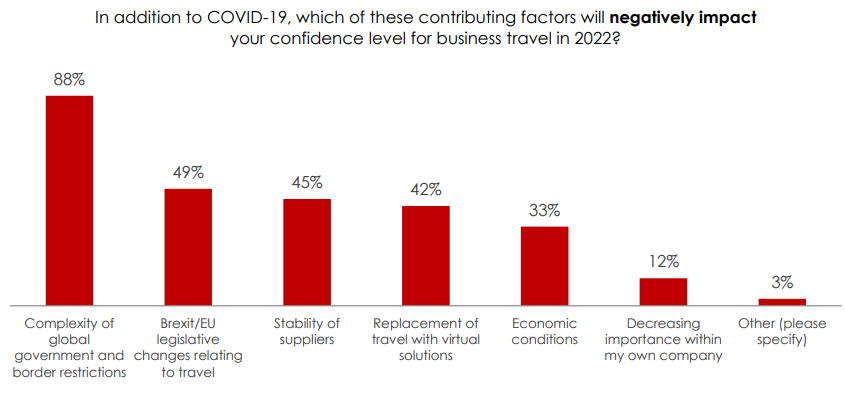 In Europe in particular EU legislative changes relating to travel was identified as a key influencer of confidence levels – around half (49%) of buyers ranked this factor in second place (moving up from fourth place in the same survey from 2021).
Asked if their travel programme was fully prepared for managing new European travel regulations, just under half (46%) of buyers said 'no'. This is stable, versus 45% last year, indicating little progress has been made as Covid complexities and low travel volumes mask the required changes.
Sustainability, diversity, equity and inclusion rise in importance
The survey findings still highlight the importance of duty of care and travel wellbeing to travel managers, while sustainability remains the fourth biggest priority as per last year. This does actually represent a lift in attitudes to sustainability if you remove the new factor of the return to travel. Diversity, equity and inclusion move into the top ten priorities in the annual survey for the first time, rising two places to rank ninth. Another notable mover is budget control which has fallen by two places to sixth place on travel buyers' agenda, according to ITM's findings.
Green thinking; travel policies evolve to consider sustainable options
Influencing sustainable practice ranks as the second biggest challenge that buyers will face when it comes to managing travel in 2022. However, two in five (40%) buyers said that they currently do not stipulate suppliers must comply with sustainability requirements.
Nevertheless travel policies are already evolving to reflect sustainable travel practices, according to ITM's buyers. In terms of air travel, more than a third (36%) said that their policy allows travellers to select a sustainable option even if the cost was higher, up from 30% in 2020, and 17% in 2019. More than half (58%) buyers expect to see a modal shift in air to rail travel in 2022 compared with just a third (33%) last year.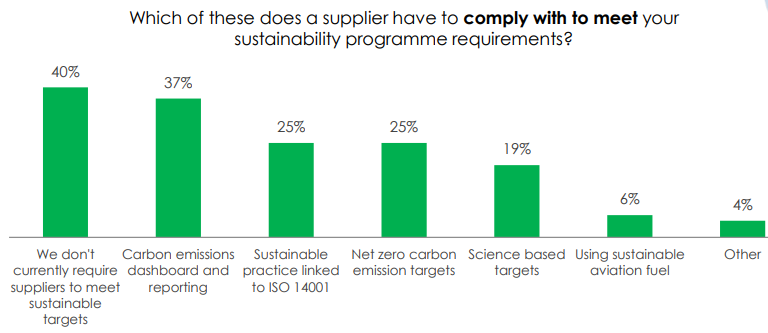 For the first time, the 2022 ITM survey also asked buyers if their travel policies allow booking sustainable ground transport practices regardless of cost. Almost half of respondents (47%) said that they would favour sustainable ground transport practice over cost.
Is there a need for change?
Half of travel buyers (51%) revealed in the ITM survey that they will not be making any changes to their TMC commercial models as a result of the pandemic; albeit almost two in five (38%) said they would switch to a hybrid model, while 5% would move to a management fee/ cost plus model and 2% would switch to a subscription model. Of concern, almost half of respondents felt that their online booking tool is not ready to support delivery against the new business travel priorities and especially supporting the management of the return to travel in 2022.