Business travel is still being heavily impacted. Only 8% of Americans say they have taken an overnight business trip since Mar-2020, and just 19% of respondents who are currently employed – or 8% of all adults – expect to travel for business within the next six months. Sixty-two percent (62%) of employed Americans have no plans to stay in a hotel for business.
The survey findings show that only three in ten (32%) respondents have taken an overnight vacation or leisure trip since Mar-2020. Just one fifth (21%) of Americans say they are likely to travel for Thanksgiving, 24% are likely to travel for Christmas. Looking ahead to next year, 24% are likely to travel for spring break. These are all key dates in the calendars of hotels up and down the country.
"This holiday season will be an especially difficult time for all Americans, and our industry is no exception" said Chip Rogers, president and CEO of the AHLA "Fewer people will be traveling, and business travel remains nearly non-existent." Worryingly, almost half respondents to the survey (44%) said their next hotel stay for vacation or leisure travel will be a year or more from now or they have no plans to stay in a hotel.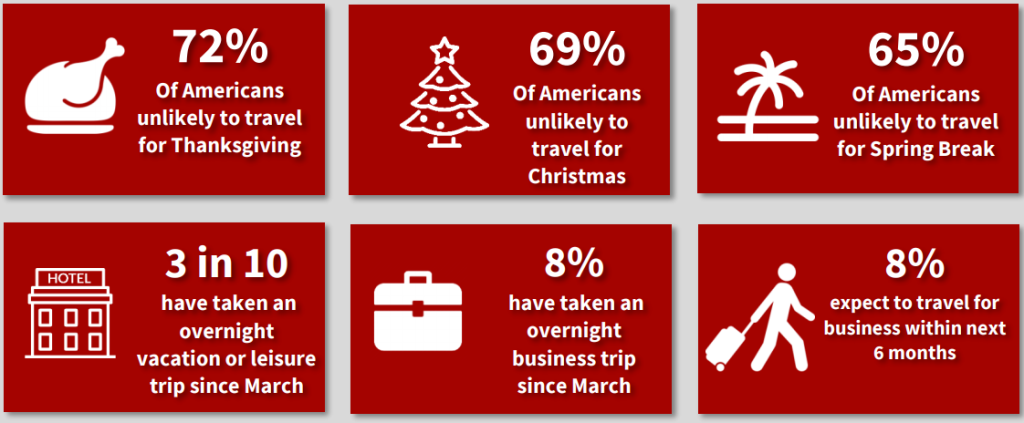 The hotel industry was the first impacted by the pandemic and will be one of the last to recover, according to AHLA. As CTC – Corporate Travel Community has reported in its regular weekly CHECK-IN! and CHECK-OUT! accommodation features, hotel occupancy rates partially rebounded from record lows in Apr-2020, but they have continued to decline since Labor Day.
According to insights from benchmarking specialist STR, nationwide hotel occupancy at the time of the Morning Consult survey was 44.4%, compared to 62.6% the same week last year. Occupancy in urban markets was just 35.6%, down from 71.8% one year ago.
For Oct-2020, STR reports slightly lower performance from the month prior for US hotels with occupancy down approaching a third (-30.1%) to 48.3%, ADR down a quarter (-26.8%) to USD97.61 and RevPAR almost halving (-48.8%) to USD47.13. More recently, Nov-2020 weekly data shows that occupancy has now reached its lowest level since the week ending 20-Jun-20.
Not a good situation, but with leisure demand stronger than anticipated in the fall, STR and Tourism Economics recently slightly upgraded their final 2020 US hotel forecast. However, its president, Amanda Hite, warns that even with the encouraging recent vaccine news this pandemic and the subsequent economic impact "will continue to limit hotel demand generators into the second half of next year".
STR and Tourism Economics project the industry will recapture 80% of demand by the end of 2021, although RevPAR will be 34.2% lower than in 2019. Average daily rate (ADR) and revenue will follow a slower recovery timeline, putting the industry on pace for full demand recovery at the end of 2023 and a return to pre-pandemic RevPAR levels by the close of 2024.
As a result of the significant drop in travel, more than half of hotels still report they have less than half of their typical, pre-crisis staff working full time currently and AHLA says that without further governmental assistance, 74% of hotels said they would be forced into further layoffs with a warning that business and group travel are not expected to reach 2019 peak demand levels again until 2023.
With a resurgence of COVID-19 and renewed travel restrictions enacted in many states, further research from AHLA among its members shows that the hotel industry will "continue to face devastation and significant job loss without additional relief from Congress".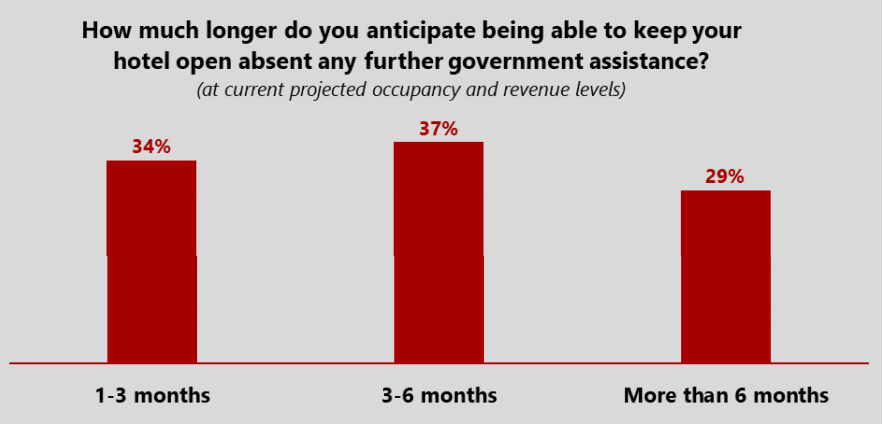 Its own survey of 1,200 hotel industry owners, operators, and employees in mid-Nov-2020 found that seven in ten hoteliers (71%) suggested they won't make it another six months without further federal assistance given current and projected travel demand, and 77% of hotels report they will be forced to lay off more workers.
Without further government assistance (i.e. second PPP loan, expansion of Main Street Lending Program), nearly half (47%) of respondents indicated they would be forced to close hotels. Additionally, more than one-third of hotels will be facing bankruptcy or be forced to sell by the end of 2020.
With a poor future demand forecast in the short-term, Mr Rogers, says hotels will face "a difficult winter". Unfortunately it appears inevitable that for some 'difficult' could ultimately mean 'collapse'.