The CEO said activity at Marriott's special corporate unit was still only running about 50% of 2019 levels with much of the weakness coming in large US markets like New York City. While "China's kind of back," the US market continues to show "a really different mix" due to the lagging nature of business travel, Mr Capuano said.
Speaking this week as the company revealed its 2Q 2021 and 1H 2021 results, Mr Capuano highlighted positively that the rate of global lodging recovery accelerated during the second quarter and momentum has continued into Jul-2021. Marriott's worldwide occupancy continued to build, reaching 51% and there were also strong improvements in global average daily rate in the second quarter, which was down only -17% compared to the second quarter of 2019.
In an earnings call, Mr Capuano confirmed the US market is also seeing "increasing signs of recovery" in both special corporate and group demand, but special corporate booking levels in the first three and a half weeks of July were still down around -45% compared to the same period in 2019.
"We are optimistic that we have turned a corner," he stated though. According to Marriott, US special corporate bookings rose +23% in Jun-2021 versus the previous month and then rose another +27% in the first three and a half weeks of Jul-2021, as compared to the first three and a half weeks of Jun-2021, with "improvement widespread across industries and lengthening booking windows," according to its CEO.
Group bookings in the US have also gained momentum, according to Marriott. US group bookings made for all future dates were down -29% in Jun-2021, compared to the same month in 2019, a large improvement from down -56% level seen in Mar-2021 versus Mar-2019. For the first time since the pandemic started, group bookings made in Jun-2021 exceeded 2019 levels.
But while business transient and group demand is continuing to grow, it is still someway behind the leisure performance. Marriott anticipates that an important fillip will be the return of many businesses to office or hybrid working practices after the summer holidays. Marriott is also seeing "more blending of trip purposes, a trend we expect will continue"..
"We anticipate that more workers returning to their offices on a hybrid basis will serve as a catalyst for a meaningful increase in business transient and group demand in the fall, said Mr Capuano. "Many of our associates are starting to get back on the road, and our largest corporate clients tell us they are beginning to do the same."
The past quarter saw Marriott record a +262.6% systemwide constant dollar RevPAR increase versus the same period in 2020 with a +274.6% rise in the US & Canada and +223.2% increase in international markets. However, as expected, these were notably down on the pre-pandemic 2019 performance, with systemwide RevPAR down -43.8%, US and Canada levels down -39.5% and international markets down -55.6% versus 2Q 2019.
The company added nearly 25,000 rooms globally during the second quarter, including roughly 13,000 rooms in international markets and a total of approximately 5,300 conversion rooms. Gross rooms growth was +6.1% for the twelve months ending 30-Jun-2021. At that date, Marriott's worldwide development pipeline totalled 2,750 properties and nearly 478,000 rooms, including roughly 19,000 rooms approved, but not yet subject to signed contracts. More than 212,000 rooms in the pipeline were under construction as of the end of the 2021 second quarter.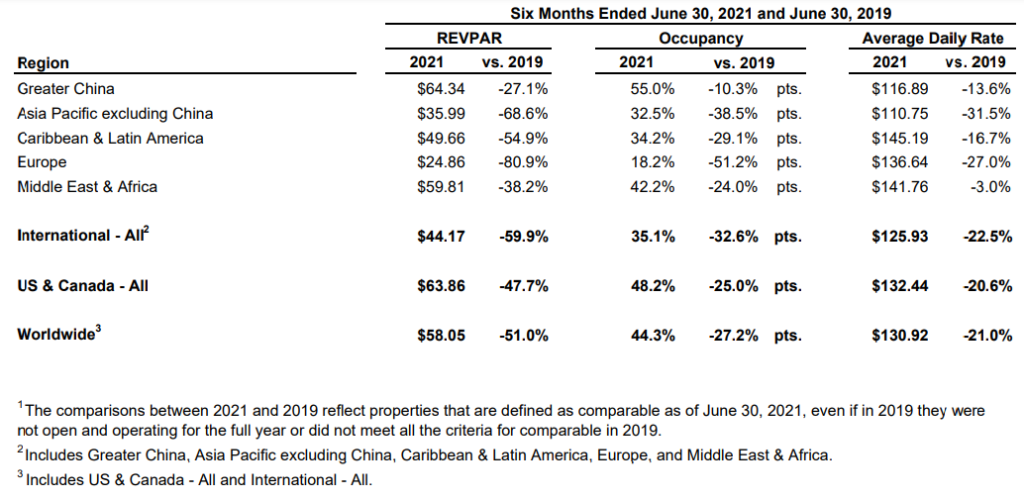 Recovery timelines remain "hard to predict and will continue to vary by region," said Mr Capuano, but he believes "we are on our way to a full global recovery". He said Marriot are "optimistic about the return of business travel" with the blending of travel particularly helping its recovery and resulting in a lengthening of stays.
"We talk to about 700 corporate travel managers every month and we are hearing anecdotally from our customers, particularly those that are in customer service businesses, law firms, accounting firms, consulting firms, that it is critical to their business that they would be on the road and in-person with their customers," he said.