In recent years there has been a rise in independent shared spaces supporting the office requirements for small businesses and new start-ups. These provide all the business functions required to support workers needs. But, hotels have been operating a similar concept for many years, with the added bonus among many of them with additional features such as restaurants, swimming pools and gyms. It has taken a crisis like the COVID-19 pandemic for them to see the potential of the offer and market and sell it accordingly.
It is not just about the offer though, but supporting human needs and the current realities of workers who are adapting to a new way of working. Many of us have been working from home for years, but those still adapting to the working method face challenges.
These include: not having a dedicated workspace environment and feeling claustrophobic in small apartments; no boundary between work and personal life, especially for families managing remote learning for kids; and inability to focus and work uninterrupted on important presentations, projects and meetings.
There is also the challenge of competing for insufficient home-based Wi-Fi bandwith and, of course, the desire and need to break up the day-to-day monotony and maintain positive mental health.
Marriott International says its own programme to support the work anywhere trend, in partnership Marriott Bonvoy, features Day Pass, Stay Pass and Play Pass packages designed as flexible options whether guests are seeking a one day stay from early morning into the evening, extended overnight stay with early morning check in and evening checkout or a multi-day work and leisure destination getaway.
"Working remotely doesn't necessarily have to mean working from home, where blurred lines between personal and professional lives can create distractions and stress," says Stephanie Linnartz, group president – consumer operations, technology & emerging businesses, Marriott International.
"We are inviting guests to work anywhere with Marriott Bonvoy to help them be more productive and achieve a better work/life balance by reimagining our hotel rooms as local remote workspaces for our customers. By providing flexible booking options, our loyalty members and guests have a familiar alternative when choosing where to work," she adds.
Marriott Bonvoy's Day Pass, Stay Pass and Play Pass packages were created with input from consumers, hotel operations and corporate partners, says the hotel group, with consumers expressing what is important to them in considering a hotel guest room as their workspace.
The most important things were identified as fast and reliable Wi-Fi and technology, clean and disinfected places to work, ample desk space with a comfortable chair and plenty of nearby electrical outlets, modern space with a view and natural light, peace and quiet with no distractions, access to coffee, bottled water and food and access to hotel perks like the gym and pool.
Ms Linnartz acknowledges that the continuously evolving changes to employer, school and local mandates and regulations will lead to a "continuous evolution and innovation" of future Marriott offerings. As corporate travel picks up again these packages could actually prove popular with business travellers, especially with an early morning open date that could negate the need to book an extra night's accommodation for travellers arriving at a destination on a red-eye flight and the guaranteed late check-out.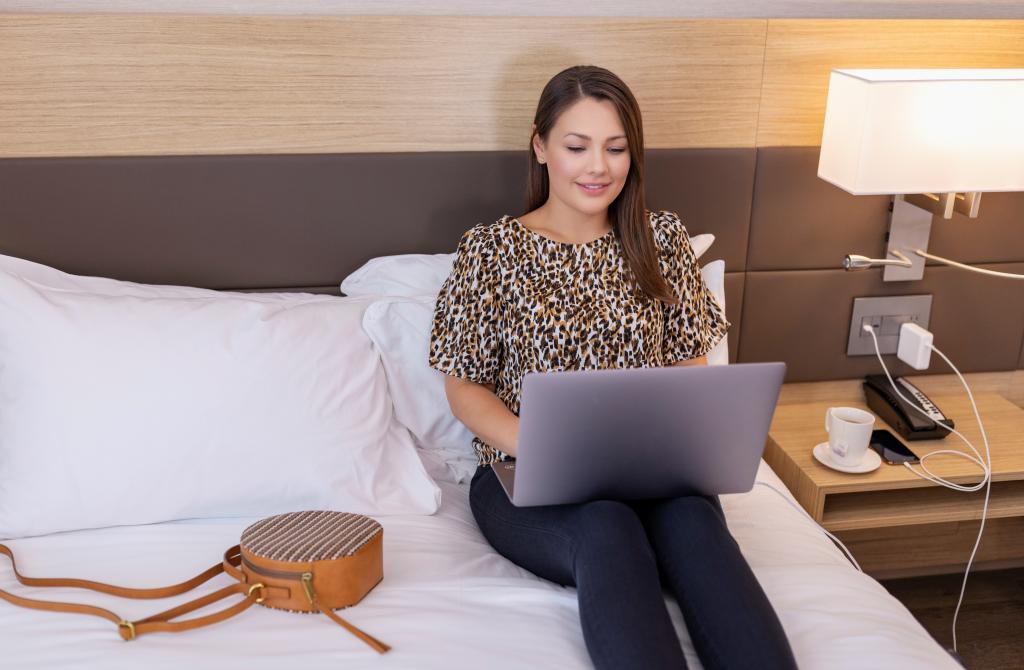 The Day Pass allows guests to access their hotel room office from 06:00 through to 18:00. Guests are provided access to enhanced Wi-Fi, food and drinks and additional spaces in the hotel. Additionally, guests are free to access the on-property business facilities such as printing, fax and scanning equipment, wherever available and depending on brand.
Marriott Bonvoy members will receive a complimentary welcome amenity of healthy snacks, gift shop discounts, and lounge access where available for those with Platinum, Titanium or Ambassador Elite status and they will earn points on eligible hotel charges.
This package is currently being offered in select hotels in Atlanta, Phoenix, Dallas, New York, Toronto, London, Singapore, Kuala Lumpur and Hong Kong, with planned expansion in Europe, Middle East and Latin America.
The Stay Pass combines a Day Pass for work with an overnight stay. It is designed to "marry all the benefits of a hotel stay with the convenience to be productive and make the most of the workday, with early check in at 06:00 and late checkout at 18:00 the day of departure," explains Marriott.
In addition to all the amenities included in Day Pass, guests may take advantage of hotel amenities, whether a quick swim, or a workout, in markets where regulations allow. Guests can also enjoy free breakfast and complimentary evening cocktails, wherever available.
Meanwhile, the Play Pass is for those seeking to work while also getting away – even with family. Available in participating luxury and resort locations worldwide, Play Pass recognises that consumers currently have much more flexibility to travel, work and engage in school from anywhere they want. "Increasingly, consumers are choosing to escape the confines of their home office or work desk and travel while making the most of work and play time too," says Marriott.
With Play Pass, guests enjoy a business concierge, supervised kids' activities, preferred office/study spaces along with curated experiences for the whole family to enjoy. This offer is currently available in many locations including properties in Bali, Venice, Hawaii, Florida, California, Arizona, Cancun, Rio de Janeiro, Sharm el-Sheikh (Egypt), Limassol (Cyprus), Koh Samui (Thailand), and Marabella and Tenerife (Spain).
The COVID-19 pandemic has caused a seismic shock to global business, but it has also opened the door to changes that could benefit us all in the future.