---
Highlights:
Marseille Provence Airport will build on its increasing budget airline traffic to extend and refurbish its low-cost terminal;
The airport handled nine million passengers in 2018, will exceed 10 million in 2019 or 2020 and aims to hit 12 million by 2027;
The growth will be driven by Ryanair which will (re)open a base in Marseille in Apr-2019 initially with two aircraft offering 150 weekly flights to 40 destinations.
---
The airport handled nine million passengers in 2018, an increase of over 6% year-on-year, "a figure which is bound to increase with extension and refurbishment of Terminal 2, dedicated to low cost traffic, and the reopening of a new base by Ryanair in Apr-2019 activating new destinations", CCIMP stated. CCIMP aims for the airport to exceed 10 million passengers either in 2019 or 2020.
French provincial airports traditionally handle fewer passengers than do their European counterparts, partly because of the influence of the Paris airports in the local system; partly because of a traditional lack, comparatively, of low-cost carriers owing to high charges (though that has changed and airports can now have as much as 40% LCC penetration); and partly because of competition from an efficient high-speed rail network. Attaining 10 mppa is quite an achievement.
TABLE - Marseille Provence Airport is the sixth largest in France and with the exception of the country's largest gateway, it currently has the lowest penetration from LCCs

Source: CAPA - Centre for Aviation Airport Profiles
The table above shows that Marseille, which vies with Lyon for the title of 'France's second city', was actually overtaken by Toulouse Blagnac Airport in 2017 as the fifth busiest airport. Also, that the two Paris airports, with a combined total of over 100 mppa, hosted well over twice the total of the next four busiest. That does not happen in any other major European country, including the UK.
In order to stimulate growth, Marseille was one of several French airports which during the mid-2000s inaugurated designated low-cost terminals. Marseille's, known as MP2 (i.e. Marseille and Provence squared, a total package) was one of the first in mainland Europe.
Planned in 2003 following the '9/11' terrorism atrocities and the launch of high-speed rail services between Marseille and Paris, which together saw it lose 1.1 million passengers, it was instigated in 2006 with an initial capacity of 3.5 mppa as a converted freight complex, and was described in the CAPA Low Cost Airports and Terminals Report in 2007 as being as close to a "hardship terminal" as it is possible to get. It had hardly any amenities, and coloured concrete in place of carpets. Those few amenities have been enhanced since.
What it did have was 25-minute turnaround times and a dual pricing mechanism together with the existing terminal which offered 88% discounts on passenger service charges, which was previously unknown in France. It also opened despite huge trade union opposition.
CHART - The Low Cost Terminal (T2) accounts for around a quarter of the airport's total seat capacity, albeit the 24.5% is lower than the overall 29.8% LCC share as some budget carriers have chosen to utilise the main terminal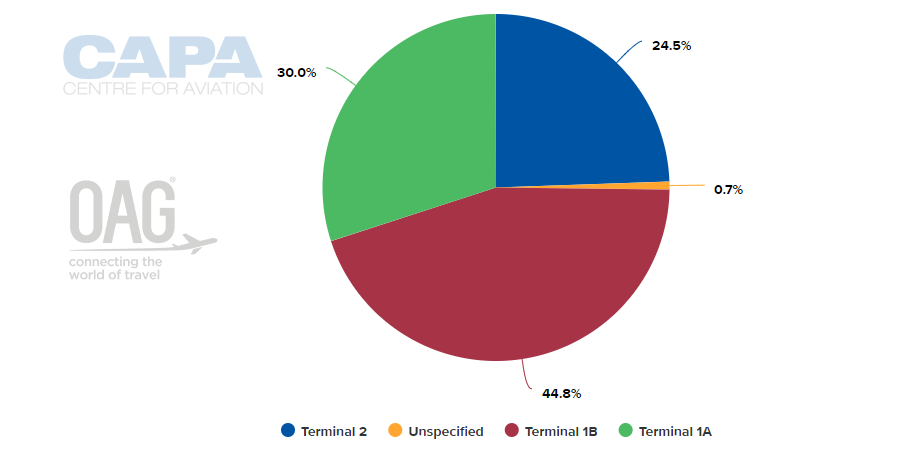 Source: CAPA - Centre for Aviation and OAG (data:w/c 17-Dec-2018)
MP2 was necessary because at the time, of 25 scheduled airlines operating at Marseille only two were genuine LCCs and there were no French LCCs at all (in fact even today there are only two). What the terminal did was to improve the penetration of LCCs to today's level of almost 30% of seats, moving MRS closer to its peers.
MORE INSIGHT... CAPA - Centre for Aviation members can read this report on Marseille Provence Airport that was published back in Dec-2015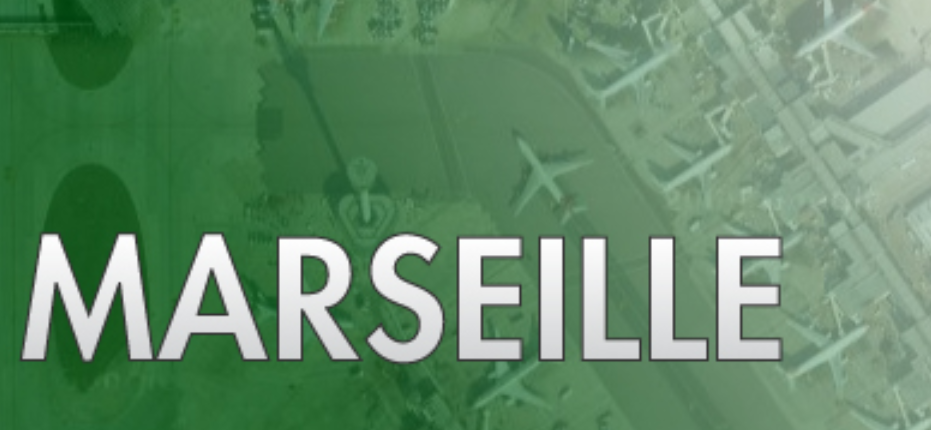 Marseille Provence Airport: the French Connection persists, to and from North Africa
So this is where the growth has come from and where it will be in the immediate future, aided and abetted by the opening of a base by Ryanair in Apr-2019. Two aircraft will be based in Marseille, increasing the number of routes to 40 and weekly services to 150.
Ryanair had a base there once before, in fact it's only one in France at the time, but closed it in Jan-2011, taking out four aircraft and reducing routes from 23 to 10, in a dispute as to whether staff employed by Ryanair in Marseille were working under Irish or French contracts.
The ownership of MRS is one of those convoluted cases prevalent in France where most of the equity is held by the local Chambre de Commerce (a management contract was signed in Jun-2009 with a concession period of 30 years), with input from various town and regional councils.
However, following the privatisation of Toulouse, Lyon and Nice airports, MRS is in the frame for similar treatment along with Bordeaux and Lille airports if and when the next round comes along though that will now probably have to wait until the disposal of the government's stake in Groupe ADP, which runs the Paris airports, is completed.