The rise in usage of Airbnbs, particularly among younger generations, is an obvious opportunity for any destination and the platform has made a commitment to work with governments to help stimulate inclusive, sustainable tourism throughout the Caribbean. In recent years, it has signed collaboration agreements with 16 countries in the region.
The platform is continuing to strengthen its longstanding partnership with the Caribbean Tourism Association, working together to drive tourism in the region and in particular promoting authentic travel experiences throughout the Caribbean through its Airbnb Experiences (activities, gastronomy, well-being…) offer.
There are more than 5,000 Airbnb listings on Martinique and last year they accommodated 85,000 guests, a 60% increase compared to the previous year. Over two thirds (70%) of these guests hailed from Metropolitan France, with 12% from North America and 7% from Latin America.
Its links to France make it a popular leisure market, supporting the obvious VFR demand. The partnership between Martinique Tourism Authority and Airbnb proposes to adopt joint marketing initiatives to promote Martinique as a destination to new international travellers, support of the growth of the Airbnb host community and the quality of the island's accommodation offer, while helping to further develop the Airbnb Experiences offer to promote authentic travel experiences led by locals.
Martinique is an insular region of France located in the Lesser Antilles of the West Indies in the eastern Caribbean Sea. Alongside Guadeloupe, it is an overseas region of France, consisting of a single overseas department. One of the Windward Islands, it is directly north of Saint Lucia, southeast of Greater Antilles, northwest of Barbados, and south of Dominica.
The island has two airports, the main being - Martinique Aimé Césaire International Airport (FDF), formally known as Lamentin International Airport, and which is served by both short- and long-haul operations. Martinique does not have an official national carrier with operations dominated by the French airlines Air France and Air Caraibes. Recently, the arrival of Norwegian Air International and later LEVEL France have boosted capacity into Martinique and brought valuable competition in the market.
CHART - After a small decline in 2013, Martinique system capacity has been growing at a steady annual rate, spiking at 6.6% in 2017 before returning to trend last year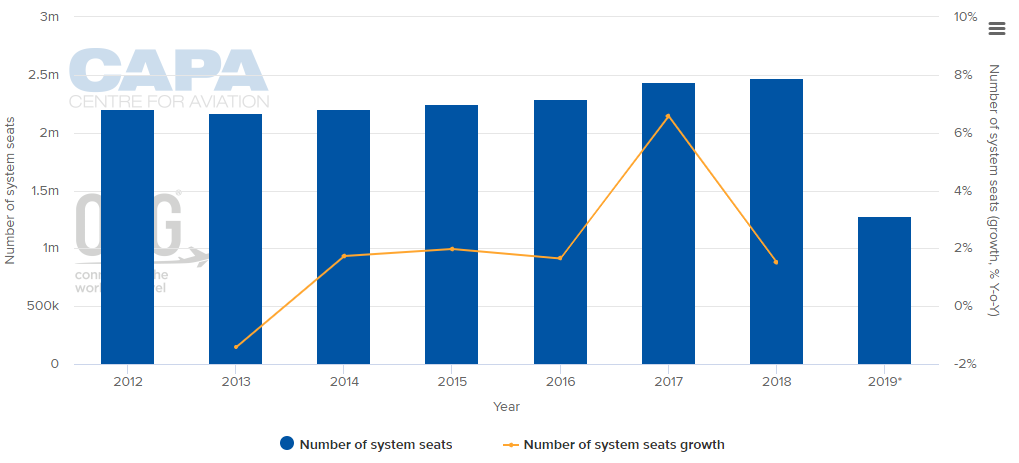 Source: CAPA - Centre for Aviation and OAG (data: w/c 21-Jan-2019)