The deal agreed terms that included on-site storage and input supply capacity able to meet continued growth. In fact, the agreement will see: on-airport storage capacity tripled; additional investment in supply to the airport and installation of airfield hydrants; and opening up the supply market to competition and new fuel supply entrants.
Following a commissioning ceremony featuring Victorian Tourism Minister Hon. John Eren MP, Melbourne Airport CEO Lyell Strambi welcomed the new investment, stating:
"Melbourne is Australia's fastest growing capital city. This deal is another milestone that will help us deliver the capacity to keep pace with the demands of Melbourne and Victoria".
"We are extremely pleased that the fuel companies have recognised the importance of Victoria's aviation industry and agreed on a way forward that will provide security of supply for many years to come. We want to acknowledge the Victorian and Federal Government for its assistance and we are proud to partner with them to deliver growing economic benefits including jobs to the state."
"The airline community has long regarded Melbourne as a highly desirable destination. We've already been talking to airlines about the need for a third runway to meet forecast capacity demand as we grow from the 35 million passengers we welcomed last year, to the 60 million annual passengers forecast by 2033."
Melbourne Tullamarine Airport annual traffic: Passenger numbers from 2011 to 2017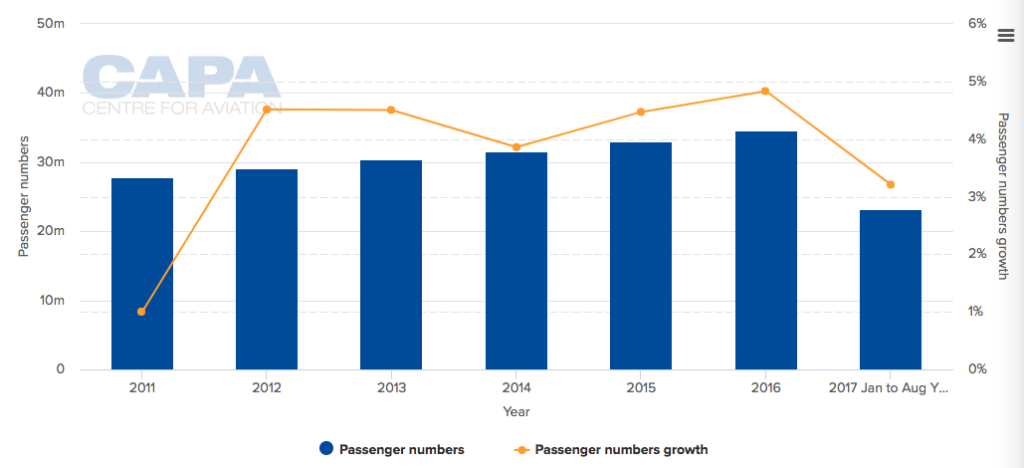 Source: CAPA - Centre for Aviation and BITRE
"Airlines can take confidence in the fact that fuel supply at Melbourne Airport will keep pace with their own growth aspirations – whether that's an airline that's flying to Melbourne already, or one of the many new carriers looking to enter the market for the first time."
Melbourne Tullamarine Airport system seats top ten airlines w/c 20-Nov-2017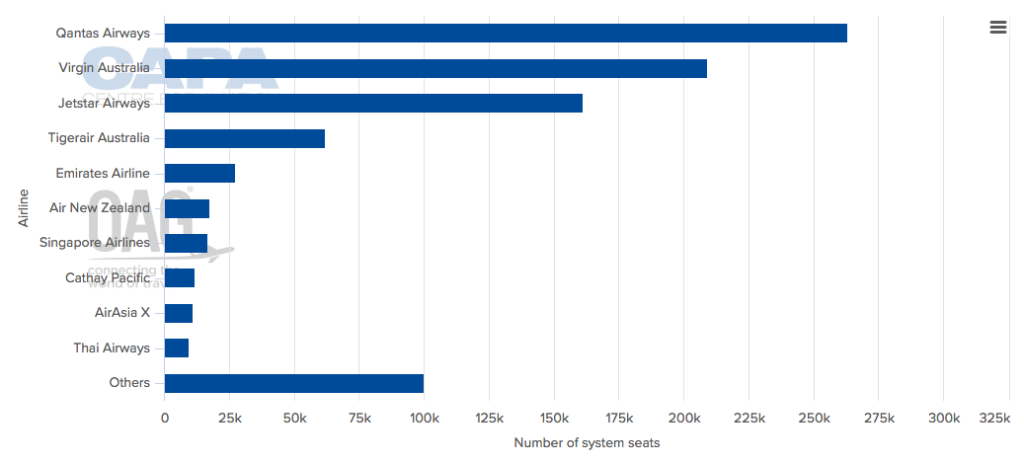 Source: CAPA - Centre for Aviation and OAG
"This is great news for Victorian travellers, as growth in the number of airlines and the number of services departing Melbourne will deliver more travel choices than ever before. Ultimately, that competition will see airfares continue to fall, which in turn promotes further growth".
"It's also a huge deal for Victoria's exporters, particularly from the agriculture and seafood sectors. Agricultural exports make up around 80 per cent of the air freight volume exported from Melbourne, so growth in international routes opens up more opportunities for Victorian farmers and fishers to sell into new markets, in greater volumes".
The agreement is one part of an ongoing development plan for growth which also includes an investment of more than half a billion dollars per year, every year over the next decade to 2027 to improve, maintain and grow the airport. Recently, plans for updating the airport were discussed by Mr Strambi, who confirmed the most important part of the airport's investment will be building a third runway, which will increase capacity from the current limit of around 55 movements per hour, to more than 90 movements per hour. Other projects under consideration include improving ground access, such as a rail connection to the airport.