---
Highlights:
Melbourne Tullamarine Airport's international passenger growth has slowed in 2019 following five years of 7% to 10% gains;
AirAsia X's move to Avalon Airport in late 2018 is largest single drive of the slower growth at Tullamarine this year;
A slowdown in the China-Australia market and reduced capacity from Thai Airways and soon LATAM are also drivers.
---
Melbourne's international passenger traffic has more than doubled over the past decade, from 4.7 million in 2008 to 11.2 million in 2018. Annual growth has consistently been in the high single digits or low double digits
CHART – Melbourne Tullamarine's international passenger traffic has been up between 7% to 10% per annum the last five years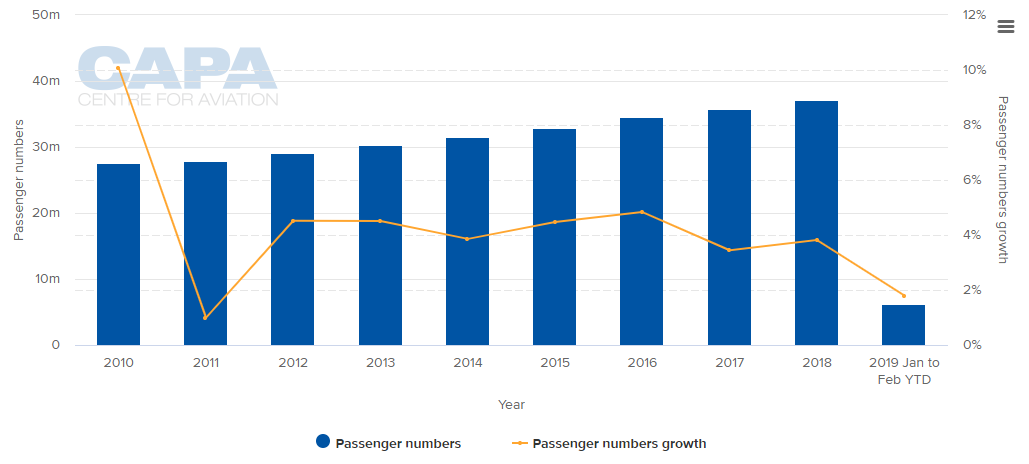 Source: CAPA – Centre for Aviation & Australia's BITRE
Growth has slowed so far this year. International passenger traffic was up by a modest 3.5% in the first two months of 2019, according to BITRE data. International seat capacity at Melbourne for the current month, May-2019, is tracking slightly below May-2018 levels.
CHART - Forward data indicates a decline in international seat capacity at Melbourne for the rest of the southern winter season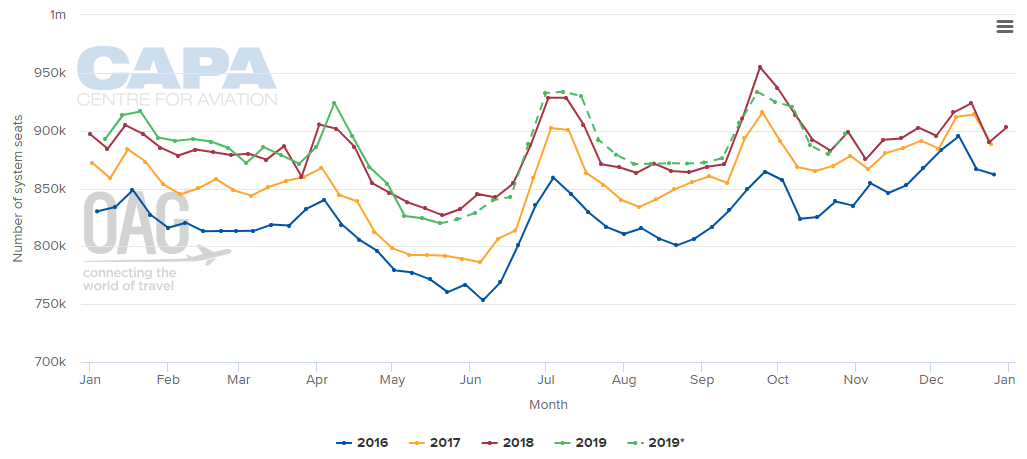 Source: CAPA – Centre for Aviation & OAG
Melbourne has obviously been impacted by the overall decline in Australia's international market. It also has been impacted by AirAsia X's transferring its twice daily Melbourne-Kuala Lumpur service from Tullamarine to Avalon in Dec-2018.
AirAsia X had accounted for approximately 4% of Tullamarine's total international seat capacity. If it had not been for the loss of AirAsia X, the airport's international seat capacity would still be tracking up in the current winter season. International passenger traffic for the first two months of 2019 would have increased by approximately 7% (roughly in line with the growth rate in recent years) if AirAsia X had been still operating at Tullamarine.
Melbourne also has been impacted by a reduction from Thai Airways and will be impacted later this year by a reduction from LATAM Airlines. Thai Airways cut its flights to Melbourne from 14 to 11 weekly frequencies in Oct-2018. In Aug-2019 LATAM Airlines is reducing Santiago-Melbourne from five to three weekly flights. The Chile-based airline group is further cutting capacity to Melbourne in Oct-2019 when it downgauges from 313-seat 787-9s to 247-seat 787-8s.
China, which has been a major driver in Melbourne's growth in recent years, is continuing to grow. A staggering nine routes from Melbourne to secondary Chinese cities have been launched since 2016 and eight of these are still operating. Yet another new China route from Melbourne will be launched on 28-May-2019 when Sichuan Airlines begins service to Guiyang.
However, the rate of growth in the Melbourne-China market is slowing significantly and the impact of new Guiyang service will be relatively insignificant as it is only being operated with one weekly flight. Melbourne-China seat capacity is currently up a modest 4% over the same time last year. Year over year growth was in the double digits the two prior years.
Chinese visitor numbers to Australia increased by only 1% in 1Q2019. The rate of growth started slowing in 2018, when there was a 6% increase in Chinese visitors to Australia, ending a string of eight consecutive years of double digit growth.
Other markets could pick up the void as China slows and Malaysia, Thailand and Chile decline. For example, India, Indonesia, the Philippines, Japan and Vietnam all have promising growth potential for Melbourne. Further capacity increases in the more mature North American market and the resumption of flights to South Korea are also a possibility.
Melbourne's international market should be able to continue growing despite some of the recent headwinds. However, the growth rate will likely be relatively modest. It will be very difficult for Tullamarine to maintain the growth rate achieved the last five years.
The outlook for Melbourne's aviation market will be discussed at the CAPA Melbourne Aviation Summit on 24-May-2019. Find out more details about the aviation summit and the co-located corporate travel summit: CAPA – Centre for Aviation Melbourne Aviation Summit.
Register to hear more: https://mel19.capaevents.com/