Meridiana and Air Italy announced plans to merge back in Jul-2011 and completed the process in Apr-2013. The two airlines have continued to operate with their own Air Operator's Certificates (AOCs) with Air Italy flying on behalf of Meridiana, mainly from Milan Malpensa Airport. It now appears that the Air Italy brand better fits the ambitions of the new shareholders to deliver a strong future Italian flag carrier.
Qatar Airways finally acquired a 49% stake in the Italian carrier this autumn after establishing a new holding company for the business, AQA Holdings, in partnership with Meridiana's former owner Alisarda, which holds the remaining 51% share. Talks between the parties have been taking place for over a year after a Contribution and Shareholders' Agreement was first signed back in July 2016.
The Gulf carrier has already committed to acquire up to 60 Boeing 737MAX-8 aircraft for operation out of Italy, while it will also transfer some of its own Airbus A330s or 787s to the carrier for medium and long haul operations. Meridiana currently operates a mixed fleet of 737s, 767s and McDonnell Douglas MD-82s, albeit the latter has been retired from its fleet as from 01-Nov-2017. Similarly, Air Italy operates both the 737 and 767.
CHART – The joint Meridiana and Air Italy network covers over 30 destinations which includes points in Italy, across Europe and into Africa and Latin America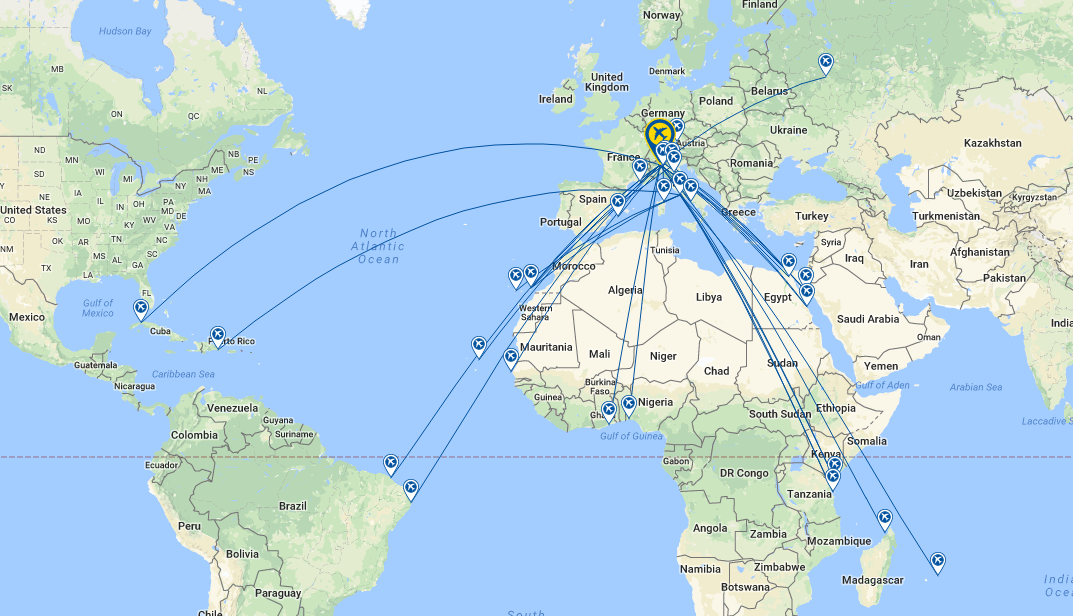 Source: CAPA – Centre for Aviation and OAG
Alisarda and Qatar Airways are currently finalising the future network of Meridiana and uncertainty over Alitalia is proving both a blessing and a hindrance in the process with a great opportunity to take advantage of the circumstances to grow, but with uncertainty on the scale and scope of the future Alitalia operation.
The well-publicised financial problems at Alitalia have had a significant impact on the Italian industry and has seen low cost carriers such as easyJet and Ryanair take advantage to build their own presence in the country. Ryanair has been the largest operator in Italy since 2014 and while Alitalia still remains the largest domestic airline, easyJet now has similar scale in the international market, both with less than half the weekly capacity (week commencing 13-Nov-2017 offered by Ryanair.
CHART – Alitalia's share of departures within and from Italy has fallen by almost a fifth over the past ten years from 27.5% in 2007 to 22.2% last year. It is expected to slip to 21.0% for the current year, based on published schedules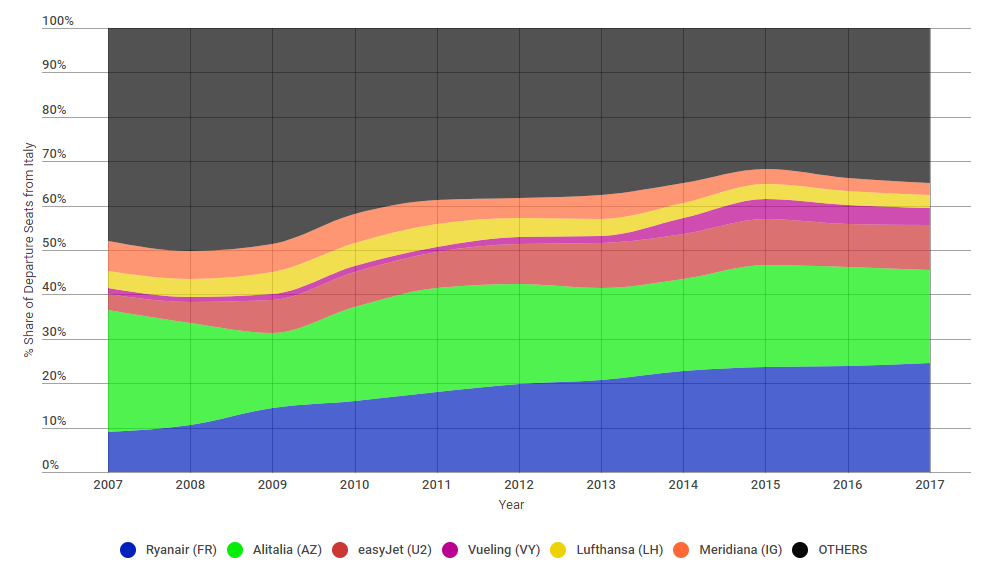 Source: The Blue Swan Daily and OAG
Meridiana is not the only Italian carrier seeking to grow its presence. Virtual operator Ernest Airlines is also growing its own activities, expanding its model to now include flights into Ukraine, having successfully traded initially supporting ethnic travel flows between Italy and Albania using the AOC of Mistral Air, a subsidiary of the Italian Post Office.
Backed by Swedish investors, including Jacob Porsér - a co-founder of the company that created the computer game Minecraft - and led by compatriot David Girhammar, formerly of Giorgio Armani, it now has two aircraft - an A319 and an A320 - and ambitions to grow its fleet to at least five aircraft by the end of next year.
Ernest plans to fill a niche and with a business model sitting between the low fare and premium airlines will not actively seek direct competition and instead focus on the ethnic travel market. "For us, ethnic travel is about flying to countries like Ukraine, Romania, Albania; ethnic passengers being people who want to fly back-and-forth to see their families," Mr Girhammar told Business Insider Nordic.
The airline branched out from its Albania network by launching flights between Bergamo's Il Caravaggio International Airport and Lviv in Ukraine from 20-Oct-2017 and flights from Naples as well as connections to Kiev from both Bergamo and Naples are due to commence from Dec-2017.