In 2018 MIA was the 15th busiest airport in the world as measured by cargo volume, with 2.13 million tonnes, in a crowded field where, apart from the top three airports (Hong Kong International, Memphis International and Shanghai Pudong), the top 20 fell in the range 1.7 million to 2.9 million tonnes per annum.
It is one of six US airports in that top 20, two of which – Memphis International and Louisville Muhammad Ali International – are dominated by parcels airlines (FedEx and UPS respectively), whereas MIA handled more general freight. Miami is almost as important in cargo terms as it is for passengers, providing an air bridge between North America and Latin America.
MIA accounts for 63% of perishable imports to the US and it aims to also become a main hub for pharmaceuticals and e-commerce. According to the Miami-Dade Aviation Department it has become a bigger exporter than importer of pharmaceuticals. Brazil is the biggest market, while India has had the fastest growth recently.
Cargo volume growth has actually exceeded passenger traffic growth on several occasions this year while the general trend, both locally and globally, has been the opposite – for cargo volume to fall while passenger numbers increase. However, it should be pointed out that the growth at MIA has come very much in the domestic segment. Tonnage has been falling in the international segment.
CHART – A closer look at Miami International airport's cargo capacity (passenger and freight aircraft) points to a small but continuous increase in each of the last two years. The figure for 2019 is estimated to be slightly less than 2018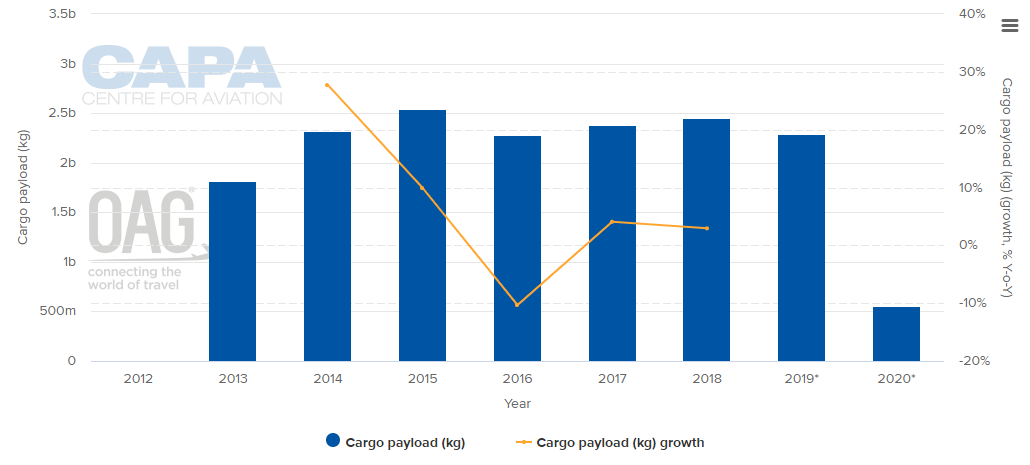 Source: CAPA - Centre for Aviation and OAG
In Jun-2019, the Miami-Dade County Board of County Commissioners approved a new capital improvement programme that will fund up to USD5 billion in airport-wide modernisation projects over the next five to 15 years at MIA. The programme is designed to support future growth at the airport, which is projected to handle 77 million passengers as well as the four million tons of freight by 2040.
But, Miami now has a rival cargo airport. For several years it has been the intention to turn the county-owned, general aviation Airglades Airport, about 100 miles northwest of MIA at Clewiston, Florida, into Airglades International Airport, an integrated freight logistics hub to capitalise on the trade in cut flowers, fish and other perishables flowing between the US and Central and South America.
Currently, this is all channelled through Miami International. The project was initially owned by three parties: Florida Fresh Produce; US Sugar Corporation and Hilliard Brothers, a diversified agricultural operation. The airport is planned to feature a 4000m runway, reportedly costing USD400 million and will be operated by AVPorts (AFCO).
MAP – The county-owned Airglades general aviation airport is located about 100 miles northwest of Miami International airport at Clewiston, Florida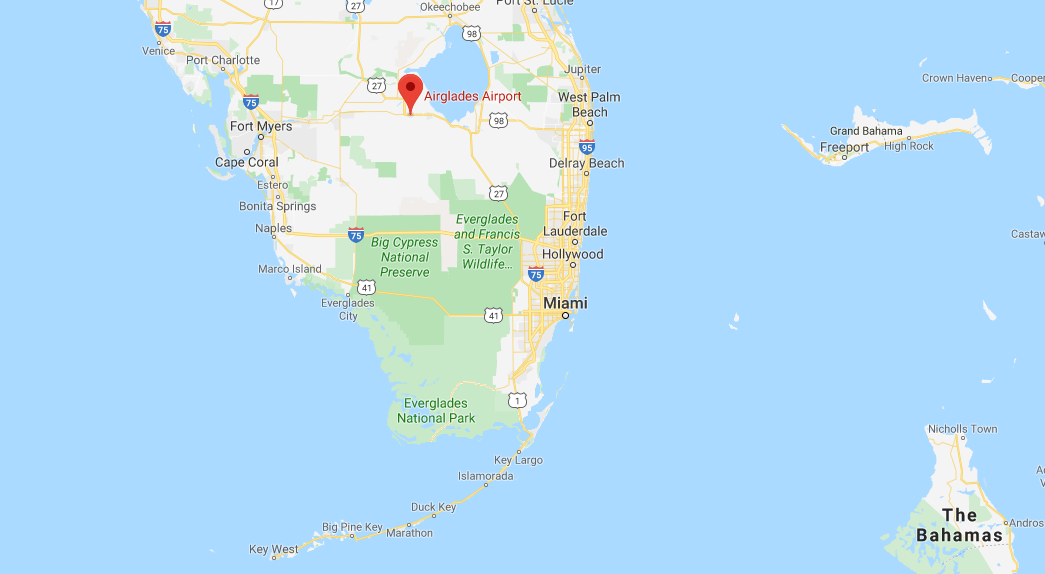 Source: Google Maps
On 19-Aug-2019 the FAA deemed that Hendry County, Florida and Airglades International, LLC (AIA)'s application under the Airport Investment Partnership Program (AIPP) was "substantially complete." The announcement had been delayed by a final environmental assessment that dated back to 2016. The new developer is Star America Infrastructure Partners, which was previously involved in the suspended privatisation of Westchester County Airport in New York State.