---
Summary:
MIAT Mongolian Airlines has taken delivery of the first of four 737 MAX 8s;
The four aircraft will double MIAT's narrowbody fleet over the next two years, driving a new phase of growth;
MIAT needs to grow in order for Mongolia to meet objectives to grow tourism and increase air traffic at Ulaanbaatar's new airport.
---
MIAT is one of Asia's smallest airlines and has not pursued significant expansion for several years. The Mongolian market also has not grown – in stark contrast to virtually every other Asian market – due partially to a restrictive aviation policy that has protected MIAT.
Mongolia is now showing signs of opening up, recognising it needs a more liberal environment to increase tourism and utlise its new international airport.
CHART - Visitor numbers to Mongolia have increased by only 17% over the last 11 years, from 452,000 in 2007 to 529,000 in 2018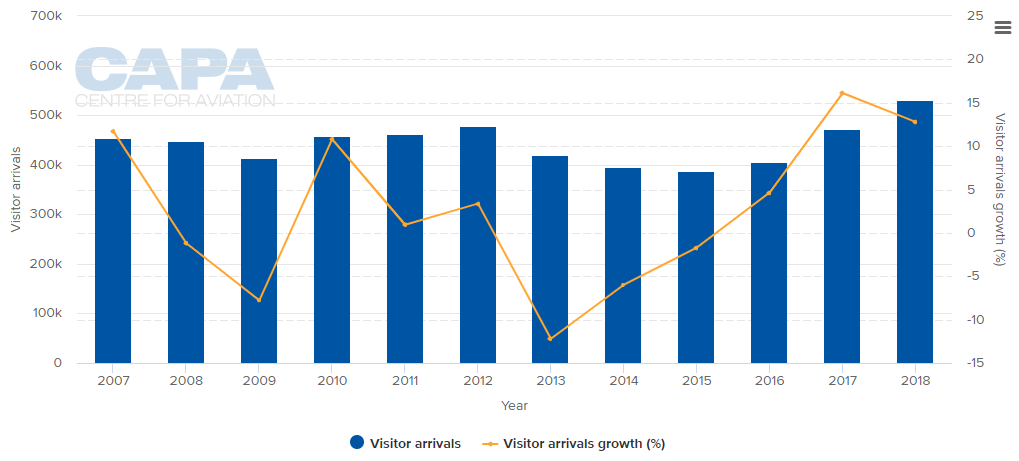 Source: CAPA – Centre for Aviation and National Statistics office of Mongolia
As CAPA – Centre for Aviation highlighted in a 2017 report, Mongolia needs to boost tourism and loosen restrictions on foreign airlines to avoid Ulaanbaatar's new airport from becoming a white elephant. The new airport will initially have capacity for 3 million annual passengers, which is triple the traffic at the current airport, and has ample space for growth to support Mongolia's hub aspirations.
See related report: Mongolia aviation: liberalisation, end of MIAT protection needed to drive growth at new airport
While generating significant sixth freedom traffic will be challenging, Mongolia should be able to grow inbound leisure traffic and attract some transit traffic. Several airlines are looking to launch services to the new airport, which is now slated to open in summer 2019 following a one-year delay.
Kazakhstan's SCAT recently announced plans to launch services from Astana to Ulaanbaatar in Jun-2019. Air Astana tried to launch Astana-Ulaanbaatar in summer 2016 but was rejected by Mongolian authorities at the last second, forcing it to delay the launch, and has not since reapplied. Mongolia's apparent approval of an application from SCAT is the latest indication of a new more liberal regime.
Mongolia last month forged an expanded air services agreement with South Korea that permits a second Korean airline to operate the Ulaanbaatar-Seoul route. Asiana, which has been keen to start competing on the Ulaanbaatar-Seoul route for years, is expected to enter the market this summer. The new bilateral with Korea also expands the capacity entitlements for both sides by 70%, which will likely also lead to more flights to Seoul from MIAT.
Seoul is the largest destination from Ulaanbaatar; Incheon is a popular transit point for traffic to/from Mongolia and there is also significant traffic in both directions. However, the route has been undersupplied for years due to the restrictive bilateral, which only provided rights to Korean Air and MIAT.
Korean Air is by far the largest foreign airline in Mongolia. Ulaanbaatar is currently only served by four other foreign airlines: Air Busan from Busan; Air China from Beijing, Turkish Airlines from Istanbul via Bishkek; and Aeroflot Russian Airlines from Moscow. MIAT has codeshare partnerships with Korean Air and Aeroflot, further limiting competition in the two biggest markets.
MIAT has only eight destinations: Bangkok (winter only), Berlin (served via Moscow), Busan, Frankfurt (summer only) Hong Kong, Moscow, Seoul Incheon and Tokyo Narita. The new 737 MAX 8 fleet joins three 737-800s, two 767-300s and one 737-700.
The first 737 MAX 8 arrived in Ulaanbaatar from Seattle on 1-Feb-2018. The 162-seat two-class aircraft has already been placed into service on MIAT's Ulaanbaatar-Hong Kong route. The airline is planning to use the 737 MAX 8 to resume seasonal (summer only) services to Osaka in July and has been looking at launching services to Guangzhou.
MIAT is also this summer resuming a small number of nonstop flights to Berlin, using 767s, while replacing 737-800s with 737 MAX 8s on some of its Moscow flights. Ulaanbaatar-Moscow is over six hours, making it ideal for the 737 MAX 8 although the 737-800 is (barely) within range.
Bangkok, Hong Kong and Tokyo Narita are also relatively long narrowbody routes of four to six hours and switching to 737 MAX 8s will therefore significantly improve efficiency. MIAT uses 767s on some flights to these markets as well as some flights on the shorter Beijing and Seoul routes due to high demand.