The Milan catchment area is wealthier, bigger and more dynamic than any other city in the country, with almost 70% of total Italian outbound traffic originating in Northern Italy. As a result, Milan's routes generate a high share of premium traffic, equivalent to other major European hubs.
The service from the Taiwanese carrier, operated by 316-seat Boeing 777-300 equipment, will become its only route into Italy, and just the fifth destination it flies to in Europe adding to its existing routes to Amsterdam, London Heathrow, Paris CDG and Vienna. Milan will become EVA Air's third direct station in Europe, with other cities (London and Amsterdam) only being served via Bangkok, and it is the first route to be opened by the carrier in Europe in the last 20 years.
The new route will operate on a year-round basis with late night departures from Taipei on Monday, Tuesday, Thursday and Saturday. The overnight flight arrives in Milan at 07:15am the subsequent mornings. The eastbound service returns from Europe just before midday (11:50am) on Tuesdays, Wednesdays, Fridays and Sundays, arriving back in Taipei at 06:30am the next morning.
The Star Alliance carrier, which flew more than 12.5 million passengers in 2018, currently flies to 65 global destinations, including 11 in North America and 50 in Asia and Oceania. "Adding a top-quality carrier like EVA Air to our airline roll call at Malpensa is a real coup for us," says Andrea Tucci, vice president aviation business development at airport manager SEA.
"To be selected as the carrier's only destination in Italy, and one of just five in Europe, validates the growing attractiveness of the Milan brand abroad, thanks to a rich calendar of events and a dynamic economic environment," he adds.
EVA Air is one of just eight carriers in the world rated as a 'Five-Star Airline' by international quality ratings organisation SkyTrax, and becomes the fifth of those eight airlines to serve MXP. It was also rated amongst the world's Top 10 Airlines of 2019, as voted for by global travellers, and is the seventh of those ten carriers to fly to Malpensa. It has received this accolade for four years in a row.
While there is an underlying market between Milan and Taipei, the importance of the airline's hub in the Taiwanese capital city, and the potential for onward connections, will also benefit the new route. "We expect many travellers on the route to fly point-to-point between Taipei and Milan, but we also anticipate significant volumes of passengers and cargo transfer traffic on EVA Air's network of 31 points in Asia, 18 in China and Brisbane in Australia," explains Mr Tucci. More than 70% of Milan's traffic to Asia currently flies via a long-haul gateway.
The Taipei Taoyuan hub becomes the 18th Asian gateway flown from MXP and EVA Air the 14th airline with flights to the region. The new flights to Taiwan join existing operations to Azerbaijan (Azerbaijan Airlines), China (Air China, Neos), Georgia (Wizz Air), Hong Kong (Cathay Pacific Airways), India (Air India), Japan (Alitalia), Korea (Korean Air), Maldives (Air Italy, Alitalia, Neos), Pakistan (Pakistan International Airlines), Singapore (Singapore Airlines), Thailand (Thai Airways) and Uzbekistan (Uzbekistan Airways).
"Asia is market that is growing by 17% year-on-year for MXP, thanks to the investment in capacity by our 13 serving airlines and their collective strategy to improve the quality of Milan's network by moving beyond traffic closer to its final destination," explains Mr Tucci.
CHART – Passenger levels at Milan Malpensa hit a decade high growth rate of 14.3% in 2017 and while this rate slowed in 2018 to 11.5% and +10% for the first half of 2019, these rates are still impressive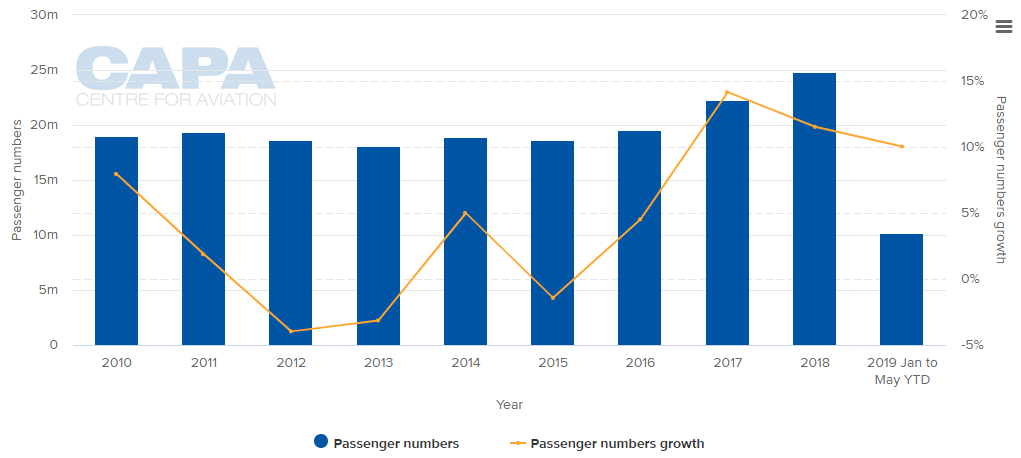 Source: CAPA- Centre for Aviation and Assaeroporti
Traffic figures at MXP for 1H 2019 are at a record level, with just under 12.5 million passengers being handled during the first six months of the year - representing +10% annual growth. The Italian gateway has now delivered 48 consecutive months of passenger growth and in a rolling 12-month period handled 25.7 million passengers.
The strong performance in 1H 2019 will continue into the second half with Neos (weekly service to Reykjavik), easyJet (four times weekly service to Bristol) and Ryanair (six times weekly service to Dublin) already launching new flights from the start of this month. These will be followed by a new connection from LEVEL to Amsterdam (five times weekly) from 16-Aug-2019, while easyJet will introduce links to Agadir, Aqaba and Marsa Alam; Air Italy to Male and Tenerife South; and Ryanair to Manchester from the start of the winter 2019/2020 schedules. EVA Air's Taipei route will ensure this network expansion will continue into 2020.