---
Summary:
SEA plans to develop Malpensa airport's terminals and cargo infrastructure;
Milan, Italy's main commercial city, has three airports, all run by the same operator;
Traffic growth has been positive at Malpensa over three years and this latest development might favour the needs of the growing low-cost segment.
---
While Rome has a two-airport system Milan, the country's chief commercial city, has three (Linate, Malpensa and Milan Bergamo Orio al Serio), but they service a larger metropolitan area of around 5.3 million compared with 4.4 around Rome. All are operated by SEA; there is no competition between operators.
MAP - Location of Malpensa Airport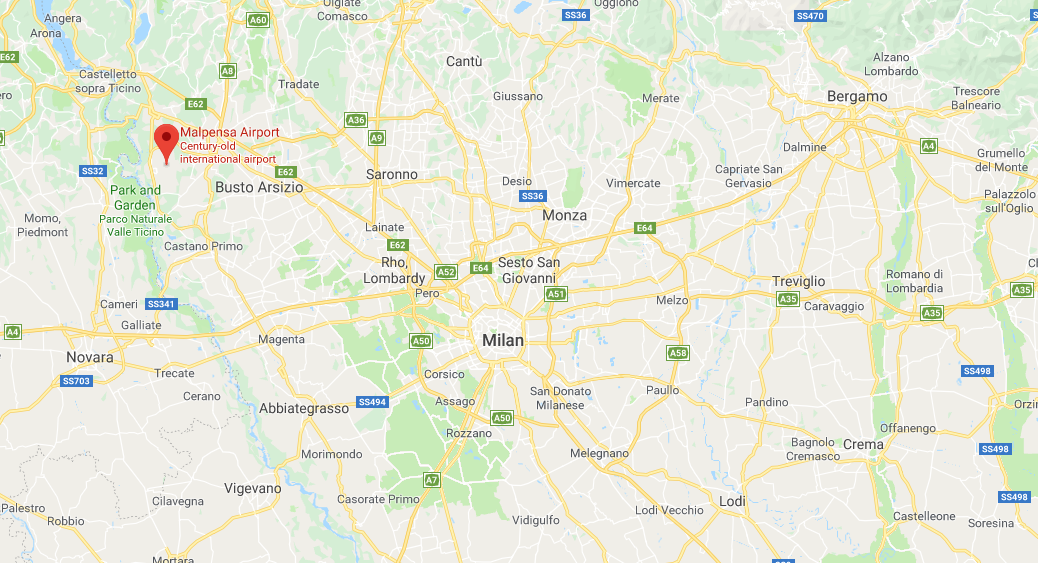 Source: Google Maps (NOTE: Linate Airport is situated just to the east of Milan downtown, close to the A51 road; Orio al Serio Airport is situated just to the southeast of Bergamo downtown)
While Linate is the closest airport to Milan's CBD, the much further out Malpensa in the busiest of the three airports with 24.7 million passengers in 2018. Orio al Serio is the second busiest with 12.9 million while Linate had 9.2 million. Malpensa had experienced three negative years for traffic growth since 2012, but none since 2015. After that it has had solid growth, increasing to 14.2% in 2017 though it has tailed off a little since then.
Malpensa does not have a dominant airline and the largest is not an Italian one, rather it is easyJet, followed, some way behind, by Ryanair. However, only 44% of capacity is on LCCs, the majority (53%) is still on full service carriers.
In contrast however, the smaller but more business-attuned Linate Airport is dominated by what remains of Alitalia (64.6% of seats) as Linate is its secondary hub after Rome Fiumicino. In further contrast the Orio al Serio airport is almost entirely LCC and Ryanair alone has 81% of the capacity.
CHART - Annual passenger growth at Milan Malpensa airport hit a decade high in 2017 and despite slipping slightly last year growth was still at a double-digit rate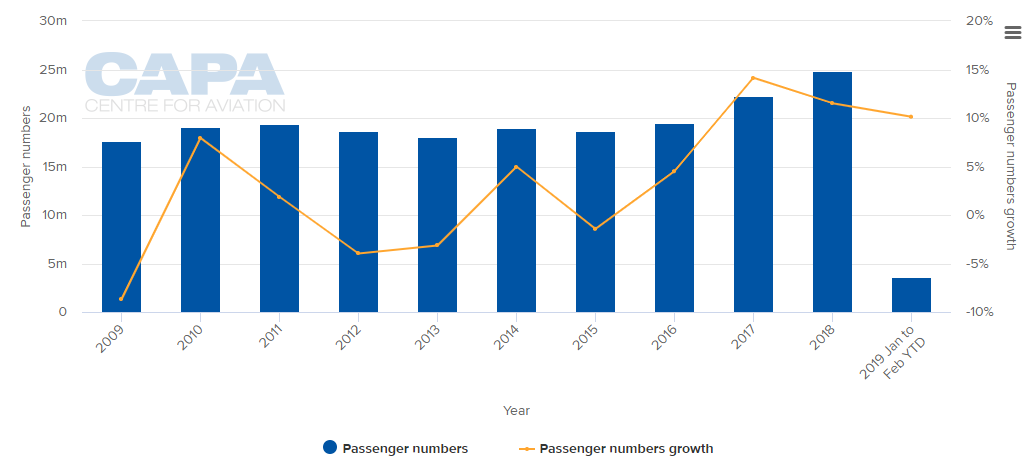 Source: CAPA - Centre for Aviation and Assaeroporti
So when SEA talks about improving the infrastructure at Malpensa it has to do so in the most taxing circumstances, as a 'hybrid' airport catering almost equally to full service/network and low-cost traffic and one which has the widest catchment area, of 15 million people.
The terminal arrangement is of T2, the older one, which is currently used exclusively by easyJet, and T1, the larger one, built in 1998 and housing all other airlines, from Ryanair to Air China, and encompassing unaligned carriers and all three of the main alliances. T1 has around three-quarters of all capacity.
According to the CAPA Airport Construction Database, the only construction underway since a 2015 master plan was published is a cargo city development to the value of US113 million (FedEx and DHL have important bases there) and a new FBO building.
SEA said in 2017 that T2 would be renewed "within the next three years", so one must assume that the majority of work will take place on that terminal and that it will be oriented towards the needs of the low-cost segment. It is possible a third terminal could be built but it is more commonplace these days to see terminals being consolidated.
Plans were drawn up several years ago for a new and pan-regional 'Brescia-Verona Airport' further to the east, but which would also be the main one for the Milan-Bergamo regions and just about everywhere else in Northern Italy. Prompted by fears of capacity limitations elsewhere it was expected to cost EUR15 billion (presently USD16.9 bn), host 100 million passengers annually on four to six runways, and was to be developed by a consortium of private investors named Europe 1, with China's Sīxiăng Holding and Aviation Economics as lead investors.
It was also due to include an 'aerotropolis' on a 55 square kilometre site located along the high-speed rail line between Brescia and Verona. Europe 1 intended to open the new airport in 2020 but nothing has been heard of it for a couple of years.