The findings of its 6th annual State of Travel Insurance survey of more than 1,600 US travellers by Polymath Research + Marketing discovered millennials and higher-income travellers plan to spend more money on travel into 2021, and are more likely to cruise, travel solo, and visit more international destinations.
The survey was conducted weekly over the span of 10 weeks between 01-Aug-2020 and 07-Oct-2020 to measure future expectations of travel insurance purchasing, as well as traveller habits and perceptions during the pandemic.
It found millennials are holding onto their travel dream despite the 2020 COVID-19 disruptions, with more than a third (38%) saying they would take an international bucket list trip in 2021. Conversely, only 16% of mature travellers indicated they would do the same. Mature travellers are instead choosing to stay closer to home, favouring domestic road trips and family travel.
Another category in which millennials are more active than mature travellers is travel insurance. Millennials were found to be 51% more likely to purchase travel insurance more frequently in 2021 than they did in 2020, while only 30% of mature travellers intend to purchase travel insurance more frequently next year.
This difference is directly correlated with the age groups' intentions to travel and the types of trips they plan to take. Looking at the respondents as a whole, the intention to buy travel insurance in 2021 is higher than any other year of the survey, with 45% of respondents reporting they plan to purchase travel insurance more frequently than they did in 2020.
Wealth also appears to be an influencer in people's travel decision making. The survey shows that while two thirds of travellers anticipate they won't travel internationally or take a cruise for seven months or more, respondents with an income of USD100K or higher are ready to travel sooner. Half of this group are interested in taking a cruise or traveling overseas in the next six months.
CTC – Corporate Travel Community reported in Sep-2020 on the initial findings from the first few weeks of this research. After four weeks of surveys some key traveller behaviour changes were identified based on gender with major contrasts between how men and women view the risks of travelling – pandemic related and otherwise.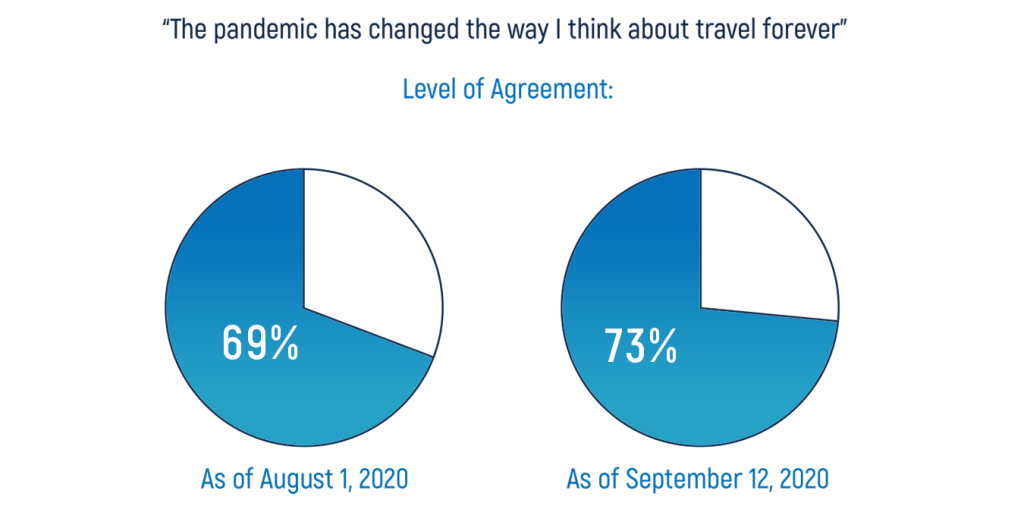 Stark differences in travel behaviours directly related to the pandemic showed that women are much more likely than men to take precautions recommended by the US national public health institute The Centers for Disease Control and Prevention as they travelled. At this time, while close to 60% of women said they would wash their hands or use hand sanitiser more, as well as wear a mask or other protective gear, only 39% of men said they would do the same.
On the whole, the survey at this stage found men were more than twice as likely than women (48% men versus 20% women) to say they like to take risks when they travel. But interestingly, men were much more likely than women to say they would let news reports of disease outbreaks and violence in their chosen destination affect their plans to go there.
You can read this full report here: When it comes to pandemics there are big differences in US travel behaviours based on gender – women are more likely to take precautions; men take more risks but are more affected by growing infection rates