During 2017 consultancy Resonance conducted an online survey of more than 1,500 US Millennial travellers ranging in age from 20 to 36 years with an annual household income of USD35,000 or higher.
"Our research shows that Millennials aren't just travelling more than ever before; 44% of them are travelling with kids in tow, too," Resonance concluded.
Furthermore, Resonance concluded more than half of US Millennial travellers – 58% – have children under 18 years of age, and 57% have a household of three to four people.
The appetite for travel amongst Millennials does not weaken once children enter the picture. Indeed, Resonance stated Millennial families reported they intend to spend more on vacations, and also tend to spend more on leisure travel than their single and corporate counterparts.
So where do these maturing Millennials prefer to travel with their families? Resonance's research shows a beach resort is the preference for 41% of survey respondents followed by vacationing with friends or visiting a major metropolitan city.
CHART - Relaxing at a beach resort, vacationing with friends and visiting a major metropolitan city are the top travel plans for US millennials with kids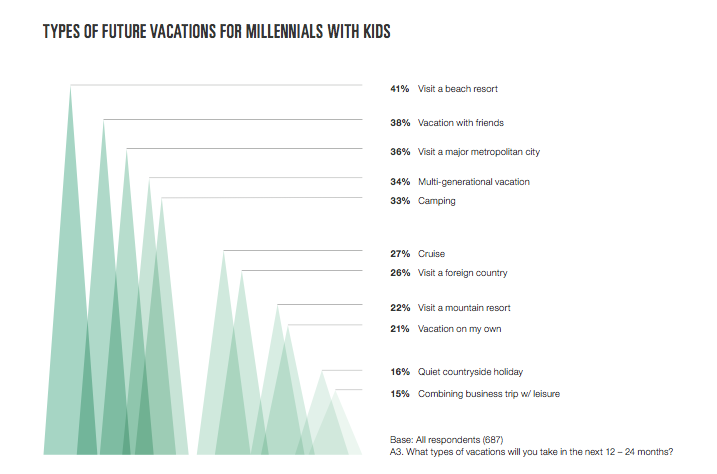 Source: Resonance
Resonance concludes tour operators are attempting to understand the needs of Millennial families, and expanding their offerings to include adventure and cultural activities for families with younger kids. Some examples include Austin Adventures working with indigenous guides in cities across the globe and Thompson Family Adventures pairing "pint-sized guests with a similarly aged kid in a host country for a pen pal programme".
"Once kids enter the picture, Millennial parents continue to travel, and their appetite for exploring new places and immersing themselves in different cultures doesn't abate," Resonance stated. Millennials with families also persue their fair share (37%) of online peer reviews and ratings on sites such as TripAdvisor and Yelp as well as on social media postings (29%) by family and friends to help them determine where to travel.
An obvious question that arises is how young Millennial families are footing the bill for their travel. Resonance highlighted data from the US Federal Reserve that shows the average net worth of US Millennials between 20 and 30 years old was between USD2,093 and negative USD38,915.