It is clear that digital developments are influencing the hospitality sector and changing the way businesses need to approach all aspects of their operations. As Oracle Hospitality works to support the hospitality sector accelerate its move to the digital economy, this study was produced to assess hotel management professionals' perceptions of the impact this transition has had on their business models and their relationship to mobile innovation and roadmap to thrive in an environment predicated on rapid change and the constant threat of disruption.
Many hospitality organisations are already turning towards mobile technologies while hoping to provide consumers the autonomy they prefer while providing opportunities to build brand loyalty and deliver exceptional guest experiences. But the study highlights, how can hotel management professionals differentiate their properties when an increasing segment of the population is determined to pursue self-service and how can they close that gap and cultivate loyal return customers?
"It's clear that hotels need to provide mobile innovations to meet the requirements of today's savvy consumers, yet some haven't started their mobile journey," says Greg Webb, senior vice president and general manager of Oracle Hospitality.
"Customers want to be able to engage with brands wherever they are – booking a room from their child's soccer game to ordering drinks while sitting poolside at the hotel. The properties that can't deliver these kinds of mobile experiences will quickly lose to those that can make the engagement simple and seamless for their customers."
The study findings delivers no real surprise. The responses of 199 executive leaders in the hospitality industry (more than three quarters were director level or higher, with more than half from companies whose annual revenue is greater than USD500million), respondents expressed widespread agreement that mobile connectivity is key to driving guest experience and loyalty.
Despite high self-ratings for mobile utilisation prowess, half of respondents expressed fear that their organisation would be disrupted by more mobile-friendly competitors. Nine in ten believed that guest experience could be improved by the ability to use smartphone to manage basic services such as booking a room and managing the check-in and check-out processes.
A similar number said their guest-facing mobile app is the preferred way they'd like guests to request service from hotel staff. In addition to enhancing guest experience, two thirds of respondents said reducing operational costs was another major driver for embracing mobility.
Even with the high ratings for mobile adoption, there is room for improvement in elevating the guest experience and providing personalised services via mobile – starting with awareness. Almost a quarter (23%) of the leaders agreed that they struggle to promote their guest-facing mobile app technology.
"The survey underscores the importance of offering guests incentives – such as free perks, drinks or discounted room service – to download and use hotel apps. In the absence of such mobile initiatives, it is essential for hoteliers to provide guests with other communication channels, such as texting, to quickly respond to their needs," highlights the study.
Looking primarily at the ability to offer WiFi to guests throughout the property; guest-facing apps to enhance the customer experience; and staff-facing mobile to improve the hotel team's daily operational workflow, the survey questions determined where respondents believe their team stood across thirteen fundamental measures of mobile maturity.
Oracle Hospitality plotted responses along two key axis: 'Organisational Readiness' (do you have the organisational support, resources, and infrastructure to succeed?) and 'Experience Delivery' (is your current mobile strategy on track to deliver outstanding guest experiences?).
CHART - The survey questions determined where respondents believed their team stood across thirteen fundamental measures of mobile maturity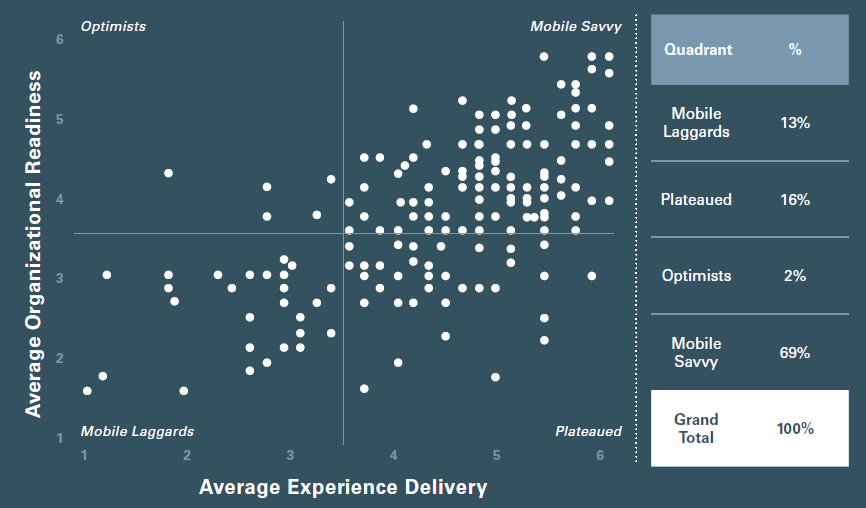 Source: 2019 Hospitality Benchmark - Mobile Maturity Analysis by Oracle Hospitality
Its findings show that the greatest share at more than two thirds (69%) were deemed 'mobile savvy and tend to agree with statements that confirmed their team's prowess in experience delivery as well as how forward thinking their organisation is in adopting mobile technology. Next were 'plateaued' respondents, at 16%, who believed their team is highly capable at delivering outstanding mobility-driven guest experience today, but struggles with future preparedness.
'Mobile laggards' represented 13% of respondents and were the hospitality professionals that reported the least mobile maturity, citing weaknesses in both their organisational readiness and experience delivery. Professionals who scored well on mobile preparedness for the future, but not on their current ability to execute mobility solutions, the 'optimists' accounted for 2% of the surveyed group.
The report provides three key takeaways to hoteliers: empower guests to take advantage of self-service tools; allow guests to communicate with you however they want; and continue investing in mobile to enhance the guest experience and reduce friction.