---
Summary:
UK Court of Appeal upholds appeal for Monarch's summer 2018 slots to be allocated to the carrier rather than return to slot coordinator.
Administrators KPMG already in talks with airlines willing to purchase Monarch's London slots at Gatwick Airport.
Manchester slots now placed with seven airlines who will now be able to operate new services an improve timings on some of their existing routes.
Birmingham slots have been shared amongst six airlines including Primera Airlines as a new entrant.
---
The 'ownership' of Monarch's slots has been the source of fierce debate since the airline collapsed and entered administration at the start of Oct-2017, but two High Court judges ruled earlier this month that as the airline was no longer flying and was unlikely to do so in the future it no longer held grandfather rights to the slots.
READ: High Court ruling set to place failed Monarch Airlines slots back into slot pool for reallocation
In the High Court ruling judges Lord Justice Gross and Mr Justice Lewis said that with the suspension of its licence, administration, return of leased aircraft and departure of staff, there was "no more than a theoretical possibility of Monarch emerging as a going concern or resuming the operation of air services". However, Court of Appeal judge Guy Newey now says Monarch was still an air carrier when slots fell to be allocated last month and in fact remains one. "It may be a failed air transport undertaking but that need not stop it being an air transport undertaking," he explains.
KPMG hopes to raise up to £60 million by selling the slots, especially those at London's Gatwick Airport which had secured significant interest from both current operators and potential new entrants. It says it already has tentative slot agreements in place with a number of airlines and will announce more details once these transactions have closed.
ACL has confirmed that it will not raise another appeal, but warned that the fact that a defunct airline is able "to obtain and trade slots, sets a worrying precedent for the future and one which will give cause for concern to airlines and airports."
Slots at Birmingham and Manchester that ACL had already put in the slot pool have been re-allocated to airlines for summer 2018 operation after the Divisional Court's ruling and ahead of this appeal verdict. ACL says these are "unaffected by the judgement".
The Blue Swan Daily understands that at Manchester these have preliminary placed with seven airlines who will now be able to operate new services and improve timings on some of their existing routes to better meet passenger demand. These include significant expansion from easyJet, Ryanair and Jet2.com that together are expected to base an additional 11 aircraft in Manchester in summer 2018.
Spanish LCC Vueling Airlines is also expected to open a new base at the UK airport, BA CitiFlyer is expected to add a third based Embraer EJet, while Thomas Cook Airlines and TUI Airlines had already committed to additional assets at Manchester before the slot reallocations. These additional rights may entail some shift of operations between terminals at Manchester or initial split operations between terminals due to all the Monarch slots being allocated at Terminal 2.
CHART - LCCs Ryanair and easyJet are already the largest carriers at Manchester and are likely to boost their share of flights through summer 2018 slot allocations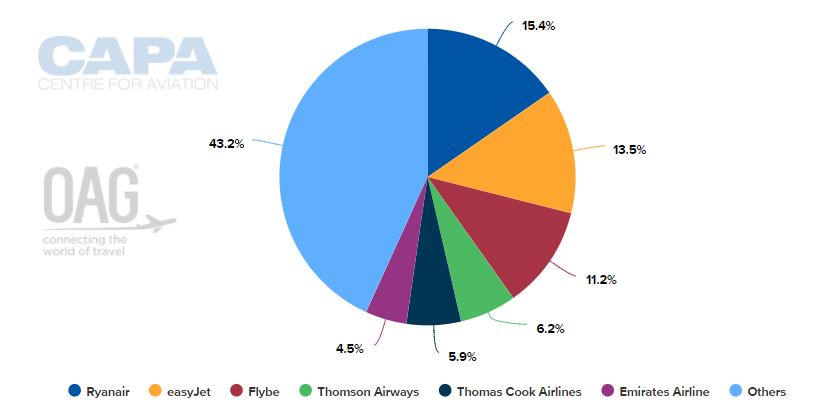 Source: CAPA - Centre for Aviation and OAG (data: w/c 20-Nov-2017)
Ryanair, currently the largest airline by capacity at Manchester, looks set to grow from nine to 12 aircraft with new routes expected to include Agadir, Almeria, Catania, Cagliari, Ponto Delgada, Porto, Reus, Rhodes, Venice and Verona, plus frequency increases in many existing markets.
The Irish budget carrier could be overtaken by easyJet with its based fleet possibly growing from 12 to 18 aircraft. Details of its proposed schedule has not yet been formalised but is likely to include flights to Genoa, Mahon and Nice. Jet2.com is understood to have slots for two additional aircraft, including a second Airbus A330-200, which could be used to launch a long-haul offer in partnership with its Jet2holidays arm, perhaps to Florida or Cancun in Mexico.
Vueling, which has served Manchester continuously since June 2015, is expected to open a new two aircraft base at the facility to serve the likes of Faro, Fuerteventura, Lanzarote, Lisbon, Malaga, Palma adding to its existing flights to Barcelona and recent services to Alicante, Rome and Tenerife.
New entrants at Manchester in summer 2018 may include LOT Polish Airlines (twice daily to Warsaw), airBaltic (twice weekly to Tallinn), Croatia Airlines (twice weekly to Split) and Tunisair (weekly to Monastir), although these are not directly thought to be linked to the Monarch collapse as most slots are at not at peak times. Similarly there are new long haul links on the cards into China and India, albeit it is unclear if allocated slots will be taken up by the airlines.
Meanwhile, at Birmingham the slots have been shared amongst six airlines including Primera Airlines as a new entrant. The carrier has already announced plans to launch trans Atlantic flights from Birmingham to Boston, New York and Toronto using new A321neos, but has also revealed its first short-haul schedules from the UK with daily services from Birmingham to Malaga and Palma from May-2018 using 189-seat Boeing 737-800s (it will also launch daily flights from London Stansted to Alicante and Malaga from Apr-2018). It is understood it will now base three aircraft at Birmingham after gaining some of the former Monarch slots.
Birmingham was the hardest hit UK airport by Monarch's collapse with the airline holding a 13.8% share of summer 2017 capacity
Source: The Blue Swan Daily and OAG
Monarch had offered flights from Birmingham, Leeds Bradford, London Gatwick, London Luton and Manchester. The Blue Swan Daily analysis of summer 2017 schedules shows that the airline was serving over 100 routes from the five UK airports offering around 15,000 seats on peak days. During the summer schedule it was offering up to 23 departures per day from Birmingham, 22 from London Gatwick, 19 from Manchester, ten from London Luton and four from Leeds Bradford.