---
Summary:
Montréal's Pierre Elliott Trudeau International airport has been handling fewer passengers than it might, given the city-region's status across government, commerce and culture;
Traffic figures at Pierre Elliott Trudeau International have been rising in the last two years though and are projected to continue to do so;
Now the biggest problem for the Canadian airport, ironically, is one of lack of capacity;
A USD1.9 billion scheme announced in Apr-2018 will add, inter alia a new remote terminal and an underground station that is part of the new REM light rail service and which will make the airport far more accessible than it has been by public transport.
---
The Quebec province as a whole counts 8.5 million people, making it almost twice as populous as Ireland and a similar size to Sweden. The other airport, Mirabel, is now just a cargo airport, passenger flights having been switched to what was then Dorval Airport in 2004 (actually there is some method in allocating distant and relatively-unused airports for freight that other cities might learn from).
There is a tiny amount of competition from Saint Hubert Airport, which is served by one airline, operating within Quebec and to Labrador. A little more competition arises out of Plattsburgh Airport, over the border in upper New York State, where two ultra low cost carriers, Allegiant Air and Spirit Airlines, are able to attract Canadians by way of not having to pay high fees that are charged to Canadian airports.
Interestingly, this was a problem which looked as if it might be addressed by way of a privatisation initiative before that was put on the back burner by Premier Pierre Trudeau's son, the current Prime Minister, less than a month ago. But while up to 80% of Plattsburgh's business comes from the Montréal area, its airlines offer less than 4,000 seats weekly (week commencing 30-Apr-2018).
Despite all the above, in 2009, when the financial crisis began to kick-in, YUL was handling just 12.2 million passengers a year, a ridiculously small amount for a city-region that is home to many international organisations, including in the aviation business International Civil Aviation Organisation (ICAO), International Air Transport Association (IATA) and Airports Council International (ACI).
The Montréal vicinity is also home to the World (Olympic) Anti-Doping Agency and the International Gay and Lesbian Chamber of Commerce. It also hosts manufacturers such as Bombardier and Rio Tinto Alcan, international banks and finance houses (as of Mar-2018, Montréal is ranked in 13th position in the Global Financial Centres Index), the largest oil refining centre in Canada and one of the largest inland ports in the world.
As highlighted in The Blue Swan Daily's recent 'Airport Insight' series, the Montréal gateway has seen annual year-on-year growth throughout the current decade, but traffic hasn't really grown rapidly until quite recently. Even now though, with 18.1 million annual passengers in 2017, that is lamentably less than Canada's largest Toronto Lester B Pearson International Airport (47.1 million passengers in 2017), representing the city that took over the #1 city tag from Montréal in the 1970s.
CHART - Montréal Pierre Elliott Trudeau International Airport has seen year-on-year growth annually throughout the 2010s with its most significant annual growth last year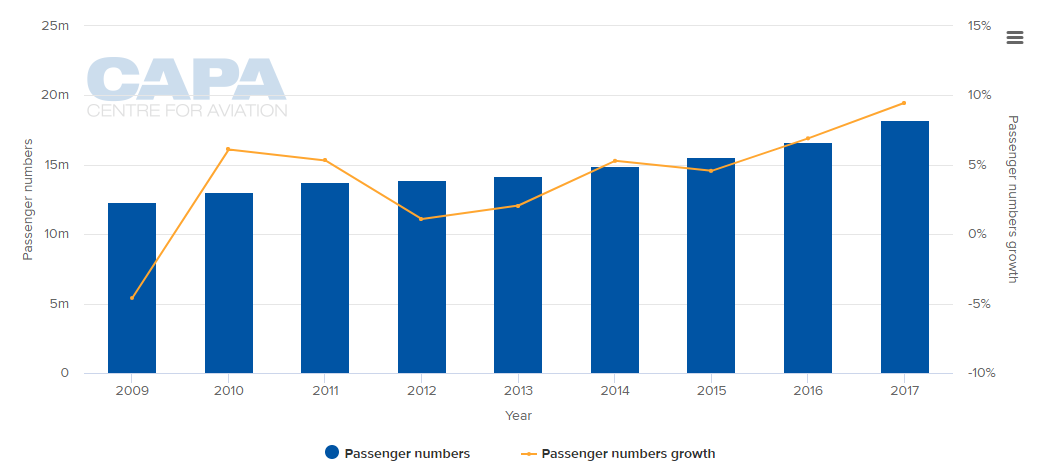 Source: CAPA - Centre for Aviation and Montréal Pierre Elliott Trudeau International Airport reports
But traffic did go up in 2017, by the highest amount in the last nine years (+9.5%), and together with the prediction for 2018 suggests a corner may have been turned. Now the problem is, ironically, that with the recent increases, capacity is beginning to run out. The Dorval airport was part of an airport system and what became the Trudeau airport was never long-term planned for a solitary gateway role, despite extensions that were completed in 2007 and then again with CAD350 million invested in 2016, including two Airbus A380-designated gates.
The remedy will be delivered in the form of a recently announced (30-Apr-2018) CAD2.5 billion (USD1.9 billion) scheme to expand the airport through to 2030. To finance the work, the airport authority, Aeroports de Montréal, expects to sell debt and to use proceeds from the airport expansion fees it charges travellers.
The project includes the addition of 20 to 30 gates at a new Y-shaped remote terminal where a runway used to stand, reconstruction of the main parking facility with a "green roof", the construction of an underground light rail station and the reconstruction of the elevated departures area. The new terminal will eventually be connected to the existing one.
The underground station will be a terminal station for one of the four branches of the Réseau express métropolitain (REM), which is currently under construction. The new system will connect numerous suburbs with Downtown Montréal and the airport. Previously public transport access to and from YUL was not as sufficient as might be expected for a major city and its airport.
Montréal currently has no direct rail link into the airport proper even though the Dorval intermodal bus and commuter rail station is within one kilometre of the terminals area (it is connected there by a shuttle bus). The intermodal station, which handles over four million passengers per annum, is primarily geared towards commuters.
Once completed, the REM will be the fourth largest automated transportation system in the world after Singapore, Dubai, and Vancouver and it also represents the largest public transportation infrastructure since the Montréal metro, inaugurated in 1966.