The online survey, completed for NECAM, a leading provider of facial recognition technology, shows frequent flyers are generally embracing the use of facial recognition technology to improve security and reduce time spent waiting in lines. It included 1,955 frequent flyers with nearly a quarter of respondents taking more than ten flights per year.
According to the findings, three in four (75%) of the frequent flyers said they would favour the use of facial recognition to identify both foreign and domestic travellers. A much higher level, nearly 87% said they would approve of the use of facial recognition to identify criminals and terrorists and protect the air travel system. In addition, passengers cited security and check-in lines as their top annoyances. More than 71% said they would be willing to pay a USD10 fee to bypass lines – humorously, one in five (22%) would even embarrass themselves by singing a song to the security agent if it meant they could proceed more quickly.
"Airlines are reporting that they can board jumbo jets in about a third less time by using face recognition at the gate. Meanwhile, US Customs and Border Protection reports they have been able to stop more than 100 impostors trying to enter the country on false documents. These successes would not have happened—and will not continue to happen—without facial recognition," says David Fuscus, president of Xenophon Strategies.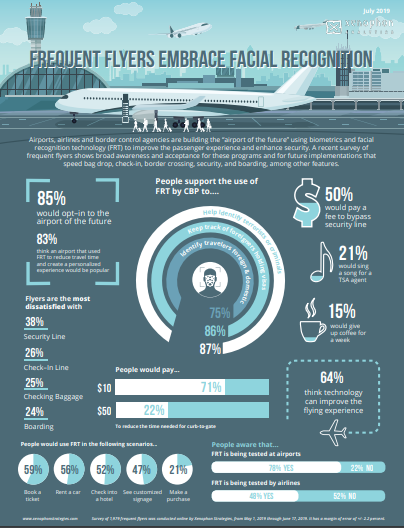 CLICK TO VIEW FULL INFOGRAPHIC: Biometrics - XenophonAnalytics
In addition to these results, the survey showed that there is broad awareness and affinity for the use of facial recognition in air travel. More than 84% of those polled said they would opt-in to an "airport of the future" that used facial recognition to speed travel through the airport by reducing the need to stop and show paper documents for bag drop, check in, security, and boarding.
Nearly 78% of survey respondents indicated they were aware of facial recognition technology currently in use at airports for international travellers entering and exiting the country, while around half (48%) knew of the biometric programmes being implemented by airlines.
Looking at how frequent air travellers would like to see facial recognition further adopted to improve the travel journey more than half highlighted booking a ticket (59.5%), renting a car (56.04%) and checking in at a hotel (52.18%). It would seem that the frequent travellers are focused on improving the experience with much less interest in using the technology to, for example, make a purchase at the airport (21.39%) or for a personalised offer (8.91%).