Additionally, occupancy continues to play a significant role in driving RevPAR growth. Among all countries with a room supply of more than 50,000 rooms, Israel, Switzerland, Greece, Italy, and France led in RevPAR on an actual basis, according to the STR data. Singapore dropped off the leader board after ranking in the top five for five consecutive 28-day periods.
The rise in occupancy rates aligned with the approaching summer holiday period for most of the world. All 48 countries in the 50,000-room group reported occupancy rates above 50%, while four reported a four-week average occupancy more than 80%, notes STR.
In its previous update, Ireland was the only country to see occupancy above 80%. This time around, Greece, the United Kingdom, and the Netherlands reached that point for the latest running, 28-day period.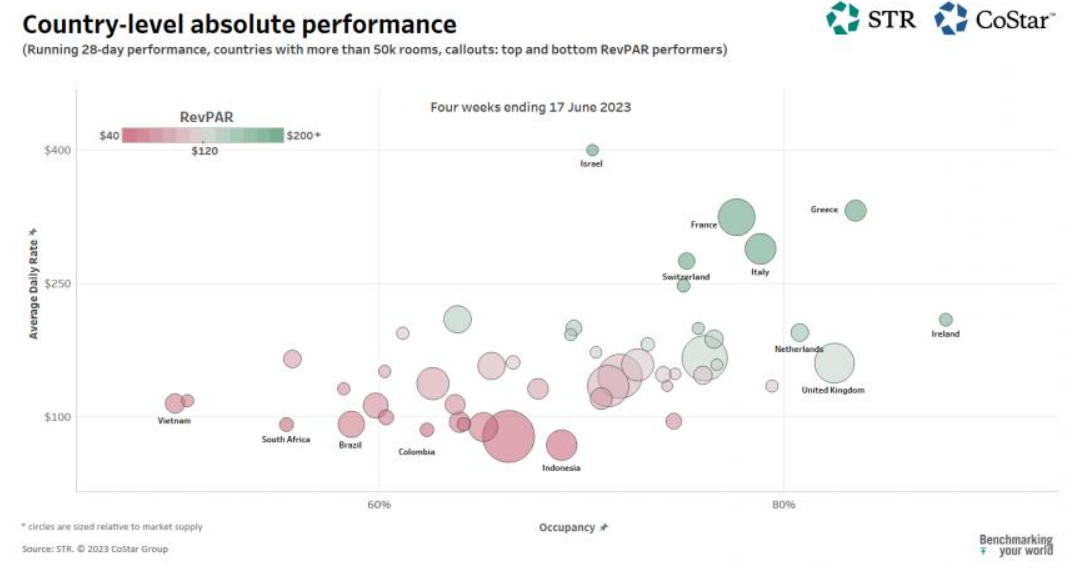 Continuing the same trend as the last review, occupancy remained strong in markets outside of North America, with 21 of 48 countries surpassing their 2019 comparable. That total represented an increase of three countries compared to the previous month.
Indonesia stands out with the highest occupancy growth, experiencing a 28% surge compared to pre-pandemic levels. The country's average daily rate (ADR) remained steady at +2%, notes STR.
With the northern hemisphere entering the summer season, coastal countries along the Mediterranean Sea—Greece, Italy, Tunisia, and Morocco—dominated the top five in terms of RevPAR growth.
Among the bottom five performers in RevPAR percentage change, Saudi Arabia experienced the largest decline at 51%. However, it's important to note that decrease is primarily attributed to the seasonal shifting of the Ramadan calendar, explains STR.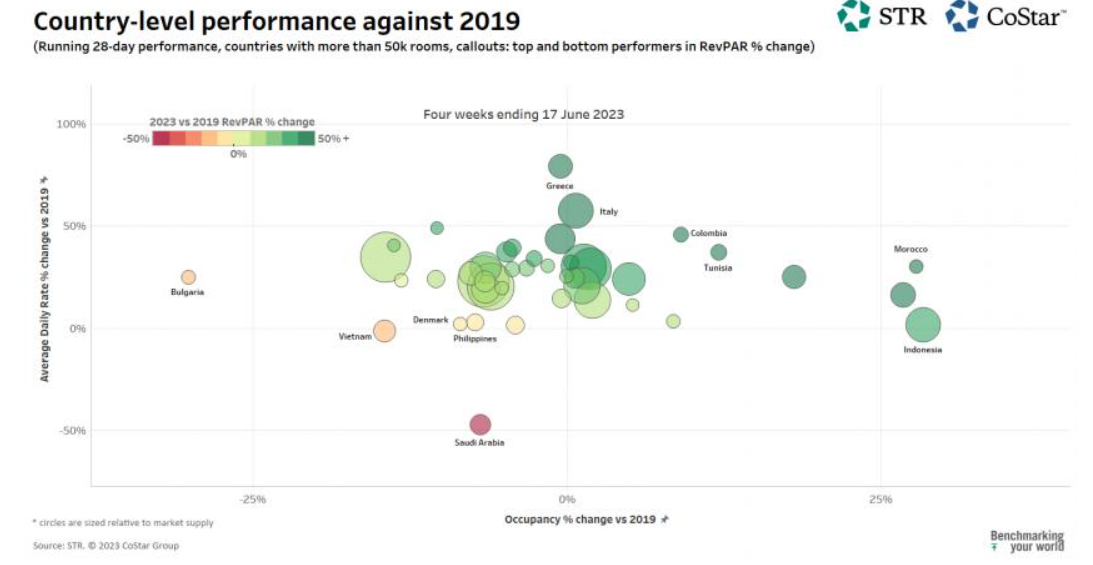 Excluding markets with fluctuating exchange rates, the top five performers in RevPAR growth included the Italian Central region, Lombardy, Basilicata/Calabria/Puglia, Greece Provincial, and Sri Lanka.
While the top five was once again dominated by familiar markets in Italy and Greece, the entry of Sri Lanka highlights the strength of developing markets, notes STR.
The market witnessed growth in occupancy of over 80% compared to 2019, attributable to efforts to grow tourism in the region.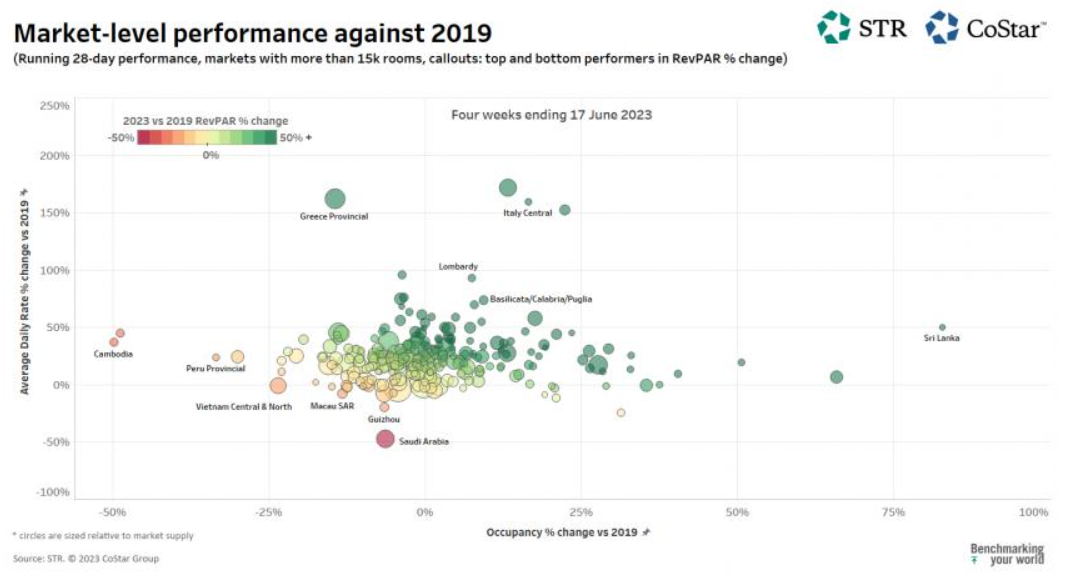 Along with 85% of markets exceeding their 2019 RevPAR levels, 52% of markets saw their occupancy rates surpass the previous levels, according to the STR data.
Once again, this latest review reveals positive signs across the world, indicating a continued recovery in the hospitality industry despite challenging econonomic conditions in much of the world.