---
Summary:
Concerns are growing across South Africa that other airports in the continent will diminish Johannesburg's long-standing 'hub' role for Africa;
OR Tambo International remains Africa's largest hub airport, but Ethiopian Airlines' development strategy means Addis Ababa is well placed for the future;
New research from data intelligence specialist ForwardKeys highlights the extraordinary rise of Ethiopia as a destination and a transfer hub.
---
In fact, new research from data intelligence specialist ForwardKeys has shown the extraordinary rise of Ethiopia as a destination and a transfer hub for long-haul travel to Sub-Saharan Africa. The data shows that Addis Ababa (Ethiopia's capital) has grown its volume of international transfer passengers to Sub-Saharan Africa, five years in a row (2013-17).
The insights also highlight that Addis Ababa's Bole International Airport, which is currently being upgraded with a new terminal, at the cost of USD345 million, has overtaken Dubai International as the leading gateway to the region. Meanwhile, international bookings for Ethiopia, for the period from Nov-2018 to Jan-2019, are ahead by more than 40% on the same period in 2017 – well ahead of all other destinations in Sub-Saharan Africa.
The COO of Airports Company South Africa (ACSA), Fundi Sithebe, has highlighted concerns over Johannesburg losing its leading hub status, observing that South African Airways (SAA) has decreased international seat capacity at Johannesburg's Oliver R Tambo International Airport (JNB) by 13% between Mar-2018 and Sep-2018. She noted SAA now accounts for 46% of passengers at the airport,
"The threat is real that East and West Africa will take over from Johannesburg as a hub. We really need to entice passenger [growth] policies with a dominant airline at Johannesburg," she says.
Whether "dominant airlines" help "entice passenger growth" is a moot point. There are plenty of thriving airports the world over that do not have one, and where they exist they can actually stifle balanced competition by holding too many of the winning cards, i.e. competitive slots and ground facilities.
From a high of +4.9% in 2015, annual traffic growth has slid back to the dark days of 2012-2014 when there was no discernible growth at all. In the first nine months of 2018 it was static. That might be due partly to the impact of the ambitious privately-owned Lanseria Airport nearby, which recorded 1.9 million passengers in 2017 and featured earlier this year in a The Blue Swan Daily report.
https://corporatetravelcommunity.com/an-often-overlooked-south-african-airport-has-big-ambitions-but-can-it-really-compete-with-johannesburgs-or-tambo-international-hub/
And while Ms Sithebe may be correct in highlighting SAA's reducing capacity, that does not tell the whole story. Capacity as a whole has increased at JNB so far in 2018, by +0.7%, following a rise of +1.8% between 2016 and 2017.
There are numerous airports that could feasibly rival JNB. There are quite large ones in the north (Cairo International in Egypt, the continent's second biggest and Casablanca Mohammed V International in Morocco, for example) but both could be said to suffer the reverse geographical location problem, they are too far north.
As reported recently by The Blue Swan Daily, Ghana has plans to develop Accra Kotoka International as West Africa's largest gateway, but this ambition remains in its infancy and is one for the future. Nigeria has similar ambitions, but no real leading hub, and the country is riven with indecision over privatisation and facilities at too many airports are still not up to international standards. A huge new airport will open in Luanda, Angola but not with any hub ambitions.
https://corporatetravelcommunity.com/ghana-airports-company-seeks-to-turn-accra-kotoka-international-airport-into-a-major-hub-for-west-africa/
Cape Verde envisaged a new airport to act as a hub between Africa and the Americas but little progress has been made with this strategy. Rwanda is building the Bugesera Airport near Kigali with similar hub ambitions. That airport will be central to the continent, as is Uganda's Entebbe Airport which handles just 1.5 mppa, less than Bugesera aspires to in its first year.
Which brings us nicely back to Addis Ababa and its Bole International Airport which has long overtaken Nairobi's Jomo Kenyatta International as East Africa's largest air gateway. It is expected to handle 13 million passengers this year and is being expanded to handle 22 mppa from 2019. Meanwhile, a new USD2 billion, four-runway airport to handle over 100 mppa is to be built to serve Ethiopia in the future.
Addis Ababa may not be in an ideal location to be a hub for Africa but it is much better position geographically than Johannesburg. It does have a very dominant carrier in Ethiopian Airlines (93% of capacity) but as Ethiopian is also a Star Alliance member there is a huge alliance presence, too.
CHART - A comparison between the networks of Addis Ababa Bole International (top) and Johannesburg OR Tambo International (bottom) highlights their respective hub strengths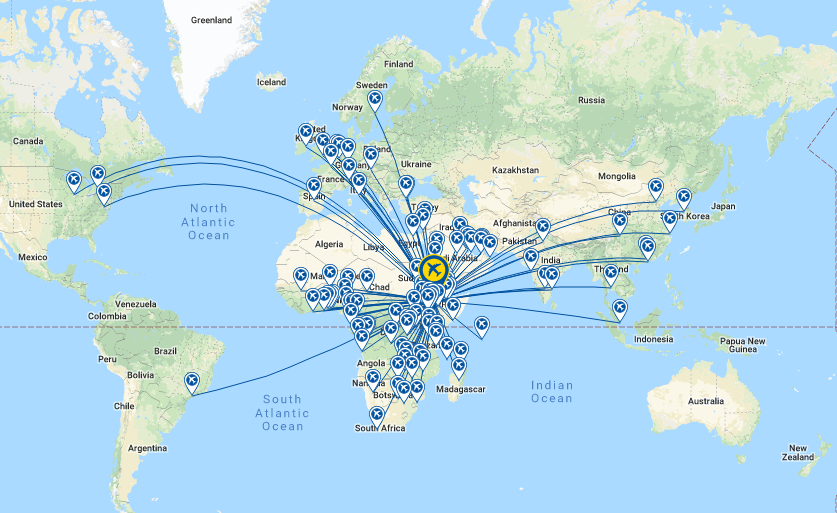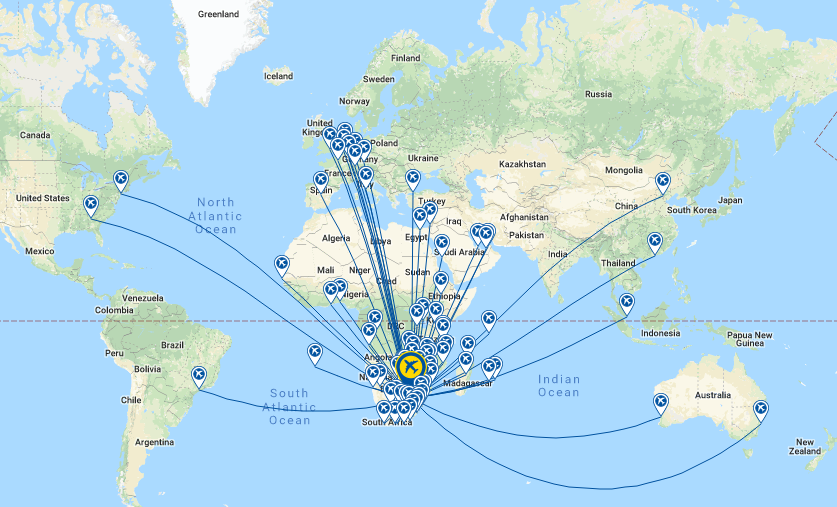 Source: CAPA - Centre for Aviation and OAG