---
Highlights
FMI has become the second domestic airline in Myanmar to cease operations in less than a year.
Myanmar's domestic market remains highly competitive, with seven airlines competing.
Visitor growth has slowed over the last two years, pressuring an airline sector which was already suffering from overcapacity.
---
FMI Air suspended operations on 20-Jul-2018, becoming the second airline in Myanmar to shut down in less than a year. APEX Airlines suspended operations in late 2017. Both airlines launched services in 2015, which resulted in there being 10 domestic competitors.
There were only 2.9 million domestic passengers in Myanmar in 2017, according to Myanmar DCA data. While the market has approximately tripled in size this decade, several airlines have launched services and this has resulted in overcapacity.
At the end of 2010 there were only three airlines operating in Myanmar's domestic market – Air Bagan, Air Mandalay and Myanmar Airways. The number of domestic competitors doubled in 2011 as Asian Wings and Air KBZ launched and as Yangon Airways resumed operations.
Golden Myanmar launched in 2013, followed by Mann Yadanarporn Airlines in 2014. APEX and FMI launched the following year and, not surprisingly given their relatively late entrance in an already crowded market, they struggled.
There are now seven domestic competitors in Myanmar as Air Bagan has also suspended operations. However, Air Bagan has not exited entirely, since its sister airline Asian Wings continues to operate.
Seven airlines is a more sustainable number than 10, but still a very high figure for a relatively small market. For example, neighbouring Thailand also has seven domestic airlines but the market is more than 10 times larger than Myanmar's.
Myanmar has a slightly bigger international market, consisting of 4.4 million passengers in 2017, but the international market is dominated by foreign airlines. Myanmar airlines flew less than 1 million international passengers in 2017.
Of the seven remaining domestic competitors, only Myanmar National Airways (MNA) currently operates international services. Government-owned MNA, formerly known as Myanma Airways, is the largest domestic airline in Myanmar and began international operations after completing a rebranding exercise in 2015. It competes in the international market against privately owned Myanmar Airways International (MAI), which does not currently operate any domestic services.
Myanmar's airline sector has benefitted from rapid growth, but the rate of passenger growth has been less than anticipated due to slower than expected growth in visitor numbers. All the airlines in Myanmar rely heavily on visitors, which typically fly around the country to take in the major tourist attractions.
Most of the local population does not yet have the income levels to fly domestically, although they have access to cheaper government-regulated fares. The domestic airlines therefore need to attract foreigners, which pay higher fares, in order to fill their aircraft. However, foreigner traffic has not been sufficient, particularly during off-peak months, resulting in low load factors and unprofitability.
Myanmar attracted 1.36 million visitors in 2017. This was an all-time high, but visitor numbers have increased by only 5% since 2015, which represents a significant slowdown after several years of high double digit growth.
In 2008 there were less than 200,000 visitors to Myanmar. The market opened up in 2011 following several years of EU and US sanctions, leading to visitor growth of more than 50% in 2012 and 2013. This growth prompted several airlines – both domestic and foreign – to expand rapidly, leading to overcapacity when visitor growth slowed in 2014 to 2017 (and even contracted slightly in 2016).
Myanmar annual visitor arrivals and year-over-year growth: 2008 to 2017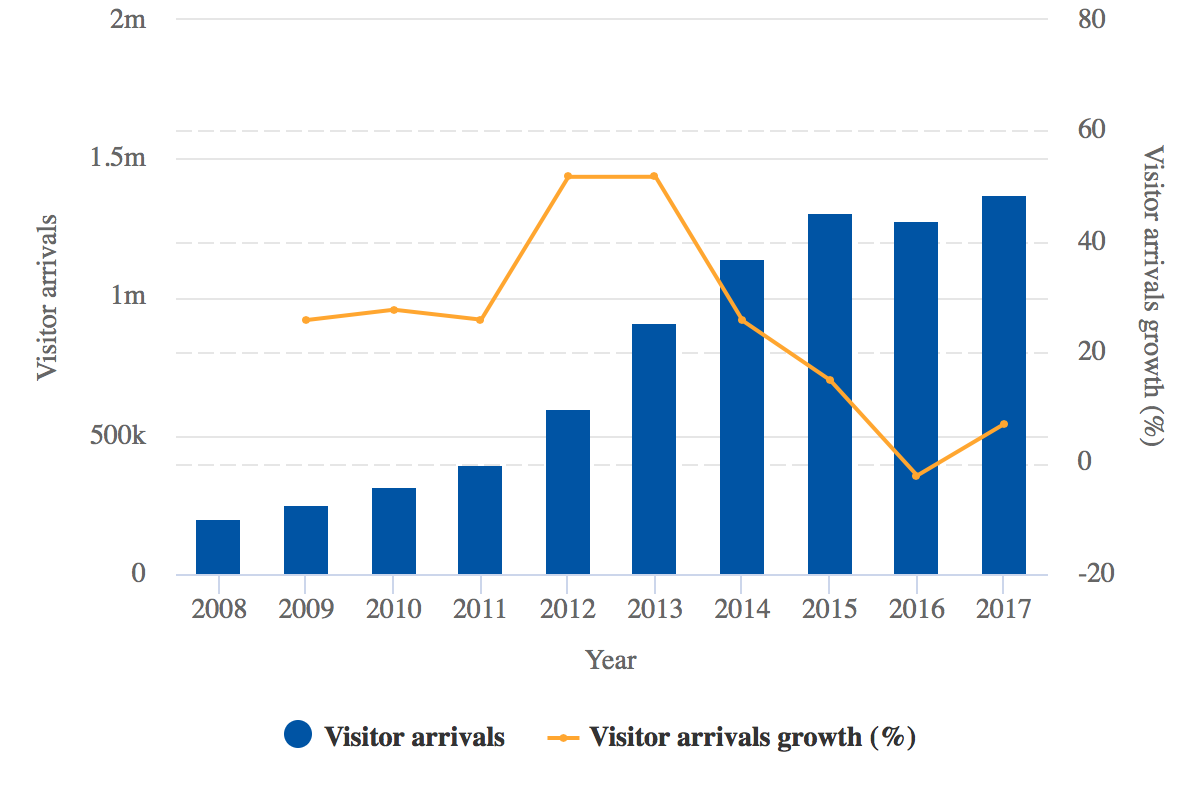 Source: CAPA – Centre for Aviation and Myanmar Ministry of Hotels and Tourism