The airport's average passenger growth from 2016 to 2018 was 11%. Its year-on-year passenger numbers during 2018 jumped 13% to 16 million; 2018 was also the first calendar year that Nashville's monthly passenger levels exceeded one million.
The economy of the Nashville metropolitan region has been growing solidly during the last few years. An article in the publication titled Area Development noted that since 2013, the number of tech jobs in the Nashville region has grown by roughly 30%, and Forbes has concluded that since 2011 the area's job counts in professional and business services has growth by 42.6%, which is the highest rate of any major metro area. The publication concluded management and technical consulting, architecture and related services led that growth.
Nashville took a big step forward in building its network during 2018 when BA launched flights to London Heathrow. Service to Heathrow is major win for any city, especially a medium sized market competing fiercely with other similarly sized airports. The BA service fills a gap for direct access to Europe for Nashville. American Airlines ended its service to London from the airport in the mid-1990s.
CHART - Nashville International airport has seen sustained traffic growth this decade: it grew to a high of 13.2% in 2018 and it is actually growing faster in 2019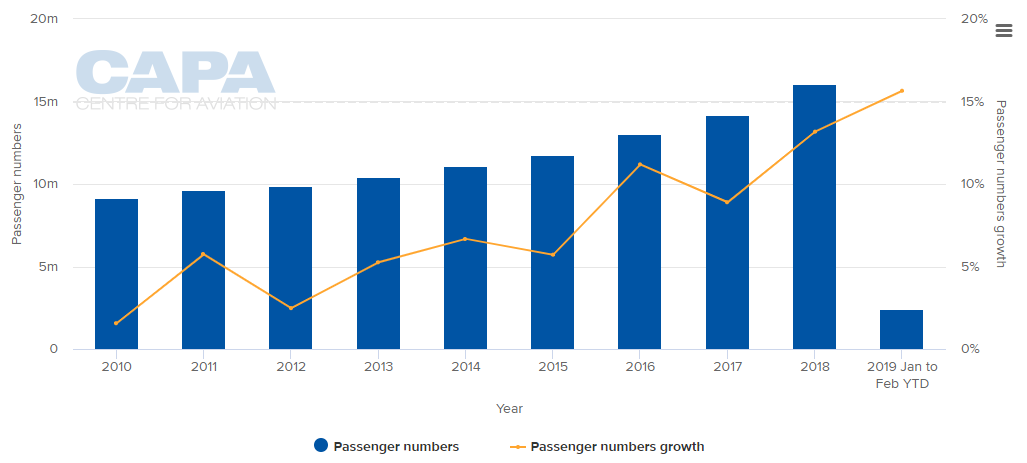 Source: CAPA - Centre for Aviation and Nashville International airport
The airline has committed to up its service to London Heathrow to a daily flight, and the prospects for sustained service look promising. BA has served Austin airport since 2013, and the Austin and Nashville metro areas have similar characteristics – both are business friendly regions with growing tech sectors and a mix of other industries offering a certain level of diversification.
Of course, the UK carrier has garnered its fair share of incentives for the new service. Tennessee Public Radio has reported the state planned to give BA USD1.5 million in incentives for a two year period and the metro Nashville region pledged to cover up to USD500,000 in losses while the service gets off the ground.
Incentives of that size are not surprising given the competition medium sized airports face in securing coveted long haul flights, and Nashville officials are no doubt working to secure additional flights to Europe as well as Asia. And despite the prospects for continued strong economic growth in the Nashville metro area, the airport will have to continue to compete fiercely to grow its long haul network composition.