The tax is expected to raise around EUR200 million per annum. But, there are several discrepancies with the bill as it is formulated currently. It does not take into consideration the nature of the Dutch aviation market and is too simplistic a tax if it wants to reduce CO2 emissions.
Firstly, exempting transfer passengers from being taxed will hurt national carrier KLM a lot less than it would point-to-point carriers such as Transavia, Ryanair and Wizz Air operating from Eindhoven, Rotterdam and Groningen airports. It would also be more price restrictive for passengers who do contribute to Dutch tourism and the economy for business or leisure trips, rather than those who just pass through the airport.
Implementing a tax on freight in the Netherlands', and in Schiphol's case in particular, does seem like the government wants to kick cargo while its down. With Schiphol's current slot limitations, the airport is already doing what it can to increase passengers to the detriment of cargo activity. Volumes declined over 8% in three months ended Mar-2019 according to CAPA – Centre for Aviation data while passenger numbers increased by a modest 1.6%.
The bill does not include international fees. Unlike other jurisdictions where passenger fees increase incrementally according to distance flown, for example in Germany, the bill currently has a fixed EUR7 rate "regardless of distance/destination", heavily favouring long haul and punishing short haul and LCCs in particular. The bill is still in its draft, whether inclusion of a form of international fee will be reconsidered remains to be seen.
There is a big underlying question though. Will the Netherlands' example create a domino effect for other EU member states? According to the European Commission, six of the EU28 members (Austria, France, Germany, Italy, Sweden and the UK) already impose some form of air passenger duty for both domestic and international aviation, though these do not purposefully work to reduce emissions.
CHART - The Netherlands' aviation sector has grown strongly this decade, but system capacity growth slipped to its lowest rate in 2018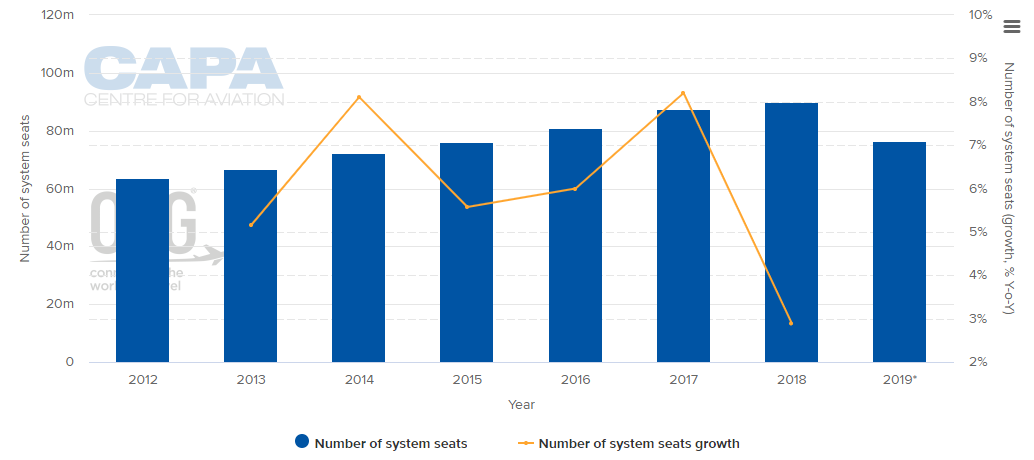 Source: CAPA - Centre for Aviation and OAG (NOTE:*the values for this year are at least partly predictive up to six months and may be subject to change)
Most EU countries already impose varying levels of VAT charges with the exception of the UK, Ireland, Cyprus, Malta, Denmark, Bulgaria and Belgium. Six member states levy taxes on international aviation through ticket taxes for passengers departing from airports within these states.
It is not very likely others will follow suit and implement their own passenger tax fees or support an EU wide passenger tax regime. Eastern European member states especially would be less keen on a newly imposed tax regime by the European Commission and won't want to see robust passenger traffic growth hampered by new taxation measures, particularly in Poland and Hungary.
The bill being developed by the Netherlands appears to only want to punish Dutch aviation rather than evolve it to become more efficient and sustainable. The way it specifically targets short haul activities suggests it wants to encourage the use of rail or long-distance bus as a way of improving environmental efficiency in transport.
The Dutch government's ultimate goal is for an EU wide tax to be established, and it has said it will annul its plan for a national tax if this looks to be happening in 2019 or 2020. It is "pushing hard" for European agreements on aviation taxation in the context of EU climate goals, and is meant to host an international conference next month on 20/21-Jun-2019 at the Hague to discuss the introduction of an EU aviation tax and on carbon pricing.