This is not new and such equipment, mainly in the form of the Boeing 757, has been regularly flying between the United States of America (USA) and Europe. But, new generation and more efficient narrowbodies are opening this market to new entrants meaning this small, but very dynamic, niche segment is undergoing transformation.
As a recent CAPA – Centre for Aviation analysis, titled 'North Atlantic narrowbody aircraft routes: a dynamic niche segment undergoing transformation', highlights there will be a 6% rise in summer 2018 narrowbody trans-Atlantic capacity compared with last year.
Air Canada and Delta Air Lines are opening new trans-Atlantic routes with narrowbodies this summer, while SATA International is to switch three routes from widebody to narrowbody operation with the A321neo, before taking delivery of the A321neoLR in 2019 and 2020. Norwegian launched 12 new North Atlantic narrowbody routes last summer, using the Boeing 737MAX-8 and Primera Air will become the new kid on the block with flights linking Birmingham, London Stansted and Paris CDG with Boston, New York and Toronto, with Montreal and Washington also under consideration.
Interestingly, the CAPA analysis highlights that narrowbody deployment across the Atlantic has actually reduced from a peak in summer 2011, with summer 2018 estimates actually down over a fifth (21%) on the level recorded seven years ago. While the 6% year over year growth from summer 2017 will be faster than the 5% increase in widebody frequencies, the latter has grown almost a third (32%) versus five years ago and more than a quarter (26%) higher than their summer 2011 level.
In spite of the modest surge in narrowbody frequencies in the coming summer season, growth in North Atlantic frequencies has been driven by widebodies over the past decade. The Blue Swan Daily analysis shows that total frequencies across the Atlantic have grown to seasonal highs.
TABLE – There has been a significant growth in trans-Atlantic frequencies this decade, most notably during the summer months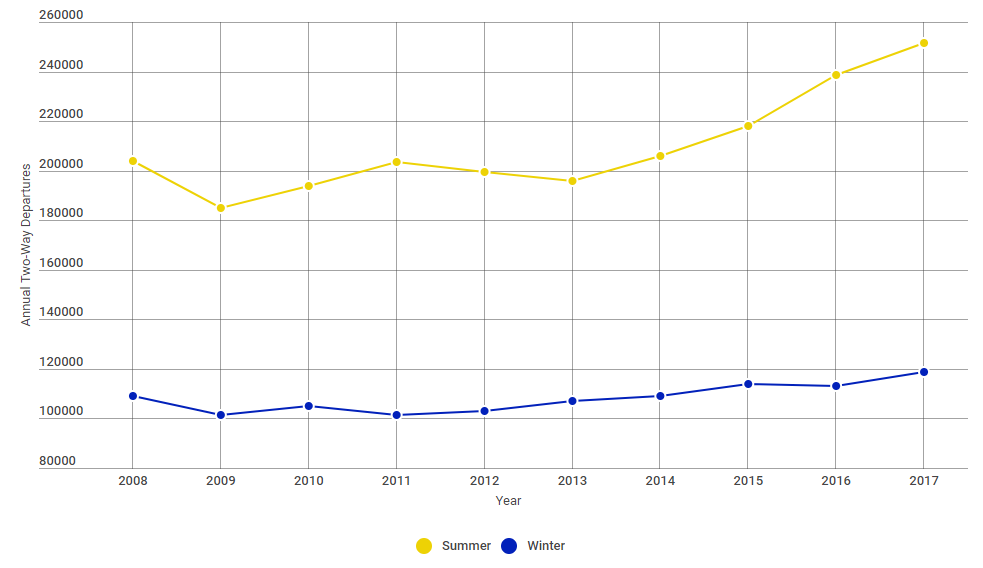 Source: The Blue Swan Daily and OAG
As the CAPA analysis notes, the narrowbody share of trans-Atlantic flights has fallen by a third compared with then years ago, but scratching beneath the surface, the data reveals that the North Atlantic narrowbody market is noticeably dynamic. The traditionally dominant North Atlantic airlines are reducing their narrowbody capacity, while smaller and newer operators are growing rapidly in this segment.
The reduction in narrowbody capacity across the Atlantic by major players, which are members of antitrust immune joint ventures, and the accompanying growth from smaller and newer operators, has led to a significant shift in market share between the two categories. In fact airlines outside these joint ventures now almost match them on narrowbody frequencies, with LCCs the main driver of this growth.
"The powerful hold of the big three alliance-based joint ventures (both in terms of overall market share and in frequencies on major city pairs) has forced non-joint venture members to seek alternatives," explains Peter Harbison, executive chairman, CAPA – Centre for Aviation.
CHART - This winter London Heathrow is the largest market for trans-Atlantic departures, ahead of New York JFK and Paris CDG airports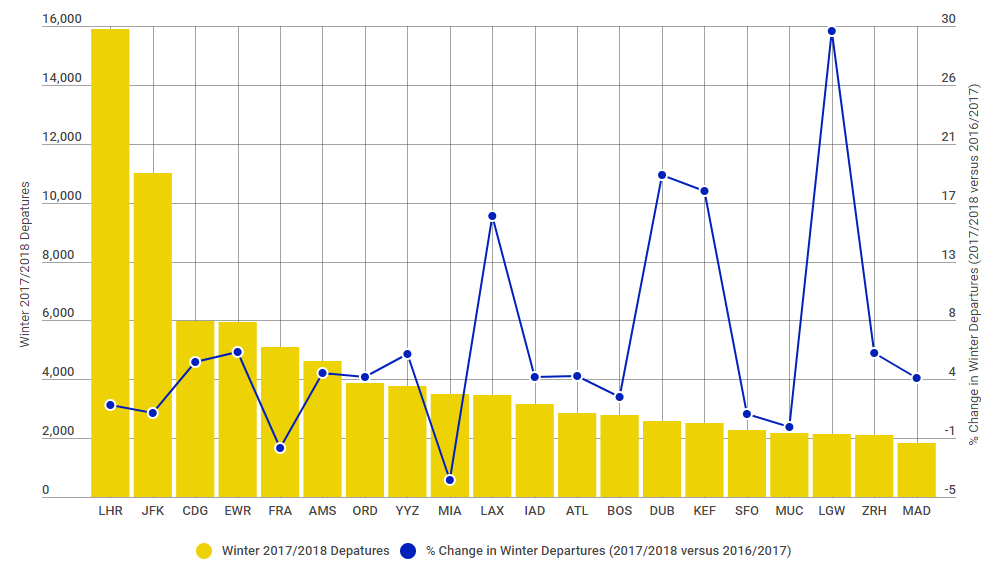 Source: The Blue Swan Daily and OAG
Paradoxically, as that market power has kept prices high it has also opened the door to new entrants. "The joint venture power has allowed members to attract higher value traffic, but this can leave much opportunity for market stimulation through lower fares. Congestion - and unavailability of suitable slots - at most of the main city pair airports has also accelerated the need to look elsewhere," says Mr Harbison.
He acknowledges that new narrowbodies like the Airbus A320neo family and Boeing 737MAXs are making smaller city pairs viable. "As airports become aware of these new opportunities they, often supported by their local tourism and municipal authorities, are offering incentives for new services. This offers great new opportunities for local tourism and businesses in some of these smaller airports," he says, but acknowledges that smaller widebodies like the fuel efficient 787 (and increasingly the A350) are offering similar opportunities.
But whether this is opening a new market on one side of the Atlantic, or, increasingly in recent years, brand new city pairs, there are risks, as many are untested, meaning that not all new routes will be successful (as seen with Norwegian's decision to pull its flights to Bradley International Airport, serving Hartford, Connecticut).
"This will give rise to a need for airports to be well aware of the prospect that service may be discontinued unless the market can be clearly shown to be profitable. So any support plans should be tailored to support reasonably long term operations," says Mr Harbison.
"Market dynamics are changing in many ways; one is that airline network planning becomes more short term, but also more agile. That is not always such good news if airport expectations are not adjusted to the new ways," he adds.
What is clear is that we are seeing changes in the trans-Atlantic market with increasing city pair markets being introduced. While the narrowbody market is a very dynamic, niche segment being driven by new aircraft technology, its success could ultimately lead to further market maturity and the need to deploy larger widebodies in the future.