---
Summary:
Beijing Daxing International Airport set to open in Oct-2019, slightly ahead of recent estimates;
Will complement rather than replace Beijing Capital airport, the world's second busiest airport;
The Capital airport benefited from Olympics-related investment only 10 years ago but delays have become commonplace;
Major airlines are committing to the new airport with significant investment of their own.
---
Construction work commenced in Dec-2014. The project cost was set at CNY80 billion (USD13.1 billion) in total early on, and has not varied since that estimate, and the opening date has been brought forward from later estimates (it was originally Jul-2019). Early in the procedure it was behind schedule due to delays in land acquisition and demolition work.
Once completed, the airport will have the capacity to handle 45 million passengers per annum during the initial stages, 70 million passengers by 2025 with plans for expanding the facility into one capable of handling 100 million passengers per annum. An air transport-related economic zone was also planned for, with a speculative investment figure of CNY84 billion (USD13.4 billion).
The construction project includes four runways (eventually seven), 150 passenger aircraft parking bays, 24 freighter aircraft parking bays, 14 maintenance aircraft parking bays, and a 700,000sqm terminal.
There are some key differences between this project and others of this size and scope around the world, such as Istanbul New Airport and the New Mexico City airport. Daxing and its relationship with Beijing Capital International Airport have more in common with that of Dubai International and Al Maktoum/Dubai World Central.
In that instance the former is staying open while the latter, which exists in its basic form handling cargo and a handful of passenger airlines, is extended, to include an airport city. It is conceivable that Dubai, which has the world's third busiest airport right now, may ultimately require the services of both airports, with a joint capacity of 230 million ppa. Or, there might be socio-geo-economic changes that minimise Dubai's global role and which render one airport obsolete.
Both the Istanbul and Mexico City airports (the latter is threatened by a possible change of government) would replace the major existing airport (Atatürk and Juarez International respectively) completely. That is not the case in Beijing or in Dubai, where the existing airport has a projected useful life for many years into the future and where the land surrounding the new one can be used for a variety of industrial and commercial purposes.
Moreover, China spent USD3.5 billion to build at Beijing Capital, and just in time for the 2008 Olympic Games, what was at the time the world's largest airport passenger terminal (it was rapidly overtaken by Dubai International's Terminal 3) and the sixth largest structure on Earth. It is not a structure to be treated lightly.
Nevertheless, despite this major expansion, Beijing Capital, Asia's busiest airport and the world's second busiest, has struggled to handle passengers, leading to delays that have become legendary among frequent travellers. It reached its design capacity in 2013 of 75 million ppa. Last year it handled 95.8 million.
STATISTICS - Latest data shows the airport is #1 for seat capacity, #5 for ASKs and frequencies and #4 for cargo payload
Source: CAPA - Centre for Aviation and OAG (data: w/c 28-May-2018)
The investment by the government (there is very little participation now in Chinese airports by private infrastructure firms or speculators, be they from China itself or elsewhere) has prompted some of the largest airlines to follow suit. In Mar-2018 for example China Southern Airlines said the group would invest CNY15 billion (USD2.4 billion) in 2018 and 2019 towards the construction of a new hub at the New Beijing Airport, with investment of another CNY500 million (USD79 million) p/a on other equipment. Its base there, which opened in Oct-2017, covers 62 hectares and will have 250 aircraft hosting over 900 services a day by 2025.
China Eastern Airlines is another carrier investing heavily at Daxing. It launched its base construction and core area project on 05-Dec-2017. The project will involve investment of CNY13.2 billion (USD1.9 billion) and cover an area of 1.2 sq km.
A new airport subway line connecting Beijing City to Beijing Daxing Airport is on schedule to be complete by 2019. The new subway line will become the fastest in China upon completion.
China Eastern and China Southern are currently the second and third largest airlines at Beijing Capital International Airport after Air China, as measured by seat capacity.
CHART - The big three Chinese carriers - Air China, China Eastern Airlines and China Southern Airlines account for almost two thirds of the current system capacity at Beijing Capital International Airport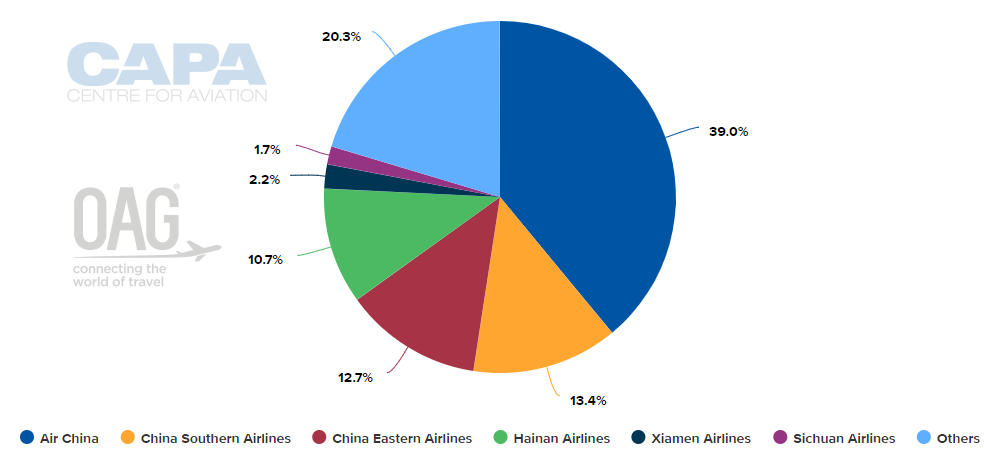 Source: CAPA - Centre for Aviation and OAG