---
Summary:
All eyes will be on the aviation system in the Colombian capital of Bogota in the year's ahead as a second airport brings a notable new operational convention to flying into the city;
The long-awaited New Bogota (El Dorado II) airport will be close to the existing El Dorado International which will remain operational, linked by fast rail, but perhaps under separate private ownership;
The tender for the New Bogota airport is due to commence in Aug-2018 and it is due to open in the 2020s;
New capital city airports have generally replaced older facilities and competitive market forces could play a key role in airlines' future selection choice and the success of the two airports.
---
That in itself is unusual; the trend in recent years has been to close down the old airport when the new one is opened (Athens, Bangkok, Istanbul, Mexico City, Berlin etc), although in all those cases the state was the major shareholder or decision-maker. Not so in Colombia where Bogota's airport system has been handed over to the private sector.
Studies began in 2013 to convert an air force base in the Bogota suburb of Madrid into the alternate facility, which would be located 30 minutes from El Dorado. Land purchases began in 2015, with the new facility originally to be operational by 2022.
The construction is planned to be carried out by modules, commencing with one runway and one terminal and with the final airport featuring three runways. Accordingly, capacity will vary from 7.5 million ppa in the first stage up to to 35 million ppa on completion.
The financing model under consideration was always a public-private partnership. International construction companies have not been ruled out, with the Spanish-Colombian consortia for highway construction being highlighted as a potential partner. In Jan-2017, Colombia awarded the technical, financial and legal structuring of the new airport to a consortium formed by Aertec Solutions (Spain), Mott MacDonald (UK) and C&M Consultores (Colombia).
The government has always held the opinion that the existing airport is fit for purpose and that there is no need to close it. However, it lacks the capability to be expanded much further beyond a capacity increase that was authorised in 2015. That increase took the form of the expansion of the airport's terminal by its owner/operator OPAIN, of which Colombia's Odinsa is the majority shareholder.
The terminal was inaugurated in Dec-2017. The project cost more than COP420 billion (USD140 million) and included six additional aerobridges and over 25,000sqm of commercial areas. Total infrastructure volume rose from 55,000sqm to 173,000sqm. Its total capacity rose from 31 million to 43 million passengers per annum, which is more than what the new airport will handle.
CHART - Colombia's flag carrier Avianca dominates activities at Bogota El Dorado International and accounts for almost two thirds of its system capacity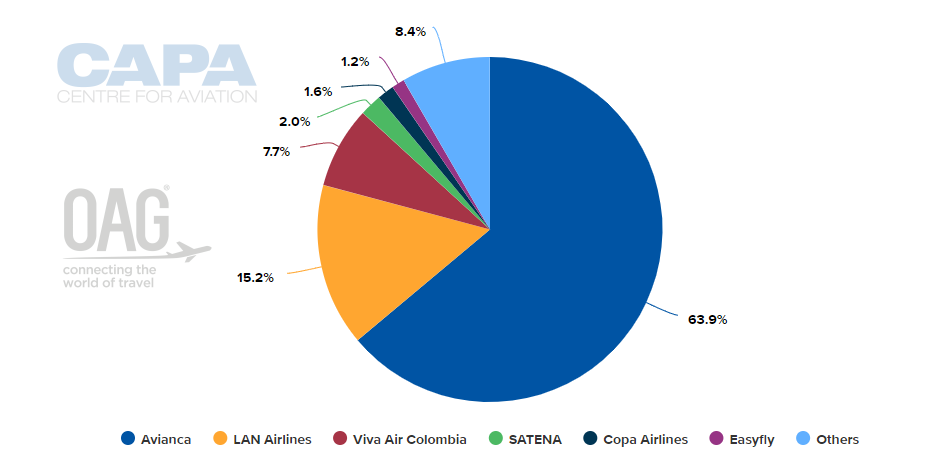 Source: CAPA - Centre for Aviation and OAG (data: w/c 21-May-2018)
The existing airport has two runways, both 3,800m x 60m. Avianca, LAN Colombia, Copa Airlines Colombia, EasyFly and Satena all have their hubs at El Dorado. The airport offers significant domestic connections, handling 50% of the country's air traffic, while a range of international carriers provide services to destinations in Latin America, North America and Europe.
Avianca, Colombia's national airline is, as one might expect, the leading airline, with almost two thirds of overall seat capacity and it has no close rivals, the nearest being LAN Airlines with just a 15.2% share, based on current weekly flight schedules.
However Avianca's dominance raises the question of which of the existing airlines operating at Bogota would wish to move their operations to the new airport. To split operations between two airports only 15 km apart would not likely suit Avianca. An OPAIN representative spoke openly at the Global Airport Development conference two years ago about the new airport "having to compete with us".
CHART - A logical split would be for one airport to operate as a connecting hub and the other mainly for local traffic supporting the growing LCC model in Colombia, which has grown its share of system capacity seven fold since the start of the decade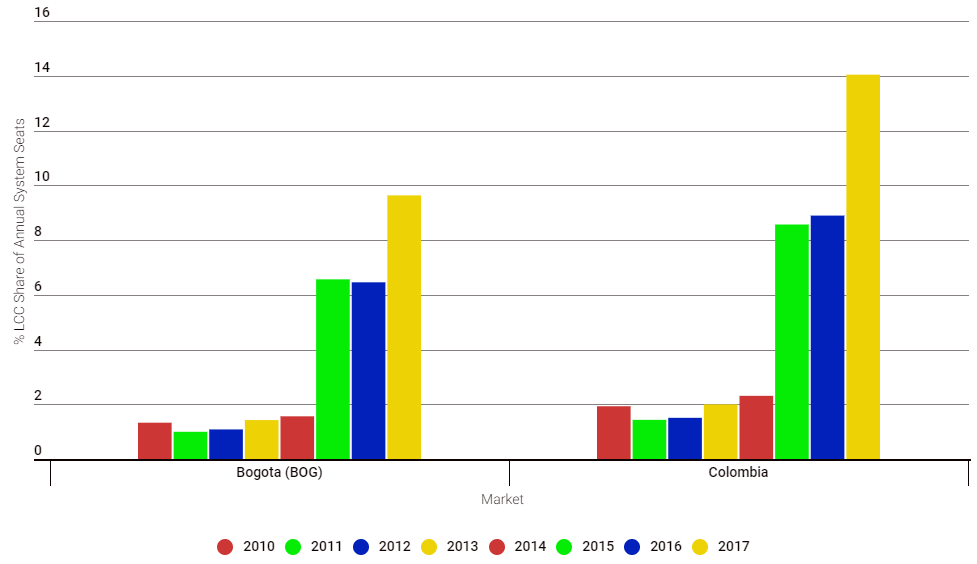 Source: The Blue Swan Daily and OAG
It is possible that the new airport could be designated for low-cost carriers which accounted for around 9.6 % of seats at the existing airport (versus a 14.0% share in Colombia) according to last year's flight schedules, but an area of the market that has seen strong growth in 2017 (up +3.2 percentage points in Bogota and +5.1 percentage points in Colombia) and expected to grow further in the coming years.
Then there is the question of how 'competition' works when the two airports are not only so close together (offering the prospect of passenger self-connection where that is financially advantageous) but actually connected by a rapid rail line so that they are effectively linked terminals of the same airport, even if they are under separate ownership. The world will be watching, especially in the likes of London, New York and Sydney where there are plans to better link airport infrastructure.