---
Summary:
Estonian carrier Nordica will launch new flights from Groningen to Brussels and Munich from Mar-2018 basing a single aircraft at the city's Eelde Airport.
New hub links will complement existing Nordica service to Copenhagen and will deliver one-stop transfer connectivity to global destinations via Star Alliance network.
Groningen Eelde Airport has seen passenger levels grow by a third over the first ten months of 2017 (versus 2016) to hit record levels for the full year.
---
After initially launching flights from Groningen to Copenhagen in Sep-2016, Estonian carrier Nordica has now confirmed plans to base aircraft in Groningen from summer 2018 to deliver a new daily connection to Munich and six times weekly link to Brussels. Nordica carried around 23,000 passengers on its up to twice daily Groningen – Copenhagen route during its first year of operation, helping Eelde Airport to grow first half traffic by almost a third (+30%) versus the first six months of 2016 and has provided a platform for the Baltic carrier's growth in the Netherlands' city.
Both of its new flights will be operated by Bombardier CRJ700 equipment and will launch from 25-Mar-2018. They will be flown under LOT Polish Airlines flight codes with a key partnership with the flag carrier (LOT is a 49% shareholder in Nordica subsidiary Regional Jet OU) providing Star Alliance connectivity beyond both hubs.
Groningen is a great example of a regional city that requires the regional airline sector to deliver connectivity. While Ryanair twice tried low-cost flights after seeing the appeal of the market, it quickly moved its aircraft to other destinations that could more easily fill the 189-seat assets. Similarly, Wizz Air will end a twice weekly link it has operated to Gdansk since Oct-2014 with effect from Mar-2018.
Despite delivering low seat costs, the Boeing 737-800 and Airbus A320s used by the budget airlines are too large for the small market, and while leisure operators could fill similar aircraft on charters down to the Mediterranean on a weekly basis, the customer demand is too small to support more regular operations. That is why the 70-seat CRJ700s are proving a more successful tool to support and stimulate demand.
MAP - Located around two hours from the Netherlands' main international gateway of Amsterdam Airport Schiphol, Groningen is the main municipality as well as the capital city of the eponymous province in the Netherlands and the largest city in the north of the country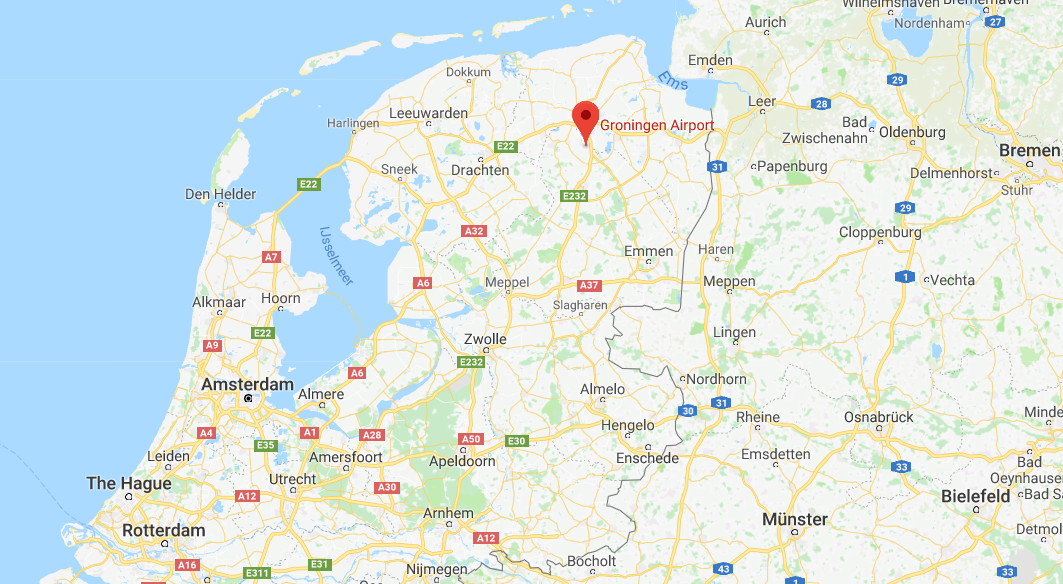 Source: Google Maps
Although not a large city, Groningen does play an important role as the main urban centre in the north of the Netherlands and has particularly leadership in the fields of music and other arts, education, and business. Its stronghold spreads across various sectors of the Dutch economy, including agrifood and biobased economy, chemical industries, data centres, life sciences, offshore wind technology, and water technology.
Located around two hours from the Netherlands' main international gateway of Amsterdam Airport Schiphol, it is the main municipality as well as the capital city of the eponymous province in the Netherlands and the largest city in the north of the country with a population of just over 200,000 residents. It also has a notable transient student population housing the University of Groningen (with about 30,000 students) and the Hanze University of Applied Sciences (with about 25,000 students).
Nordica is proving a good fit for Groningen. Having been formed just over two years ago as the successor to the failed Estonian Airlines, the airline has grown significantly in both its home and international markets, now operating 16 aircraft between more than 30 destinations with bases alongside its Tallinn home in a number of Northern European countries. Alongside its own flights these include sub-contracting services to LOT and SAS (using four of its aircraft to operate flights for both) and to local authorities in the Netherlands and Sweden (using one of its aircraft).
A strong performance in 2017, supported by its new partnership with LOT, means Nordica will end this year in profit and alongside the expanded Groningen operation plans to add moderate growth across both its Baltic and Northern European networks with the addition of 3 or 4 more aircraft through 2018 including an additional back-up aircraft to maintain the stability of its schedule. New flights include links from Tallinn to Ohrid (01-Jun-2018), Constanta (from 16-Jun-2018), Kiev (from 26-Apr-2018) and Copenhagen (27-Apr-2018), while talks to establish a new Tallinn – Minsk route remain under discussion.
For Groningen Eelde, the introduction of new hub connections will open up the city and region to enhanced connectivity, complementing the existing transfer flows it is already seeing through Nordica's existing flight to Copenhagen. Alongside the expanded Nordica operation with based equipment, it will also see Stobart Air station a single ATR 72-600 at the airport to supported an expanded up to three times daily operation on its route to London Southend that has been in operation under a franchise agreement for Flybe since 2014.
The airport will see with traffic levels rise to record levels in 2017 with capacity having already past last year's annual total as at the end of Oct-2017. A 33.9% growth over the first ten months of the year mean it will easily grow beyond the 180,000 annual passenger levels recorded in 2012 and more recently in 2015.
CHART – Groningen Eelde had seen annual traffic levels decline in 2013, 2014 and most recently in 2016, but enhanced connectivity will see passenger numbers grow by around a third in 2017 to deliver record performance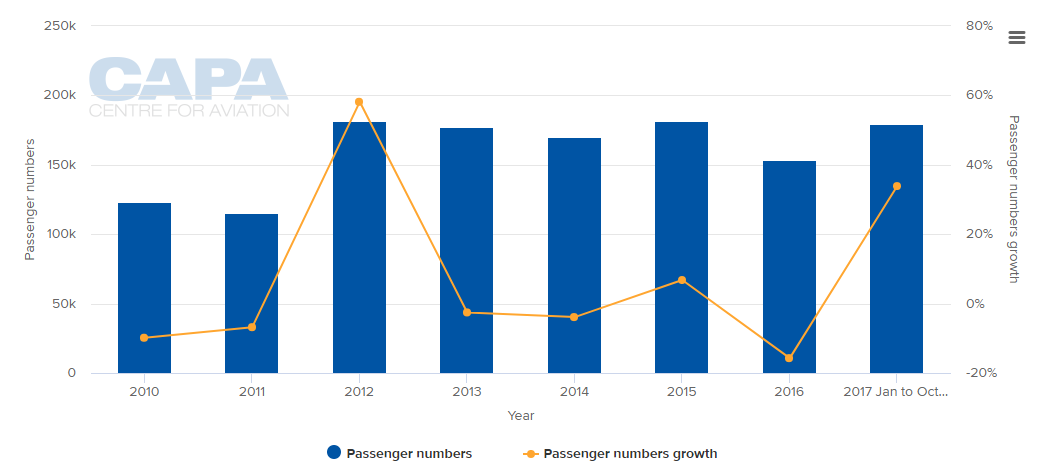 Source: CAPA – Centre for Aviation and OAG