---
Summary:
A consultant will be appointed to undertake a feasibility survey for a greenfield airport in Chennai to support the existing one;
'Feasibility study' seems to be an implausible requirement at this stage but site selection has not been a simple matter;
The airport will serve not only Chennai but an emerging economic corridor between it and Bangalore which also includes two ports.
---
Japan International Cooperation Agency (JICA) had prepared a report for government that stated an additional airport in Chennai was necessary since expected passenger demand should surpass Chennai International airport's peak capacity of 23 million passengers per annum by 2020/21 - it actually came very close to that figure in 2018.
JICA also said a second airport serving Chennai will form part of the Chennai-Bangalore Industrial Corridor project across south central India, which is one of the five industrial corridors planned in India under the aegis of National Industrial Corridor Development and Implementation Trust (NICDIT).
It is expected to boost commerce between south India and east Asia by enabling quicker movement of goods to the Chennai and Ennore ports. Also included in this project are a 'bullet train', a six-lane highway and an extension of the metro rail line from Chennai to Bangalore, which are 350 km apart.
MAP - Bangalore and Chennai are around 350km apart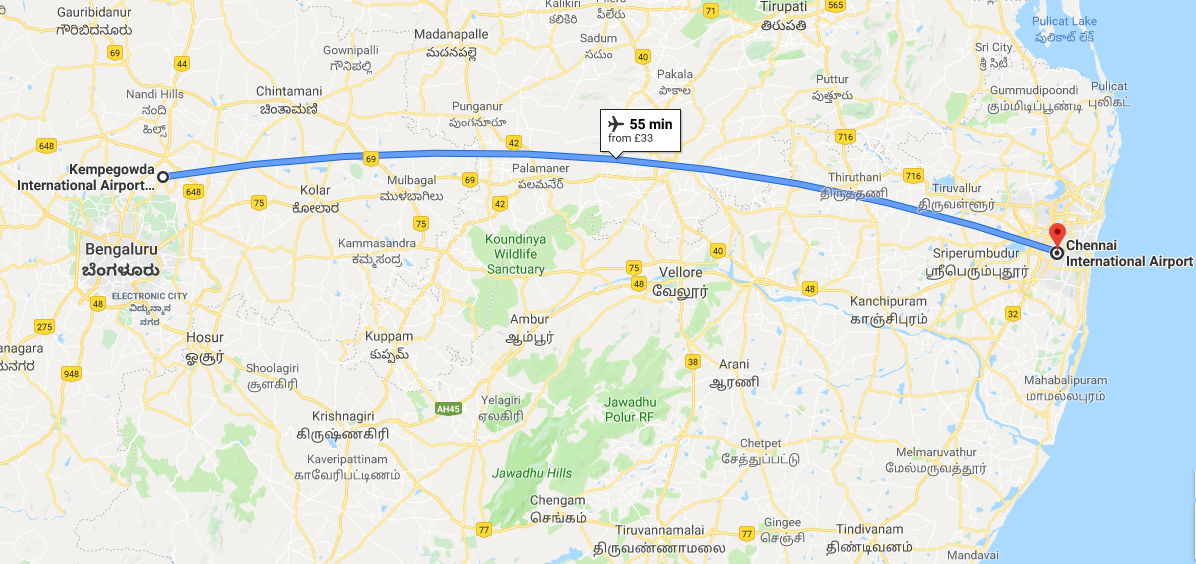 Source: Google Maps
Three potential airport sites near to the city have been preliminary identified. The project was first mooted seven years ago and was part of Tamil Nadu's 'Vision 2023' document in 2012. It was proposed at the time that up to USD2.8 billion would be invested in the greenfield project to handle annually around 40 million passengers annually.
Chennai would be the third major Indian city to have a secondary level airport supporting the main one; the same is the case with the Navi (new) Mumbai airport, the first phase of which is expected to be completed by mid-2012, and the New Delhi Greater Noida/Jewar Airport, which is slightly behind in the planning stage.
Originally, the Chennai second airport was proposed in an economic cluster at Sriperumbudur, about 40 km southwest of Chennai, spanning 4,800 acres but that feasibility report still remains with the State government as discussions have continued between Central and State governments to identify the land for the project. With Chennai airport's air travel growing annually at 15% to 20%, a greenfield airport will be required in around seven to eight years.
MAP - Sriperumbudur, formerly Bhoodhapuri, is a town in the Kanchipuram district of the Indian state of Tamil Nadu and located around 40 kilometers southwest of Chennai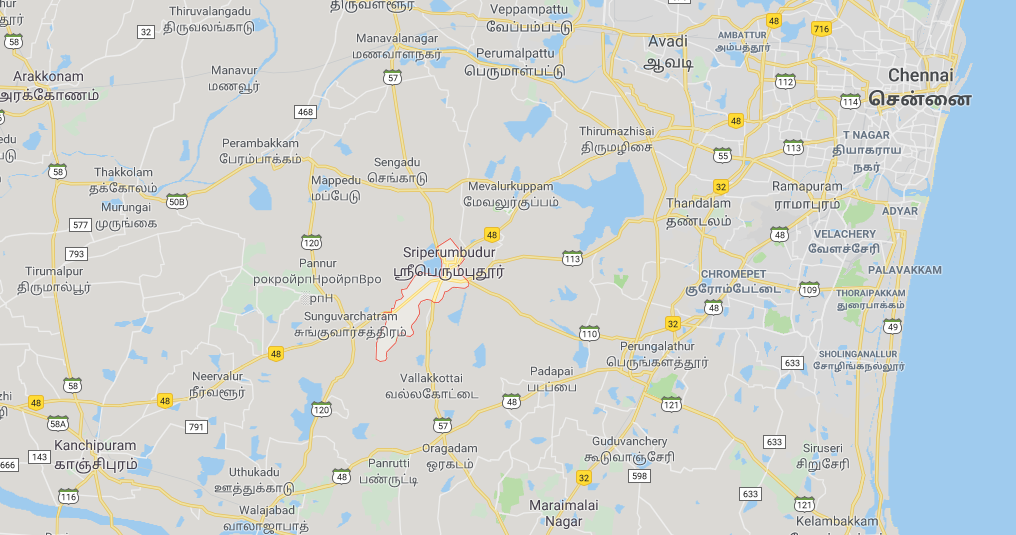 Source: Google Maps
Other potential sites have been identified too, in Madurantakam (1,500 acres) and Gummidipoondi. Earlier this year, Airports Authority of India (AAI) instructed officials to accelerate the feasibility survey process for these two potential alternative sites and the AAI indicated it would require approximately 2000 acres for the project. Two other sites, at Walajabad and Alamathyndi were considered but rejected. Whichever is selected, the project is not expected to be complete before 2027.
According to the RFP issued by Tidco, the State has four international airports (Chennai, Coimbatore, Tiruchirapalli and Madurai) and two domestic airports (Tuticorin and Salem). Chennai International is the fourth busiest airport in the country, handling 20.36 million passengers in 2017-18. According to CAPA – Centre for Aviation data, there were 22.49 million passengers in 2018 and traffic growth has been consistent since 2009, with a spike since 2015 during which it has been in double digits over the past three years.
CHART - Chennai International airport has seen double-digit year-on-year growth in passenger numbers in each of the past three years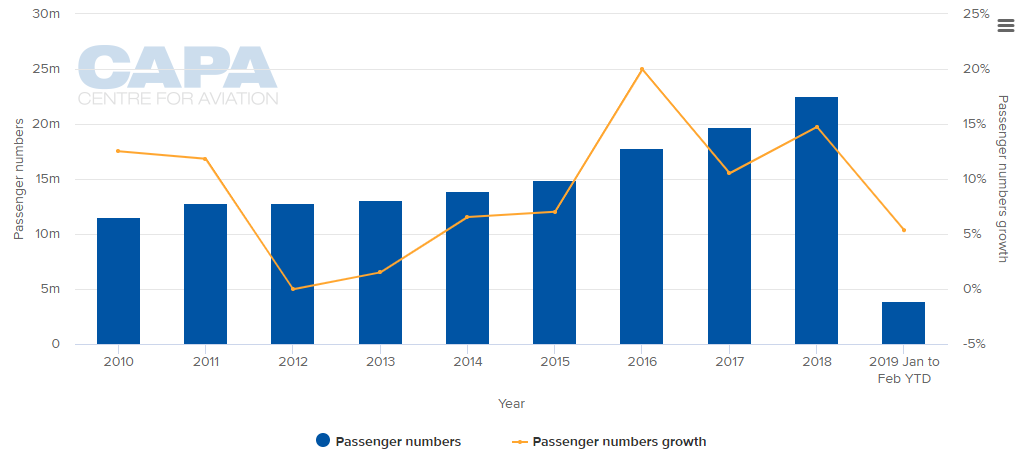 Source: CAPA - Centre for Aviation and Airports Authority of India
The airport also constituted a 6.7% share of India's total aircraft movement in 2017-18, and recorded a +16.3% growth in terms of freight handling.
The job of the consultant will be to prepare a draft project report, which will include recommendations regarding location, land requirement, technical specifications, project structuring, project financing and bid management.
According to the Terms of Reference mentioned in the RFP, among various things, the consultant should carry out market demand assessment and air traffic forecasting; identify and propose three potential sites near Chennai and identify the technical and economic factors influencing development and operation of airport.