---
Summary:
The Arora Group has unveiled alternative proposals for terminal expansion at Heathrow airport with the development of a new Western Hub house the existing T5 and new T6 facilities;
The plans would see a phased increase in capacity at the Western Hub, from 35 million passengers per annum currently at T5, adding 35 million with the introduction of T6A and T6B, followed by a further 15 million in the T6C phase;
Combined with existing capacity at T2 and T3, this would take total capacity at Heathrow to 130 million passenger per year.
The Arora Group estimates that the project would cost GBP14.4 billion and would deliver benefits to the plans to redevelop the central terminal area, which it says "would be far more expensive and disruptive".
---
The Western Hub proposal concentrates new terminal capacity on the western side of Heathrow, between the existing Terminal 5 (T5) and the M25 motorway. This avoids the need to redevelop existing terminals in the Heathrow central area (Terminals 2 and 3), part of HAL's own development plan, which Arora group says "would be far more expensive and disruptive".
It estimates that the project would cost in the region of GBP14.4 billion, which is less than half the GBP31 billion cost estimate from the Airports Commission for the original HAL proposal. However, HAL argues that the cost is nowhere near the estimate and would only be around the GBP14 billion level.
Instead of new, independent terminal buildings, the Western Hub will integrate new passenger facilities with T5 into "a single hub campus". At the heart is a new central concourse, which will serve "as a single front door" for all the planned 85 million annual passengers that will be using the facility once completed in 2030.
The Arora Group describes the building as "a magnificent and vibrant grand space, designed to amaze passengers and capture the excitement of air travel" with the central concourse which will feed passengers into both Terminal 5 and to the new Terminal 6, encompassing an elevated bridge concourse "providing panoramic views over the airfield for passengers, and easy navigation underneath for aircraft".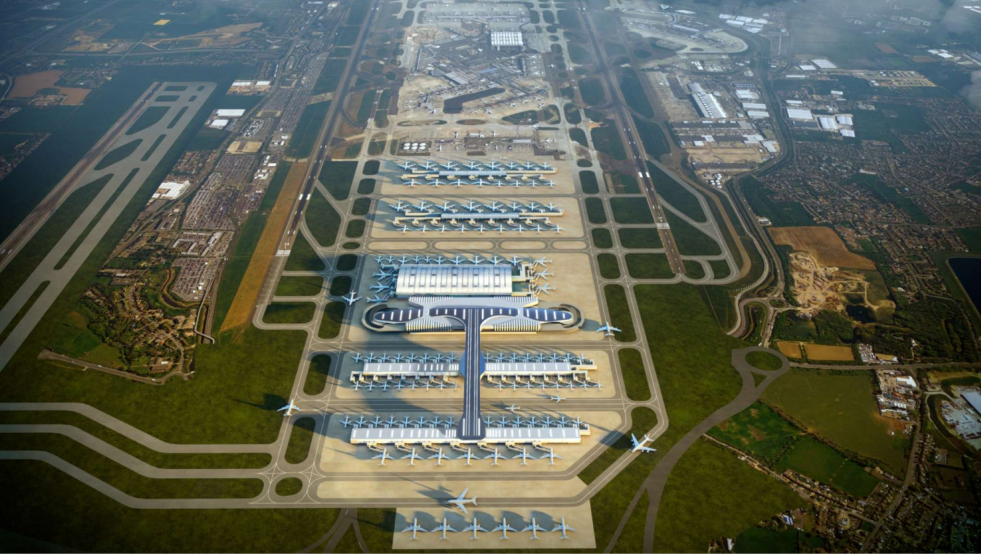 Key features of the Arora Group's Western Hub plans include:
Strategic Location – all new terminal capacity located on the western side of Heathrow, close to the M25, "avoiding bottlenecks associated with the M4 spur road and tunnel and far less costly and disruptive to develop";
Integrated Design – new terminals concentrated in a single Western Hub campus, "avoiding the inconvenience and confusion" associated with separate independent terminals;
Integrated Rail infrastructure – a new integrated rail/air interchange within the central concourse, linking Heathrow to existing and new rail networks;
Passenger convenience – integrated design of the Western Hub is designed to minimise walking distances and connection times, and check-in at the rail interchange will enable passengers to check-in much earlier in their journey;
Cost efficiency – "significantly lower development cost, arising from more efficient design and layout, leading to lower charges for airlines and passengers";
Operational efficiency – designed in close association with airlines to ensure operational efficiency, including a layout for aircraft to increase operational capacity and to ensure maximum direct access to aircraft for passengers. "Location of the terminal maximises the use of the runways, minimises taxi times, and most importantly reduces the hub's environmental impact".
Superior experience – "smart experiential-focused design, based on learnings from the best airport terminals in the world to ensure that the Western Hub will be cutting-edge when opened and will transform passengers' ease of journey and experience".
Robust technology adaptation – fully integrated technology to "improve passenger experience by boosting operational efficiency and reducing cost".
Surinder Arora, founder and chairman of the Arora Group says its approach has been to work closely with airlines to deliver this new solution to Heathrow's future capacity needs in the hope of ending the current monopoly control held over airport. "Heathrow has been in monopoly control for too long and our proposals show what can be achieved through an alternative approach and Heathrow fully welcoming competition," he adds.
Airlines operating from Heathrow have consistently voiced concerns about HAL's ability to undertake Heathrow expansion in a cost-effective manner and have called for competitive principles to be adopted to ensure that expansion is undertaken by the best party and to ensure that it is a success. Virgin Atlantic CEO Craig Kreeger calls the Arora Group proposal a "credible alternative" to HAL's own plans, while International Airlines Group (IAG) says the Arora proposal "looks very interesting" and "deserves to be properly evaluated".
Arora Group says the new plans "make airport expansion affordable" and gives Heathrow the "best chance of success when competing with other hub airports, such as Amsterdam Schiphol and Paris-Charles De Gaulle, post-Brexit". However, Heathrow Airport's CEO John Holland-Kaye says the plans are little more than "like the emperor's new clothes – the more you look, the less there is to see," and "show a complete lack of understanding of airport operations and disregard for those living closest to the airport".