---
Summary:
Indonesian state-owned airport operator Angkasa Pura II (APII) is believed to be reconsidering plans to develop a new airport in Karawang, West Java;
The proposed new airport would alleviate congestion at Jakarta's Soekarno-Hatta International Airport which is seeing growing traffic levels;
Jakarta's Soekarno-Hatta International was the world's 17th busiest airport in 2017 and rose five places up global rankings, the joint biggest rise in the top 30 airports;
The Indonesian government has been progressing plans to develop a new Jakarta airport, but the question remains where this will be located.
---
JSHIA was the world's 17th busiest airport in 2017 with 60.25 million passengers (+8.1%) and rose by five places up the rankings, the joint biggest rise in the top 30 airports. That annual figure, originating from the Ministry of Transportation, was later published by Airports Council International as 63.01 million, +8.3%.
But growth has not been uniform; it slipped continuously from a high of +18.7% in 2010 to a low of -4.2% in 2015. The trend is now once again positive and APII said in 2017 it expected the 100 million ppa figure to be reached by 2021, though that would clearly require exponential growth - it later revised the estimate to 2025. It will also be determined by foreign airline interest. Currently only 14% of seat capacity is on non-Indonesian airlines.
CHART - After five successive years of slowing traffic growth, passenger numbers have risen at Jakarta's Soekarno-Hatta International Airport for the past couple of years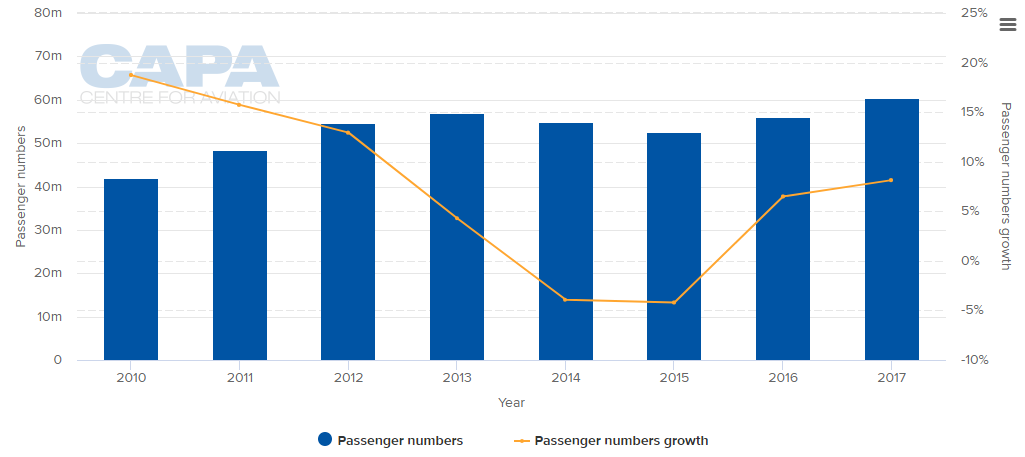 Source: CAPA - Centre for Aviation and Ministry of Transportation Republic of Indonesia
Much of the growth is coming internally. With 216 million people, Indonesia is the world's fourth most populous country and in 2016 it also recorded the world's fourth largest Middle Class with 19.6 million households, which is expected to rise to 23.9 million in 2030, making this group a prominent consumer force in the country. While there are many airports JSHIA is the main domestic and international hub by far.
But the growth is also coming from external tourism. Tourism arrivals have been rising consistently since 2009 (6.3 million) to 14 million in 2017. While much of the leisure tourism is directed towards beach resorts in the province of Bali, business tourism is centred on Jakarta and JSHIA is the gateway to it and other business centres.
CHART - Indonesia's visitor arrivals have been increasing by an annual rate since 2014 and peaked at a +21.9% year-on-year rise in 2017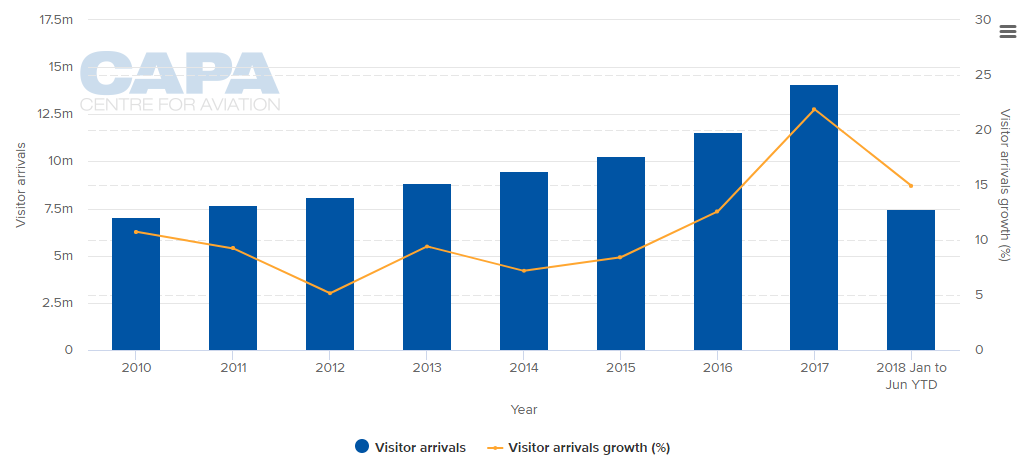 Source: CAPA - Centre for Aviation and BPS-Statistics Indonesia
AP II has previously stated that investment to 2023 will total IDR94.9 trillion (USD9.5 billion) to cope with the soaring aviation business growth across the archipelago and that the majority of the investment will go to JSHIA, with the remainder for airports in the largest island, Sumatra.
The investment in JSHIA will mostly be in the construction of a fourth terminal and third runaway, the revitalisation of Terminals 1 and 2, infrastructure to increase flight traffic and expansion of the taxiway.
The construction of the fourth terminal is expected to be completed by 2022 while the revitalisation of Terminals 1 and 2 should be finished in 2020. The company will start construction of the third runway in this third quarter of 2018, and it is expected to be completed in 18 months. A new cargo handling facility will also be built, capable of handling 1.5 million tonnes per annum, doubling the current capacity.
The redevelopment of Terminals 1 and 2 will come by way of them being converted into dedicated low cost carrier terminals (LCCTs) and work has commenced. T1 will become a domestic LCCT and T2 will become an international LCCT. LCCs now account for 39% of seat capacity and nationally 52.7% of seats are 'low-cost', with 40.2% on international routes (Jan to Sep-2018).
Apart from extending JSHIA, the government has been progressing plans to develop "JSHIA 2". The question has been, where? Halim Perdanakusuma Airport, the joint civil/military facility located in East Jakarta, was once the country's primary international gateway and now acts as an overflow facility for JSHIA, primarily handling domestic services, but it is not considered suitable for expansion.
MAP - Karawang is the capital of the Karawang Regency of West Java, Indonesia. It is just over 30 miles east of Jakarta and is known as a major rice production source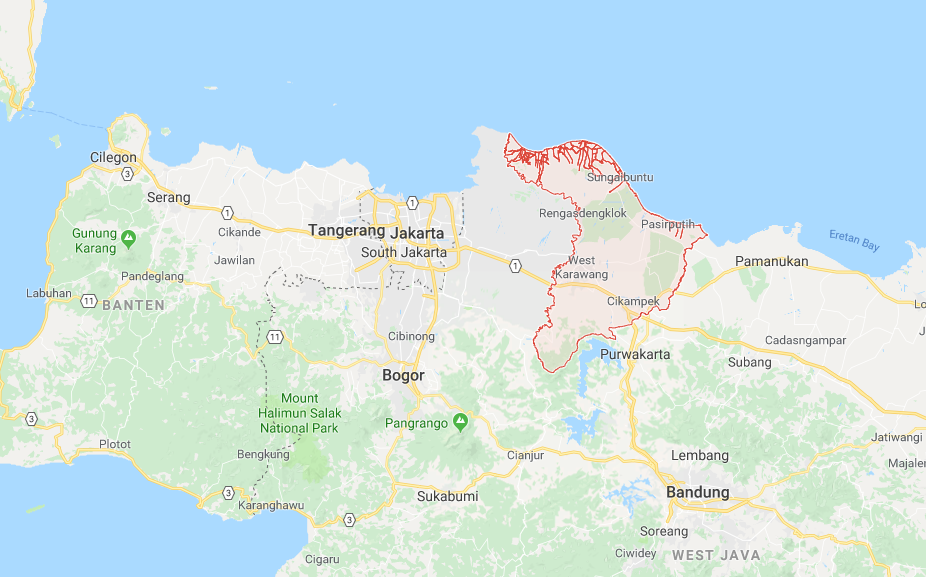 Source: Google Maps
Initially (from 2011), the location was going to be Karawang, about 40km to the east of Jakarta and it was to be operational by 2020. Then the Transport Ministry opted for an alternative site some 10km from JSHIA as the Karawang site is part of a conserved forest. As recently as Aug-2018 the Minister of State Owned Enterprises said the government "is progressing plans to develop the New Jakarta Airport", and that the IDR100 trillion (USD6.83 billion) project is due for completion in 2024, but the exact location remained unclear.
The previous month though, it was revealed that APII is reconsidering plans to develop a new single runway airport in Karawang. Perhaps the almost USD7 billion cost of the preferred alternative, on top of the expenditure at JSHIA and other airports, in all totalling over USD17 billion, is the reason?