The current airport there is the second busiest by passenger numbers in South Korea, splitting Seoul Incheon and Gimpo airports, and demand has begun to increase again after two years of negative growth (by 3.7% in the period Jan to Sep-2019).
In anticipation of greater demand, seat capacity rose by over 20% in 2018 and is slightly up again this year, which is taxing the airport's capability to handle it. Its runways are in constant use from 0700 to 2300, after which there is a curfew.
Jeju International Airport annual seat capacity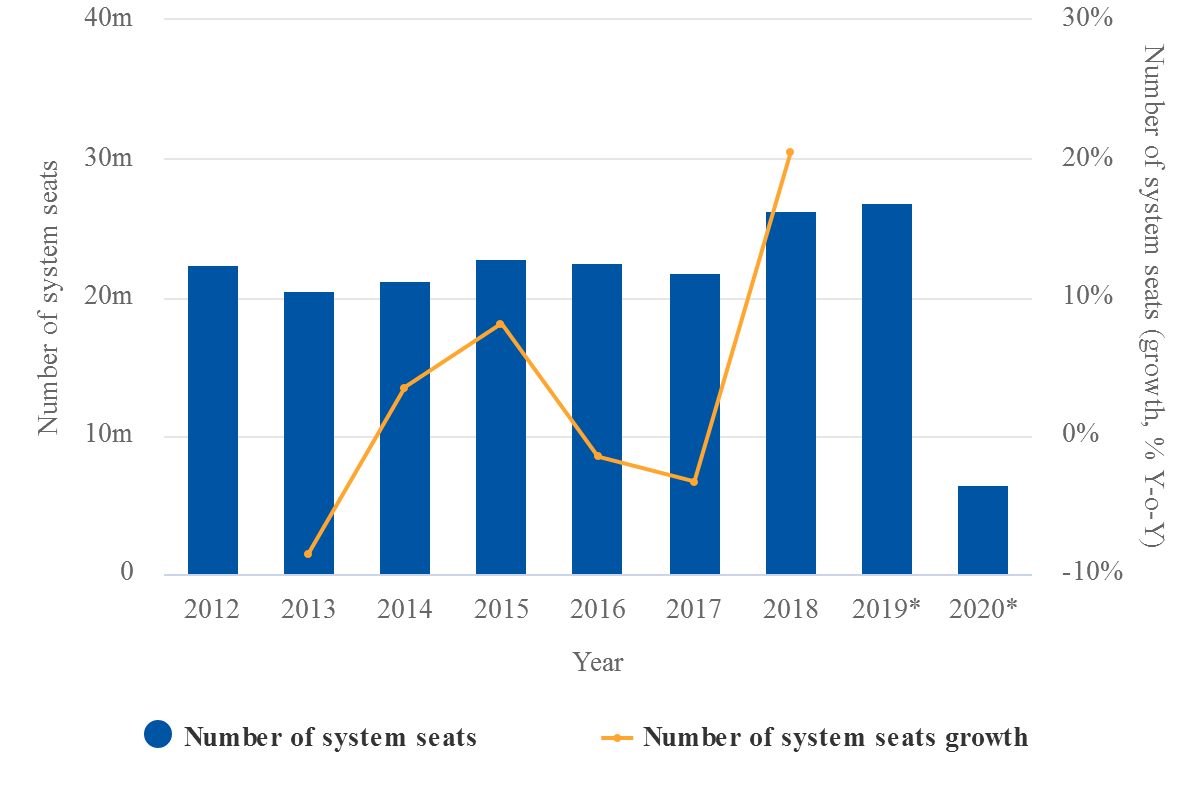 Source: CAPA - Centre for Aviation and OAG
In Oct-2019 South Korea's Ministry of Land, Infrastructure and Transport (MOLIT) published its 'basic plan' for the New Jeju Airport development project. Jeju Island residents will be permitted to submit feedback on the plan until 04-Nov-2019.
The basic plan, development of which began in Jan-2019 and after a previous feasibility study reported in 2016 that identifying a precise location was difficult, confirmed that Korea Airports Corporation (KAC) will operate the 19 mppa capacity airport, as it does the existing one.
The airport will be equipped with the following:
167,380sqm passenger terminal;
44 aircraft parking stands;
3200m x 45m runway (previously width x 60m);
Two 3200m parallel taxiways;
Four 623m rapid exit taxiways.
The project is valued at KRW4.1 trillion (USD3.6 billion). Development works are scheduled to begin this year and are due for completion in 2025, when passenger traffic to and from the island is expected to reach almost 40 million ppa, which seems to be an ambitious estimate.
The project has existed since Nov-2015 (but actually dates back almost 30 years). At that time MOLIT said it would construct a second Jeju Airport, citing increasing passenger traffic to the island that would lead to the present airport reaching capacity in 2018. The Ministry stated that the growing popularity of Jeju Island and a sharp increase in demand for LCC services had made it imperative to increase air capacity.
The new airport would be located between the city of Seogwipo in the south, and Seongsan in the east.
At the time the Ministry estimated passenger traffic would reach 28.3 million by 2018 (which was actually exceeded by over one million, despite stagnant growth in 2017 and 2018 following a +13% gain in 2016), and to 32.1 million in 2020 – which it will fall short of.
The MOLIT also studied alternative expansion of the current airport, also closing Jeju International and constructing a completely new airport with two runways, as well as constructing a second airport at a separate location. Taking into account the cost, impact on the environment and public opinion, the third option was accepted after extensive reviews, even though a sizeable part of the population still thinks that option will have environmental consequences.
Expanding the existing airport would have cost KRW9.4 trillion (USD8.0 billion) and have posed severe environment challenges due to the need to reclaim land from the sea, while closing it down entirely was opposed by residents of Jeju City.
It is pertinent to consider what kind of traffic the new airport will handle. There have been no formal pronouncements on the matter. Where there is a high amount of vacation traffic with an emphasis on inbound travel (the island's population is only 600,000 – the same as a small to mid-sized city), one assumes that LCCs will predominate.
That is not wholly the case at the existing airport, where budget airlines make up the majority of the capacity but only just: 53.3%. That is very similar to the national figure for domestic LCC capacity in the period Jan to Nov-2019, which is 54.1%.
(International LCC capacity is less, at 36.4%, but most vacationers to Jeju are Koreans. The largest percentages of foreign visitors to Korea in general are Chinese and Japanese: just over 50% of the total between them.)
Jeju International Airport seats by business model, week commencing 21-Oct-2019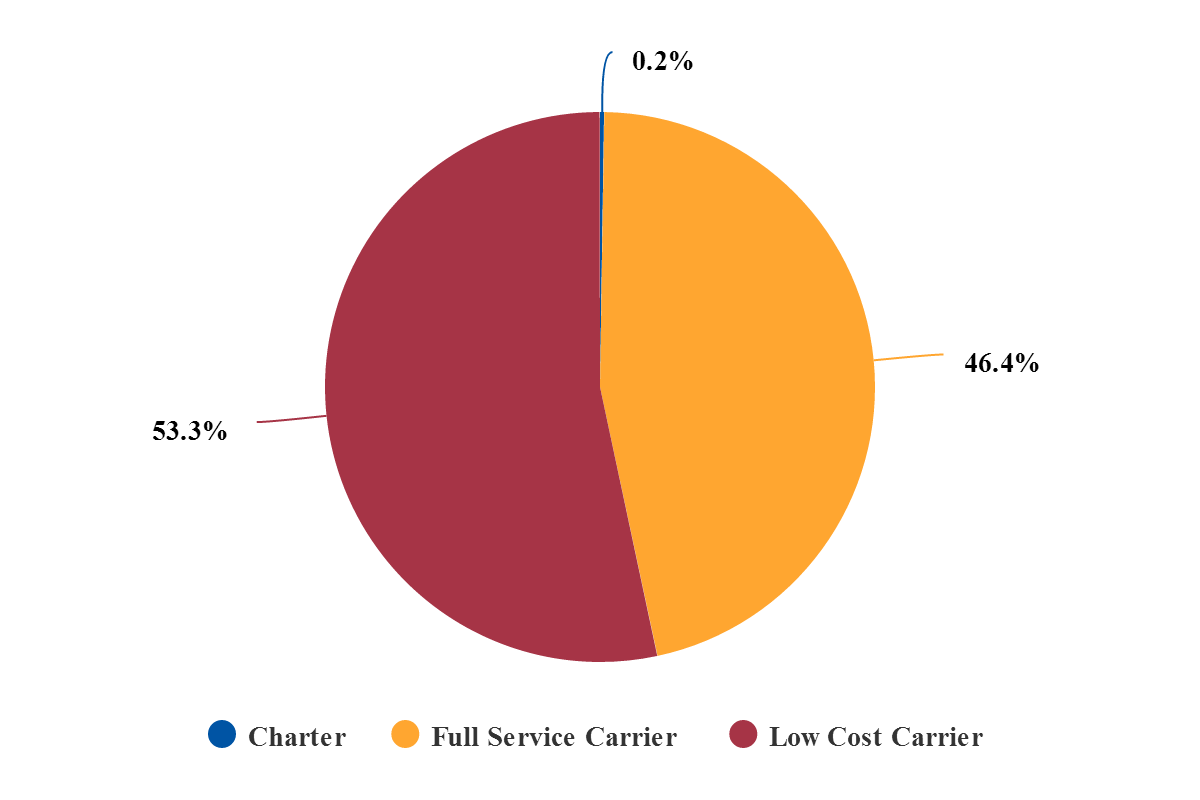 Source: CAPA - Centre for Aviation and OAG.
That explains the presence of airlines such as Air China, China Eastern, China Southern, Okay Airways, Spring Air and Tiger Air Taiwan.
There has been no formal decision on what type of traffic the airport should handle other than that it should take 50% of domestic flights. The current airport's capacity is 88% domestic, by seats. There may be some substance to the suggestion that the government may have to force some airlines to relocate. There will be no international flights.
One solution might be simply to make it the LCC domestic airport, leaving the domestic and international full service carriers at the existing airport. That might help cut down on the terminal costs.
Moreover, why would you need two 3200m runways for short haul LCCs? According to CAPA/OAG data the average flight duration at Jeju Airport as measured by seat capacity is just 1 hour 15 minutes. Direct intercontinental flights into either airport are not envisaged as, for example, the island is not really geared up for English-speaking tourists.
Jeju International Airport average flight length by seat capacity, week commencing 21-Oct-2019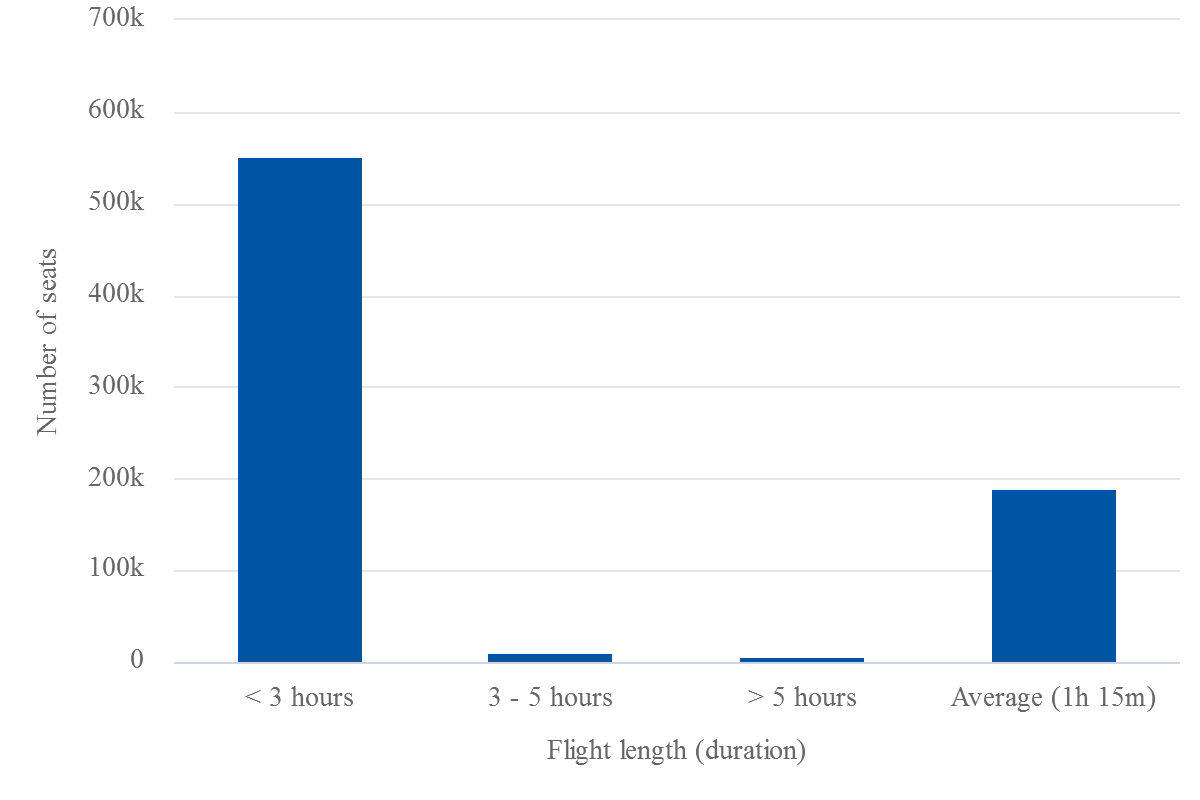 Source: CAPA - Centre for Aviation and OAG
Jeju International Airport route map, week commencing 21-Oct-2019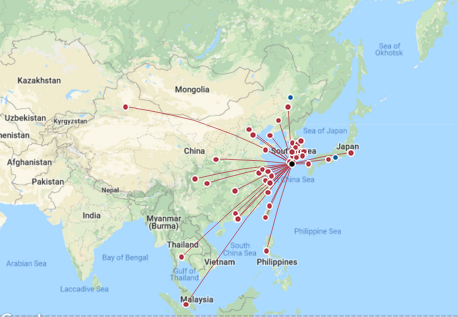 Source: CAPA - Centre for Aviation and OAG
Taking on this new airport development is, strangely, a change of direction for KAC, an operator of 14 domestic airports but one that has latterly been concerning itself with foreign investments, in the form of three concessions in Ecuador and one in Colombia.
In fact, KAC has been active in pursuing opportunities across Latin America but has been singularly unlucky in its selection of possible deals, as this Jan-2019 Blue Swan article revealed.