On the railways, capacity on platforms will be limited by space, boarding will also be a major touchpoint, and seating restrictions could reduce capacity by between 70% and 90%. In the United Kingdom, most operators are enforcing reservations to ensure they can manage capacity on each service, a system that is manageable on longer distance routings, but perhaps not an option on commuter services into cities as more people return to work.
Right now it is not a problem – the limited train schedules that are currently operational are light in passengers with demand down to less than 5% of the levels seen ahead of the Covid-19 pandemic and mainly shuttle essential workers to and from their place of employment. According to the Office of Rail and Road (ORR), 51 million fewer journeys were made on the UK's railways in the first three months of the year compared with the same period in 2019.
As businesses reopen the pressure on the system will be significant, especially into the major cities and deliver a problem that will not be easily overcome by staggering start and finish times or limiting usage as has been seen in other major European countries.
Right now, despite the easing of coronavirus lockdown restrictions across the UK only those who cannot work from home should be travelling to their workplace and the general advice remains to avoid all but essential travel. Still, rail services have been ramped up over the past month to around 70% of the standard rail timetable, up from approximately 50% seen during the time of full lockdown.
Attempting to enforce social distancing while running a train service "is simply impossible," said journalist, author and railway historian Christian Wolmar in a The Sunday Times report in May-2020. "By trying to do the impossible, the railways are on a suicide mission," he explained.
Traditionally, railway safety has been determined by a concept called ALARP, meaning that risks should be "as low as reasonably practical". "Somehow, the word "reasonably" has been lost in the railways' frenzied rush to comply with the rather arbitrary requirements suggested by the government, which now effectively controls them through management contracts," Mr Wolmar added.
When it comes to distribution, user experience and customer service, technology has come a long way on the railway system over the past decade, but it is still some way behind air transport in its adoption. However, the current global health crisis provides a perfect platform to introduce new solutions as standard.
In the United States of America (USA) we have seen the unveiling this week of a train capacity tracker by MTA Long Island Rail Road (LIRR) on its TrainTime mobile application to show travellers where seats are available on its trains, an excellent example of what can be deployed to overcome social distancing concerns.
While not a new innovation, it works well and enables travellers to determine the number of seats available in each carriage ahead of the train arrival so that they can decide where to sit according to social distancing guidelines.
UK-based Govia Thameslink Railway (GTR) has started to use new Siemens Mobility technology to track the density of passengers on its own trains based on a similar method that defines the train loading data based on vehicle weight.
Of course, platform infrastructure is a major pinchpoint in the management of the railway system. In the UK, National Rail, a brand used to promote passenger railway services – not be confused with Network Rail, the organisation which owns and manages most of the fixed assets of the railway network, including tracks, stations and signals – is using its app and website to warn people if stations or trains are busy.
Technology is also being deployed to improve the speed and safety of train travel. One new example is the introduction of a walk-through facial biometric corridor at London St Pancras International which aims to bring a touchless solution to Eurostar train journeys in and out of UK terminus from Mar-2021.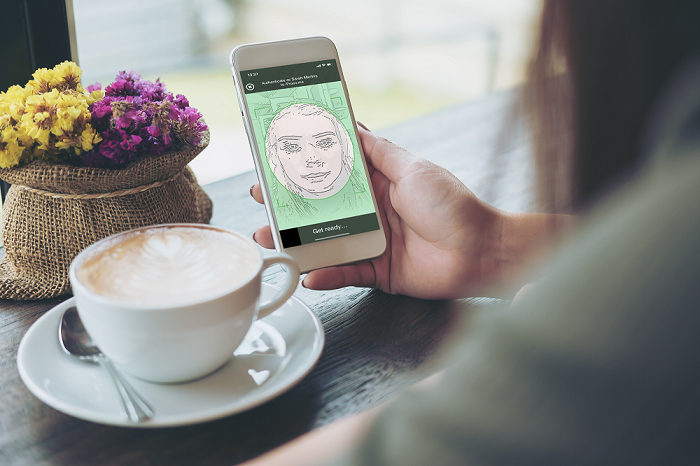 Described as "a world-first" by developer iProov, the system enables train passengers to travel without tickets or documentation in a safe and secure manner. It will allow customers to complete ticket checks and border exit processes at St Pancras International station without needing to come into contact with people or hardware.
The concept, already trialled in airports to increase speed and safety and manage immigration, is now being brought to train travel as part of the First of a Kind (FOAK) competition run by Innovate UK and funded by the Department for Transport. The initiative supports research, development and innovation in the UK rail industry.
"What started off as a project to reduce travel congestion and keep passengers moving is now going to help keep people safe in a pandemic world through social distancing and contactless interaction," explains Andrew Bud, founder and CEO, iProov. "It's yet another example of how opt-in facial verification is making life easier and safer for people around the world."
But how does it work? Passengers planning to travel on Eurostar services will be offered an accelerated pre-boarding option. Prior to travelling, they will use the Eurostar app to scan their identity documentation before 'iProoving' themselves. The iProov facial biometric check uses patented controlled illumination to authenticate the identity of the user against the ID document.
iProov says the solution "is unique in assuring the genuine presence of the passenger". As well as checking that the user is the right person, matching the identity portrayed in the passport, the illumination process also checks that the user is a real person, rather than a photo, video, or mask. It also ensures that the user "is authenticating right now" a protocol that "protects against large-scale criminal attacks using deepfakes".
After this, passengers then receive a message confirming that their identity document had been secured and a ticket or passport would not need to be shown again until they reached their destination. On arrival at St Pancras International, the passenger would enter the contactless travel corridor and proceed in distanced fashion before boarding the train.