---
Summary:
A new terminal at Jeddah Airport is being suggested as an 'open sesame' to increased transit traffic;
The new facility was opened in May-2019 will increase the airport's capacity to 30 million passengers per annum;
Situated in the midst of the world's central transfer region, simply building a new transfer point isn't that simple.
---
Pascall+Watson collaborated with Atkins and Areen Design to design and deliver the USD7.1 billion terminal, which was due to commence initial operations in May-2018. The 760,000 square metre passenger terminal and ancillary buildings will increase the airport's capacity to 30 million passengers per annum. But the terminal's soft opening was delayed until May-2019, in order to undertake further technical tests.
Passenger traffic at the airport has been building steadily since 2009, with the exception of a small dip in 2013. Formal traffic statistics have not been released since 2015 but it is believed passenger numbers are now in excess of 34 million.
Saudia is the dominant carrier and together with the two Saudi LCCs - hybrid operator flynas and more recent arrival flyadeal - accounts for over two-thirds of all the seat capacity. That is a positive scenario in which to enhance transit traffic if the main carriers can be incorporated within one terminal with proximate gates with the most demanded connecting flights. Flyadeal is a subsidiary of Saudia but flynas (previously Nasair) is not. All three currently use the South Terminal, along with SaudiGulf Airlines.
CHART - Saudia dominates at Jeddah King Abdulaziz International Airport and accounts for half of the available capacity, a level that grows when you also incorporate its LCC subsidiary flyadeal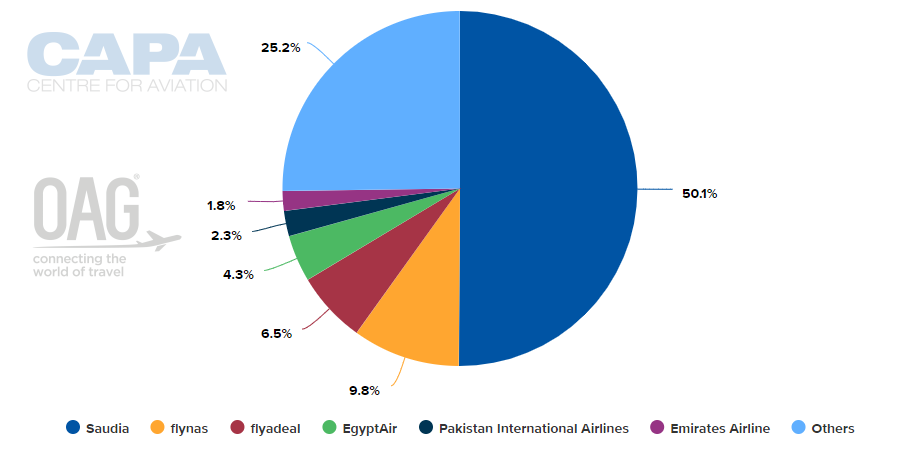 Source: CAPA - Centre for Aviation and Jeddah King Abdulaziz International Airport reports
Saudia is a member of SkyTeam which has over 50% of capacity although that is mainly Saudia's of course. In fact, of the other 18 full members of SkyTeam only three other airlines even fly into Jeddah; Garuda Indonesia, Korean Air and Middle East Airlines, two of which do use the South Terminal also.
So there is precedent for transit co-operation between carriers but at the same time limited scope.
A look at the airport's current connectivity shows potential flows between the Middle East, North Africa and the Indian sub Continent, but there is lesser exposure to the poplar Europe - Southeast Asia air corridior.
But that tallies with the route network strength of the 'Middle East Big 3' of Emirates Airline, Qatar Airways and Etihad Airways, and to a lesser degree of secondary Middle East carriers such as Kuwait Airways and Gulf Air, as well as those airlines not situated in the Middle East but competing for the same transit traffic, such as Turkish Airlines. Most are backed by modern airports with same-carrier connecting flights within one terminal.
In order to compete there will have to be the maximum level of co-operation between the airlines in Jeddah which already have a degree of commonality. The suggestion that a "stunning" terminal alone will do the job is misleading.
And there are other factors to take into account. Some of the original developers of intercontinental transfer traffic such as Singapore Airlines and Icelandair demonstrated that a powerful 'stopover' package, for business, leisure or merely visiting relatives or friends was a highly useful part of the armoury.
Is that intended by the authorities? The only reference so far has been to 'transit', which means something quite different to transfer, i.e. staying on the same aircraft while it refuels for example. But it is hard to see how that squares with the value that could be added by the new terminal.
But if a passenger transfers, and especially if he or she wants to spend a day or two in Saudia Arabia, there has to be a good reason. Saudi Arabia's tourist attractions are not particularly well known and are in many cases limited to a certain religious subset of the population.
Individual visits are not apparently encouraged by the government and even those seeking to make a simple transfer without a layover, because the price is attractive for example, may be put off by the general geopolitical environment.
In short, while Con Korfiatis believes "transit opportunities will become a very interesting proposition" there is still much to be done to make them a reality.